With a mic in her fist, Karli Wahkahquah talks about the oddity of having different types of tampons, including those marketed as either "regular" or "sport."
"I want the same amount of protection whether I'm sitting on my couch or running a marathon," Wahkahquah said during her recent stand-up comedy set at Urban Roots.
"Is [the sport tampon] soaked in electrolytes? Am I sacrificing my workouts by not wearing these sport tampons?" she asked.
The joke landed with the largely female crowd, and even the men in the audience laughed.
Attend any stand-up performance or open-mic set around town and it's likely to feature a stage filled with dudes telling jokes about male experiences.
However, the second Wednesday of each month at Urban Roots in Deep Deuce, female comedians — each at different points in their careers — come together to inspire each other and hone their craft.
"I wouldn't say that I specifically try to gear all of my material toward women, but I do have a different perspective than men," Wahkahquah said. "Comedy is telling stories about your life. Men and women have different perspectives, so they have different stories."
Monthly flow
The imbalance in male-dominated club lineups isn't exclusive to Oklahoma City, but last year, Kristy Boone got involved to help make a difference locally.
She co-founded the monthly open-mic nights at Urban Roots, 322 NE Second St.
"I realized that the venues in town seemed to be more focused on a more raw type of comedy, and in general, there were far more male comics than female comics," Boone said. "I thought, 'What if we had a platform where female comics could come together, bring their friends and practice their craft?' It just kind of grew from there."
The nights also offer a supportive outlet for funnywomen, which is important in developing a thriving artistic community.
"You kind of need a safe space to try it out when you are just starting," said Melissa McGinnis, who performs at the monthly events. "It's important for the atmosphere to be growth-promoting and allow you to move forward on your work."
That type of growth isn't confined to female-only venues, McGinnis emphasized, but it helps to have women around who understand the process. Besides, the open-mic night welcomes men in the audience, and a few men have even taken the stage.
"I know that I get laughs from men and women," McGinnis said. "But I have a different perspective that can, at first, be difficult to convey. You need a safe space to try out new things and this [event] offers that."
Man's world
Longtime local comedy venue The Looney Bin features national and local comics, most of which are men, weekly. However, that's changing, too. Next week, California-based comedian Kristin Key performs five sets over four nights April 8-11.
"The only time I think about the lack of women [comedians] is when I'm asked about it," Key said. "When I perform, there is obviously a woman on stage."
Key said she focuses on her jokes, not on others' perceptions or gender limitations.
"As long as you're funny and you work hard, I feel like you can get in [this business]," Key said. "If you're not funny, you can find all sorts of excuses and reasons why you didn't make it."
While Key doesn't view her sex as a challenge, she realizes her gender can be stereotyped in the comedy world.
"I do think funny females go further than funny males, and maybe that's because when people see a funny female, they say, 'Wow! I didn't see that coming!'" Key said. "I think, for some reason, guys think everybody laughs at a dick joke and only women laugh at a vagina joke. But both men and women can talk about their experience in a way that both men and women find funny."
Boone said the monthly open-mic nights are proof women are as funny as men.
"It's not about making women funnier, because we have a lot of funny ladies [in town]," Boone said. "There is talent here."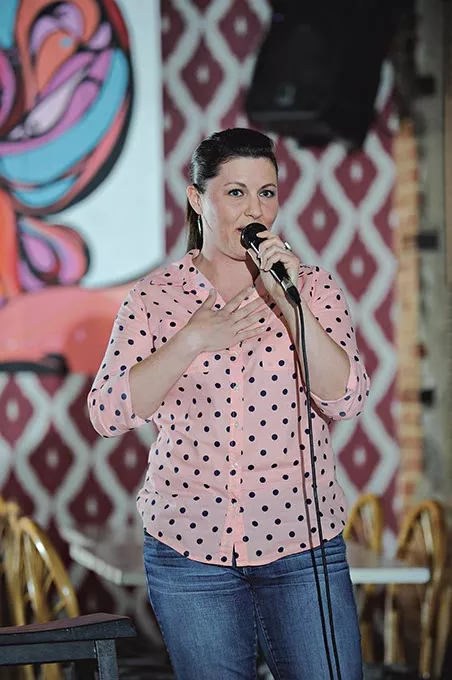 New era
As in most other industries, female comedians sometimes face a "glass ceiling" culture. But the comedy sector appears more accepting today due to the dozens of women who kicked down barriers and won laughter and fans while doing it.
Nationally, modern funnywomen Tina Fey and Amy Schumer have earned large followings by breaking free from some of the stereotype jokes women might often feel they need to use in order to get a laugh.
However, even women who tackle similar subject material — sex, weight gain and alcohol — as men on stage can be looked at more critically by peers and fans.
"Are female comedians too raunchy? No, they are not," wrote Kailee Kivett in a 2015 column for Valdosta State University's The Spectator in Georgia about the standards that women comics are held to, including criticism of being too raunchy when covering the same material as men. "[But] women are beginning to shed the traditionally demure demeanor they once had and are letting the world hear what they really think."
During a March forum at the South by Southwest festival in Austin, Julia Louis-Dreyfus, famous for her roles on Seinfeld and HBO's Veep, said she relied on her talent — not the perceived barrier between men and women — when building her career.
Louis-Dreyfus also said women can sometimes be their own toughest critics, especially in regard to comedy and acting.
"The best advice I can offer is give yourself a break," Louis-Dreyfus said.
Standing up
Stand-up comedy is an especially challenging form of comedy, said Andrew McAlester, a local comedian who cohosts the monthly women's comedy showcases at Urban Roots.
"It's kind of this smoky, dark spot, and it's you against the world," McAlester said. "I think too often, you hear comedy that has the traditional female stereotypes in it, like a nagging wife. But when you come out [here], you see that these women comics are three-dimensional and they are telling stories about their life that really hit home."
Even before delving into comedy, Wahkahquah learned to make her way in male-dominated realms. She serves in the military, and her material often reflects her experiences.
"Some of the funniest things I have seen in my life have come while I'm in some type of military status," Wahkahquah said. "I think being in the military has a huge advantage because you have a different viewpoint that not many people in the United States have. Being able to tell unique stories is important in comedy."
Wahkahquah said her military experience enables her to create a level of toughness that helps in the comedy scene.
Key agreed and said that her best advice for any comic is to "toughen up."
"You have to immerse yourself in it and grow a thicker skin; basically, man up," Key said. "You can always find excuses as to why the game's not played fairly, but you just have to focus on being good at your craft."
From television to local clubs, there are examples of women making names for themselves in an industry that is still full of men.
Many of the women who perform at Urban Roots also do shows at other venues, but the camaraderie they experience when working together is especially important because it fosters courage and determination.
"Women comics who are trying to get out there might not be as apt to go to some of the bigger places during open mic nights [due to insecurity or inexperience]," Wahkahquah said. "I think some of the smaller shows, like the one at Urban Roots, is a great way to get your foot in the door and build your confidence, because that's a big part of it."
Print headline: Hitting hard, Yes, women are funny, too. From military experience to monthly visits, female perspectives are key to sustaining a thriving local comedy community.