Alexa Ace
Lance McDaniel and Stephen Tyler work closely with students in rural areas, offering access to virtual reality technology.
For its 19th annual celebration of local, regional, national and world film June 6-9 in downtown Oklahoma City, deadCenter Film Festival selected 140 features and short films. Among the final films announced for this year's event include director Danny Boyle's musical fantasy Yesterday, about a world in which the Beatles never existed, and Growing Up George, an OKC Thunder Films production about Thunder forward Paul George that was inspired by the work of Japanese cartoonist and Thunder super-fan Nanae Yamano.
Over nearly two decades, deadCenter Film Festival has screened over 1,600 films, attracted 30,000 film enthusiasts in 2018 and spurred a $5.3 million economic impact for Oklahoma City.
An all-access pass is available for $200, with VIP access packages available for donors of $2,500 or greater. Visit deadcenterfilm.org to purchase passes and access full listings of festival events.
All of this advancement has resulted in national recognition for the festival. But for executive director Lance McDaniel, some of the most important improvements in the organization surround future filmmakers.
"To me, what has really happened the most in the past year is the technology program," McDaniel said. "This year, we took it in-house and Stephen Tyler is heading up our technology. The reason that is important is we integrated it into our statewide education program. We took VR to all these rural high schools, and we were amazed at how well they picked it up and bonded to it. It really reshaped how we're looking at our education program and whether we should be doing deeper dives."
The education program, which began in 2011, brings advanced virtual reality technology into small public schools and provides students with exposure to equipment that is currently or will soon be used in filmmaking. But when McDaniel talks about deeper dives, it involves providing more instruction than the typical one-hour class session can allow.
"Those deeper dives could mean going beyond the one-hour creative exercises that deadCenter conducts in small towns like Alva and Fairview and moving into more long-term projects with regional technology centers to provide those students with more hands-on experience," he said.
McDaniel is banking on making at least a few students in these classes fall in love with filmmaking. By his estimation, five or six students in every class deadCenter visits will enter a professional field that requires some knowledge of video production or related media. He hopes that, by exposing students to cutting-edge technology, there will be greater opportunities for them once they enter the workforce.
For the future filmmakers attending those classes, the cost of entry into making movies is far lower than it was for les enfants terribles of the previous generation. McDaniel said that while he does not expect all of the students he visits to be entering films in deadCenter in the coming decades, he wants them to be aware of the possibilities.
"What's interesting is that 20 or 30 years ago, you could only make a movie if you were desperate to do it and leveraged your entire life to get that camera and that 16-millimeter film," he said. "It was really the Quentin Tarantinos of the world who were making it happen. The access to technology now means that any of us can walk out the door and make a movie on our phones."
Even in 2019, many parts of Oklahoma have limited access to high-speed internet and computers in classrooms are not always a given. Those community needs and the ambitions of students living in those towns make deadCenter's education program an important part of the organization's mission.
"I think it's important for us to service the entire population and say, 'Here's what's next and this is how you can be a part of it,'" McDaniel said.
And here is what is next: previews and reviews of select films featured in this year's deadCenter Film Festival, with insights and interviews by Oklahoma Gazette staff.
Visit deadcenterfilm.org.

---
Arrows of Outrageous Fortune

5:30 p.m. Thursday
7:15 p.m. Saturday
Harkins Theatres Bricktown 16
150 E. Reno Ave.
In passing along the link to a review copy of
Arrows of Outrageous Fortune
, OKC writer-director Mickey Reece described his latest film using words few critics would probably think to write.
"It's just a traditional American comedy," wrote Reece in a Facebook message, "simply put on this earth for folks to laugh and have a good time."
The primary question for a comedy is, traditionally, Is it funny? In this case, the answer depends on another question — to quote Joe Pesci's character in Goodfellas, "Funny how?" If you're talking in terms of LOLs delivered, the answer is largely contingent on your preference for low-budget left-field experimentation over carefully polished setups and punchlines. If you mean "funny" like the way a blue-cheese-stuffed olive might taste if you expected to bite into a maraschino cherry, the answer is resoundingly, "Yes."
Arrows — which stars ridiculously likable local comedian Alex Sanchez as Henry, a directionless millennial who inherits a large house and lot of trouble from his estranged father (Ben Hall) — seems variously inspired, if only for a scene or two, by everything from Clerks and The Puffy Chair to films by John Waters and David Lynch and Tim and Eric Awesome Show, Great Job!, but it bears the most resemblance to Reece's previous release, the Ingmar Bergman-inspired horror film Strike, Dear Mistress, and Cure His Heart. Discussing Strike, Dear Mistress, which premiered at Austin's Fantastic Fest, with Oklahoma Gazette last year, Reece said "Horror is really one of those genres where you can do whatever you want." Apparently, for Reece, so is comedy.
Anchored (until it decidedly is not) by sympathetic performances by Sanchez, Mary Buss (as grieving but not forgiving ex-wife Gerlinde Arrow) and Cate Jones (as mistress Evelyn Gray), Arrows moves with the dream logic of long-form improv comedy and, with considerable overlap, will probably confuse at least as many people as it delights. By the way, the heavy-handed Hamlet references (Henry seems to be actually listening to a recording of the play as he drives to the hospital to see his father) appear to exist solely to troll the audience, which could possibly be said of the film itself. While some will undoubtedly leave the theater in tears of laughter, others will probably be left asking, "Was that some kind of joke?" — Jeremy Martin
The Art of Self Defense

8 p.m. Thursday
Oklahoma City Museum of Art
415 Couch Drive
Casey Davies transforms from a timid, insecure accountant to an unapologetically alpha male in
The Art of Self-Defense
. Touching on themes of toxic masculinity, misogyny and manipulation, writer/director Riley Stearns creates a dark comedy with hints of surrealism in his sophomore film.
Davies (Jesse Eisenberg) begins the film polite and quiet, with a tendency to sits on his hands, constantly apologize to his Daschund and let people walk all over him. He is unable to relate to his coworker bros' break room talks of sex, pranks and push-ups and instead gets mocked before retreating to his desk.
After getting beaten and almost killed, he begins to look for ways to protect himself, be more masculine and stand up for himself. He tries to buy a gun but stumbles into a karate dojo, where he meets Sensei (Alessandro Nivola). Casey begins taking classes and becomes devoted to karate, so much so that he begins to neglect his job. His quest to "become what intimidates [him]" makes him a natural at karate, but outside the dojo, he still feels less than a man. So Sensei takes him under his wing, getting him to ditch adult contemporary for metal music and French for German. "Everything must be as masculine as possible," he tells Casey.
Throughout the film, Sensei's macho bravado pushes Casey to become more brash and assertive. But it makes life tough for Anna (Imogen Poots), the only female and one of the dojo's first students. While she is better than her male peers, she is never awarded a black belt because Sensei equates femininity with weakness. Sensei constantly reminds her she is naturally weaker as a woman, at one point even realizing that "her being a woman will prevent her from ever becoming a man."
The film becomes more and more absurdist as it goes on, slowly revealing more sinister sides of the dojo. As Casey transforms his behavior to match the feeling he has while in the dojo, he gets admitted to night class, tougher, more violent sessions where things really get dark. The film's ending is somewhat jarring, with Casey's determination to become an alpha culminating in a shocking but humorous finale.
Witty one-liners are sprinkled abundantly throughout the movie, which intentionally procures somewhat monotone deliveries from the actors. Though not all jokes land and not everything set forth pays off — the film's message is murky at best — The Art of Self-Defense presents an engaging character study of what it means to be masculine. — Miguel Rios
Red Dog

8 p.m. Friday
Oklahoma City Museum of Art
415 Couch Drive

7:15 p.m. Sunday
Harkins Theatres Bricktown 16
150 E. Reno Ave.
Luke Dick is an award-winning songwriter with credits writing for major musicians like Miranda Lambert and Eric Church. Dick is also a member of new wave punk band Republican Hair. Before any of this, he was an adjunct philosophy teacher in New York. Now, he can cross "documentary director" off his bucket list.
Dick is married with two children, but his family was not always so conventional. He spent his toddler years in Oklahoma's most notorious strip bar, Red Dog Saloon. Eventually, he learned his mother, Kim Kassen, was not just a bartender there; she was a stripper.
Dick's documentary, Red Dog, chronicles the unfiltered, outrageous stories Kassen told her son. With interviews with fascinating key characters that shaped his early life, amusingly effective animations and a soundtrack by Dick himself, Red Dog unfolds a brutally honest narrative all about family and dysfunction.
Kassen's friends — bouncers, patrons and fellow strippers — became their family. Her best friend, Nasty Cathy, was Dick's "aunt," and one of the bouncers/dope dealers was "Uncle Rick." All of Kassen's husbands were affiliated with Red Dog in some way, and Dick learned to call two of them "dad." In his own interviews, it is easy to tell familial relationships were important for young Dick.
The cast of characters includes the current Red Dog manager, some of Kassen's husbands, Nasty Cathy's son and Tiny, the dance contest-winning bouncer who got the job by knocking out the previous bouncer. Every character is incredibly candid, which makes them likeable and relatable. However, Kassen is the star of the show. Her no-nonsense attitude and habit of reaching for a cigarette after an emotional anecdote makes the audience feel like they know her well.
The animations, interlaced between interviews, bring the characters' memories to life. Replete with exaggerated features and fun sound effects, they also add more levity to the film, which is humorous but can get emotional at times.
Most of the subjects characterize Red Dog as a place of sin, full of sex, drugs and rock 'n' roll. They have regrets, but they also recount happy memories and describe their relationships as a family of outcasts with a lot of love. The film focuses on this, humanizing the characters despite their admitted flaws and shortfalls and avoiding any judgment.
Some interviews might be inconsistent, with lighting and audio suffering in some shots, but clever animations, tactful editing, great interviews and Dick's soundtrack encapsulate an interesting point in time for one of OKC's most infamous sinful destinations. — Miguel Rios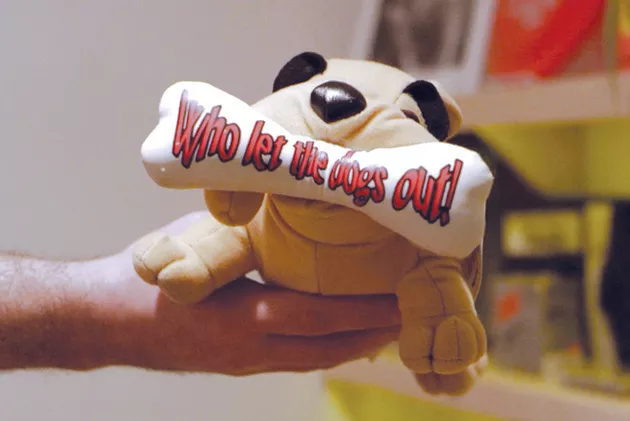 Who Let the Dogs Out

11 a.m. Saturday
2:30 p.m. Sunday
Harkins Theatres Bricktown 16
150 E. Reno Ave.
On first glance, the 2000 Baha Men hit "Who Let the Dogs Out?" could not be more superficial. Half the song is the eponymous phrase with woof noises. It is an anthem many people who lived through the era would probably choose to forget and certainly not something people would think could lend itself to a compelling hourlong documentary, yet here we are.
Director Brent Hodge's Who Let the Dogs Out follows New York-based artist and self-described "Who Let the Dogs Out" expert Ben Sisto and intercuts interviews and footage of him hosting a popular live show of the same name that details the history behind the song.
Like many hit songs, "Who Let the Dogs Out?" has been the subject of a few legal battles over copyright and ownership, but Sisto's research shows that the phrase and chant in question actually dates back farther than previously thought and brings up larger metaphysical questions of collective consciousness.
The song was a hit in the Caribbean before Baha Men, complete with a new younger lineup (kind of like the Ricky Martin teen band Menudo) and the producer that catapulted Hanson, made it ubiquitous in the year 2000.
The documentary spans the globe with interviews in the Bahamas, London, Philadelphia, Florida, Michigan and Seattle to track the history of the song. Writers in the middle of the copyright dispute actually intended for the chorus to be a feminist anthem meant to castigate misogynistic "dogs."
Sisto's research traces the origins of the song well before the legal precedent, first to a high school rapper in Jacksonville in 1992 and then to a Michigan high school football team that used it en route to a state championship in 1990, which opens Pandora's box.
There are numerous newspaper and video accounts of the phrase and signature "woofs" being used in association with sporting events, including Edmond Memorial High School in 1995 and a school in Austin in the late 1980s.
"Everything you say to everyone you meet somehow carries," says an interview subject in Michigan. "We do borrow, and it's OK. It's no imitation. It's the authenticity of creativity, and it comes from a creative place. It's wonderful to think how close we are."
The documentary checks in just under an hour — not including credits — and is a surprisingly interesting and succinct film that asks deeper questions than the subject matter would have led you to think would be there. — Jacob Threadgill
Bluebird
9:30 p.m. Saturday
The Devon Lawn
Myriad Botanical Gardens
301 W. Reno Ave.
There's nothing like a good origin story, and Nashville's Bluebird Cafe has been the launching point for many future stars including Faith Hill, Garth Brooks and Taylor Swift.
Now, The Bluebird Cafe gets its own origin story with a documentary directed by Brian LoSchiavo and full of interviews and performances by stars such as Hill, Brooks, Swift, Vince Gill, Jason Isbell, Steve Earle, Tricia Yearwood and Kacey Musgraves, but its best moments highlight Bluebird's ability to showcase the writer behind a hit song.
One of its first performances is from Don Schlitz, a name most people don't know, but they definitely know his song "The Gambler," which was popularized by Kenny Rogers and highlights the unique setup of Bluebird, which allows songwriters to add their inflection and motivation to the song that the star performer might do differently.
The documentary's best moments showcase the history of Bluebird, which went from a former pool hall in a small suburban shopping center to becoming the place where songwriters can become famous and providing big breaks for aspiring performers, which sometimes include the cafe's own staff.
Former Bluebird bartender Mark Irwin got his break as a songwriter with Alan Jackson's No. 1 hit "Here in the Real World" while he still worked at the cafe.
Bluebird offers open-call auditions, and the documentary interviews a few up-and-coming artists but doesn't follow through with their performance or life once they advance past the opening stage.
Bluebird is full of fun behind-the-scenes stories like Brooks' big break, which came after every record label in town turned down the Oklahoma native. The final quarter of the movie details the impact of the network television show Nashville, which went to painstaking effort to recreate the cafe on the show.
The documentary is full of Nashville star power waxing poetic about the intrinsic connection of the performer and intimate audience setup, but it lacks any real conflict. Its final scenes mention the fact that the area around Bluebird is becoming more gentrified and developed and that its adjacent building could be eyed by developers at any moment but doesn't talk to anyone with the city or the building's owner to flesh out the future of the cafe.
Die-hard country fans are probably at least aware of Bluebird's history, but they can enjoy its many intimate performances. The documentary doesn't offer much tension to keep a casual or uninitiated country fan interested. — Jacob Threadgill
American Heretics: The Politics of the Gospel

2 p.m. Saturday
Harkins Theatres Bricktown 16
150 E. Reno Ave.

2 p.m. Sunday
Oklahoma City Museum of Art
415 Couch Drive
In 1985, when Dr. Robin Meyers expressed interest in starting a liberal church in Oklahoma City, he was told by one person not to use the word "liberal" to describe the church. When he asked what word he should use instead, he was told, "conservative."
This is the story told in Catherine and Jeanine Butler's American Heretics: The Politics of the Gospel, which focuses largely on Mayflower Congregational United Church of Christ and the efforts of Meyers and associate pastor Lori Walke to provide liberals living in a hard-right community with a church that thinks and behaves progressively. The film also interviews Walke's husband, State Rep. Collin Walke, D-Oklahoma City, showing his efforts to bring more diversity to the state Legislature's chaplain program, and spends time with Carlton Pearson, the former leader of Higher Dimensions Family Church in Tulsa who, after publicly doubting the existence of hell, was forced out of leadership and went on to serve as a minister at Tulsa's All Souls Unitarian Church.
"Originally, it was just going to be a film about Mayflower, and it expanded to some other things like All Souls and the politics of the gospel and so forth," Meyers said. "But it started out with this intrigue about how is it that a progressive church makes it in Oklahoma."
American Heretics is generous in its depiction of Oklahoma but does not flinch when showing the hard battles waged on behalf of the state's progressive Christian community. It also serves as a quick lesson, thanks to former Phillips Theological Seminary professor Bernard Brandon Scott, in how the New Testament's gospels were written — mostly four centuries after the last apostle died — and documents the process by which Mayflower became a sanctuary church for undocumented immigrants.
For Walke, who grew up in the Southern Baptist tradition, participating in American Heretics meant laying bare the theological differences she has with her close family members. But in the end, Walke felt that being part of the documentary was fulfilling some of her mission as a free-thinking member of the clergy.
"It was a little scary to ask my family to be part of this film, and also I felt it to be a duty," Walke said. "I was obligated to tell this story because it is the story of so many people here in Oklahoma. These are folks who have been de-churched, who do not have the voice or the volume of the Religious Right or the Moral Majority." — George Lang