Ham and cheese arancini served over pea shoot pesto sauce | Photos Jacob Threadgill
The symbiotic relationship between food and wine pairs together as well as the working relationship of general manager Mindy Magers and executive chef Shelby Sieg at The Pritchard.
Magers and Sieg worked together at The George Prime Steakhouse (now home to 3Sixty Restaurant & Bar atop Founders Tower) before each was hired at The Pritchard, 1749 NW 16th Street, in 2016.
Magers serves as general manager and sommelier and has a wine pairing for each of Sieg's dishes. They spend a lot of time at work tasting food and wine pairings for Sieg's ever-changing menu, and they developed a bond that is so tight they even finish each other's sentences.
"Tensions can get high; you're here long hours, you're tired and if you don't know someone," Magers said about life in a typical restaurant before Sieg finished the thought. "You don't have prior understanding in how they operate, and I think that's why we work well together.
"People can tell when things are tense, and it comes through in the service staff. It's nice to have a lighter atmosphere here," Sieg said.
The ethos of The Pritchard is centered on the small, tapas-style plates that Sieg adjusts every six weeks or so. Guests are encouraged to share food and create a more social environment than just staring at their phones.
The food is something owners Aimee Ahpeatone and Steve Mason wanted to place an emphasis on with a recent rebranding. A new sign installed at The Pritchard last week no longer refers to it as a wine bar.
"[People] would come in and say, 'Oh, you have food too?' We're trying to get the right public perception," Magers said.
"The biggest thing that we try to fight all the time is that we're pretentious because we're a wine bar," Sieg continued.
The idea of a pretentious wine bar is antithetical to how Sieg approaches food. She wants The Pritchard to be a place for someone leaving a class at nearby YogaLAB as well as someone in search of a few beers.
"We don't want anything (on the menu) that feels like you're excluding anyone or that you have to have a culinary degree to understand what is going into the plates," Sieg said.
New offerings from Sieg dot the menu alongside standbys like Brussels sprouts with Spanish chorizo and crispy fingerling potatoes with raclette cheese.
"There would be mutiny if I ever removed the Brussels," Sieg said.
Veal and pork meatballs with parsley, cilantro and smoked paprika served with a romesco sauce are among recent additions to the menu. Romesco is of Catalonian origin and is a roasted red pepper and nut-based sauce (Sieg used walnut) with tomato and vinegar.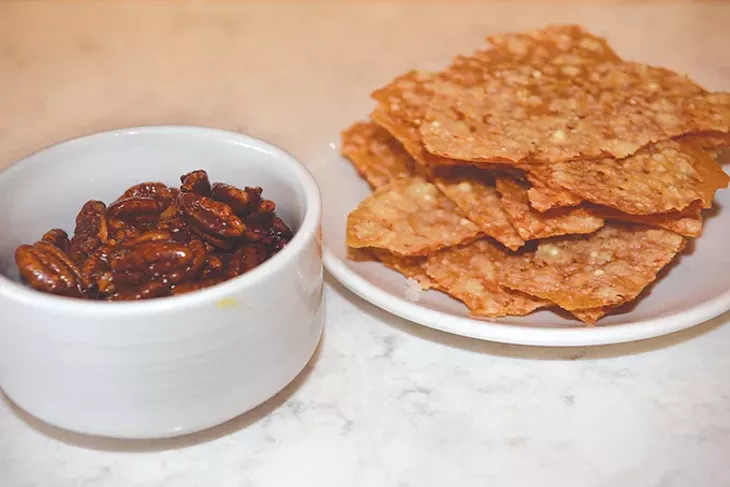 Candied Oklahoma pecans and CRACKers | Photo Jacob Threadgill
Sieg has also introduced arancini served with pea shoot pesto. Sieg adds ham and cheese to fresh risotto before it is battered and fried. She uses pea shoots from Prairie Earth Gardens in Oklahoma City and Spanish marcona almonds as the base for a pesto that is bright and sweet.
"It's seems fancy, but it's peasant food because it used to be leftover risotto from the day before," Sieg said. "It's like a better version of ham and peas."
Customers looking for a "bite" to go along with The Pritchard's extensive wine list should try candied Oklahoma pecans as well as a flatbread covered in Grana Padano, which is similar to Parmigiano Reggiano.
"We list them on the menu as a CRACKer because they're so addictive and popular," Sieg said. "[Grana Padano] is aged longer and has more depth of flavor than Parmesan."
Magers credited Sieg for developing a menu that accents the wine selection. Sieg said that while she likes some heat in dishes, she'll never serve something doused with hot sauce.
"There is a lot of flavor there, but nothing that is going to blow out your palate or ruin your wine," Magers said.
The Pritchard offers wine by the glass, bottle and carafe, with glasses starting at $6.
Magers said that 12-year-old Anciano Tempranillo from Spain is the restaurant's top seller, followed by a 2015 Durigutti Cabernet Franc from Argentinia.
"The cab franc is a rare find because it's a Bordeaux grape," Magers said, noting that she sells more imported than domestic wine. "In Spain, the land there is not that expensive compared to Napa Valley (California), where you're paying hundreds of thousands of dollars an acre. You can get better value from Spanish wines because they're not trying to cover their overhead."
As with food, Pritchard focuses on small, family-owned wineries because those who own vineyards are also farmers.
"There is nothing pretentious about getting your hands dirty," Magers said.
"It is very much part of the ethos of the restaurant. It's a family place, and we want to convey they in the food we're doing, wine that we're serving," Sieg said.
In 2018, the Pritchard has gotten away from "stuffy" wine dinners and has begun hosting interactive classes like a holiday cocktail class, wine pairing class and Scotch history class.
Visit pritchardokc.com.
Veal and pork meatballs with a romesco sauce | Photos Jacob Threadgill
Print headline: Fighting pretension; The Pritchard shows that tapas and wine can be accessible.