When Chris Paul arrived in Oklahoma City as a 20-year-old rookie member of the Hornets, refuged from New Orleans following the devastation of Hurricane Katrina, he moved into a house in Edmond with his brother C.J.
They would drive out to Southern Nazarene University in Bethany, where the waylaid team held practice and facilities, and the brothers bonded while being away from North Carolina for the first time in their lives.
Paul developed a pregame routine en route to winning Rookie of the Year in the first of two seasons spent in Oklahoma City that ultimately paved the way for the franchise moving from Seattle to Oklahoma City: He ate a meal at Charleston's.
Fourteen years later, Paul returns to Oklahoma City as a member of the Thunder with a completely new, plant-based diet.
Paul's transition from meat-eater to plant-based diet advocate, complete with being a Beyond Meat investor/spokesperson and co-producing the documentary exploring the science behind plant-based athletes, is as dramatic as the offseason overhaul for the Thunder.
The events that were set in motion by All-Star Paul George's trade request to join reigning Finals MVP Kawhi Leonard with the Los Angeles Clippers simultaneously feel like the last week and last decade in Oklahoma City. The trade with the Clippers netted promising second-year player Shai Gilgeous-Alexander, forward Danilo Gallinari coming off the last year of his deal and an unprecedented five first-round draft picks and two additional pick swaps. Forward Jerami Grant was traded to Denver for another first-round pick, and it set the stage to move former MVP Russell Westbrook to join former Thunder teammate and MVP James Harden in Houston for Paul and two more additional first-round picks.
Thunder general manager Sam Presti finds himself in an unusual position: A treasure trove of future draft assets are at his disposal, but the team has enough talent to contend for a playoff spot this year."Eventually, this organization is going to do what every other franchise in pro sports does," Presti said at a press conference on the eve of the opening of training camp. "Over the last 12 years, while we've been in this era of the team, I would say 25 other teams have gone through some type of transition, and we've been able to fight that off a few different times. Eventually, we're going to get there, and we're trying to be transparent about that, but it's not right now. … At some point, we will get to that restructuring and rebuilding point, and we're not going to sacrifice the long-term vision of the team."
provided
André Roberson
The decision to hold steadfast on the long-term vision of the team likely led to Paul's return to Oklahoma City. The 12-time All-Star arrives after a two-year stint with the Houston Rockets in which they were a Paul injury away from likely winning the 2018 NBA title after they lost a 3-2 series lead against San Francisco's Golden State Warriors without him, but reports hinted at a problem in the relationship between Paul and Harden, especially after the team was unable to take advantage of Kevin Durant's injury in last season's playoffs. Paul's contract, with three years remaining that escalates to $44.2 million for its final year in his age 36 season, is considered one of the most difficult in the league to trade. The Rockets had to attach two first-round picks in the Westbrook deal, and reports indicate Presti refused to do the same when other team inquired about Paul this offseason.
"I think Chris is going to have a really, really good year," Presti said. "No. 1, he's in incredible shape, and this is a guy who I think is a guy that is overlooked as to how good a player he is, and the impact he has on the basketball court, primarily because of his mind. He's a brilliant basketball thinker and sees the game extremely well. … Usually when you lose a player of that magnitude [Westbrook], it's a different outlook and you're not replacing him with another Hall of Fame player."
For the Thunder and Paul, it's in everyone's best interest for him to maximize his value, whether it's for a midseason trade or in the future, and he showed last year in Houston that he's still an elite player when he didn't have to share the court with isolation-dominant Harden. In more than 700 minutes played without Harden on the court, Paul averaged 22.5 points and 12.5 assists per 36 minutes last season. Many of those minutes were against the opposing team's bench units, and Paul missed 24 games due to rest or injury.
At age 34, Paul is entering nearly unrivaled workload for a point guard under 6-foot-1. The list of All-Star guards playing at a high level at that size are basically Paul and Utah Jazz great John Stockton, who played in all 82 games at age 34 in the 1996-1997 season. However, Paul has the advantage of two decades of nutritional and training improvement at his disposal.
"Competition is the thing that fuels me, always trying to get better, always trying to see how I can improve," Paul said at preseason media days. "I've got an unbelievable team around me that help me day in and day out. It's the competition of it. Having the opportunity to have a number of really good friends [Dwayne Wade, Carmelo Anthony and LeBron James] who did it for a long time."
Franchise cornerstone
provided
Shai Gilgeous-Alexander
While he didn't get the hype of Luka Doncic or Oklahoma native Trae Young from his 2018 draft class, Gilgeous-Alexander represents a cornerstone building block for the Thunder franchise. He started 72 games as a rookie point guard for the Clippers, which ended up surprising the league by making the playoffs after trading its leading scorer in the middle of the season.
At 6-foot-6 with a 7-foot wingspan, Gilgeous-Alexander has the mold to be one of the league's most impactful defensive perimeter players. He also averaged 13 points on 50 percent 3-point shooting in the first round of the playoffs as the Clippers pushed the fully healthy Warriors to six games.
Thunder head coach Billy Donovan said Gilgeous-Alexander has the versatility to play any of the three perimeter positions and might share the court with both Paul and fellow point guard Dennis Schröder.
"I think they can all help each other," Donovan said of the point guard trio. "There's clearly going to be times this year where two, if not three, of those guys will be on the floor together. I think they can all help one another. … They can help generate shots for each other and for the team. I think they're all smart and cerebral enough to play off of each other."
In the Thunder's first open scrimmage of the preseason, Gilgeous-Alexander guided a team comprised primarily of second-unit players and scored 21 points, keeping the team competitive with the starters led by Paul, Gallinari and center Steven Adams.
While there is uncertainty around the future of the Thunder roster for seasons going forward, Gilgeous-Alexander, 21, figures to the face of the organization when it embarks on its next era of basketball.
"This organization is in a great spot to get better," Gilgeous-Alexander said. "Obviously having a lot of picks through the work in the summer and having guys on the team that are talented and have something to prove, that's a good thing. The organization has done it in the past with guys like Russell, Kevin [Durant] and James [Harden]. They know what it takes and how to do it, and it's only a matter of time."
Despite having an extra season of NBA experience, Gilgeous-Alexander's backcourt mate Terrance Ferguson is the same age. Ferguson made a leap in his second season, becoming a fixture in the starting lineup, but his growth this season is a microcosm of how the team will have to play to be successful without Westbrook and George dominating the ball.
"[I've been working on] doing more on the ball," Ferguson said. "Last year, I had it easy with Paul [George] and Russ; I could just spot up for shots. This year, I want to be more on the ball and impact the game in different ways than just shooting the corner shot. I'm not going to try to force anything."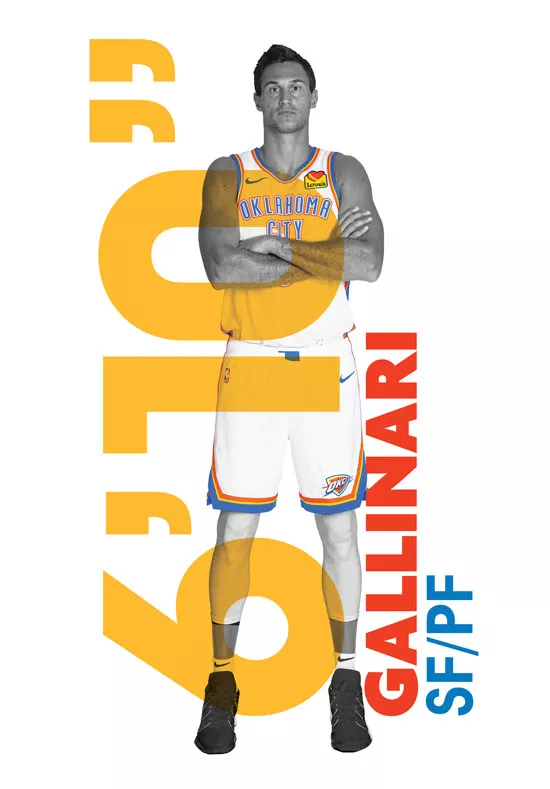 provided
Danilo Gallinari
Defensive stalwart
Donovan said that a lot of the offense last season was about creating space for George and Westbrook to make plays on their own, but this season's success will be predicated upon working as a team to generate scoring opportunities. The Thunder has ranked as one of the league's top defensive teams under Donovan's tenure, and it figures to have one of the best perimeter defenses in the league based on Paul, who has led the league in steals six times; Gilgeous-Alexander's length; and the return of Andre Roberson, who has not played since January 2018 after setbacks from a patellar tendon injury.
"This last year and half has been a lot of ups and downs," Roberson said. "It's taught me a lot about myself, about my body and about the game in general and it's effect on my life. It's taken me down certain paths; it's been a great character-builder, and it's great to see the game from another perspective."
Roberson has been a full participant in training camp, even showing off a different shooting motion, but he was held out of the first scrimmage as he continues to work his way back.
When healthy, Roberson is one the league's best perimeter defenders. He was voted second-team all defense the last full season he played, and the starting lineup in 2017-2018 with Roberson on the court ranked as one of the best defensive units in the league and one of the worst without him.
"[I've missed] locking people up and getting back to my roots first and foremost," Roberson said. "Let's just put it this way: Some of these guys have been a little too happy, too cute."
Frontcourt duo
At age 30, Gallinari averaged a career-high 19.8 points per game with 43 percent 3-point shooting on 5.5 attempts per game last year and gives the Thunder the type of consistent 3-point shooting it has desired from the power forward position since pushing Serge Ibaka, Domantas Sabonis and Grant out beyond the 3-point line with limited success in lower volume during recent seasons.
One of the best free-throw shooters in the league, both in terms of percentage and rate getting to the line, Gallinari is a proficient scorer. Depending how the season unfolds for the Thunder, Gallinari is a valuable piece to make a playoff push, but his expiring contract is also enticing for other teams around the league if the Thunder decides to accelerate its rebuild during the season.
"The NBA is a crazy business," Gallinari said of trade rumors. "As players, we can control what we can control, and I cannot control that part of the business."
Alongside Gallinari in the Thunder frontcourt is Adams, who is somehow only 26 years old, despite being a stalwart for the franchise since 2013. The New Zealand native with a dry sense of humor — "There might be some cultural differences [for the type of things I teach my teammates]. Whatever sticks, sticks, even if it's that I say 'mate.'" — said that losing Westbrook is hard, as is any teammate.
"The personal relationship is still there, but you're not going to see them as much," he said matter-of-factly.
Adams figures to see a personal statistic rebounding increase without Westbrook swooping in for defensive rebounds. For his career, Adams has one of the lowest defensive rebounding rates in league history for a player his size, due to playing with Westbrook. During the first scrimmage of training camp, Adams pulled down 21 rebounds in 21 minutes of action.
"Since I've been here, [Adams has] gotten better every year, and my guess is he will improve and get better this year," Donovan said.
Over the last 12 seasons, the Thunder has the second best record in the NBA and the league second best net rating. Presti said that as outside expectations no longer have the Thunder in the elite class of the NBA, the organization is focused on keeping internal standards for fundamentals and locker room respect.
"One thing that has deepened our roots probably more than anything is adversity, and we've had our fair share of those things," Presti said. "The way we have responded to those have hopefully have been representations of the values of the city that we represent. The way we go about our business that when you do get knocked back, dusting yourselves off, getting up and taking steps forward."
Visit nba.com/thunder.