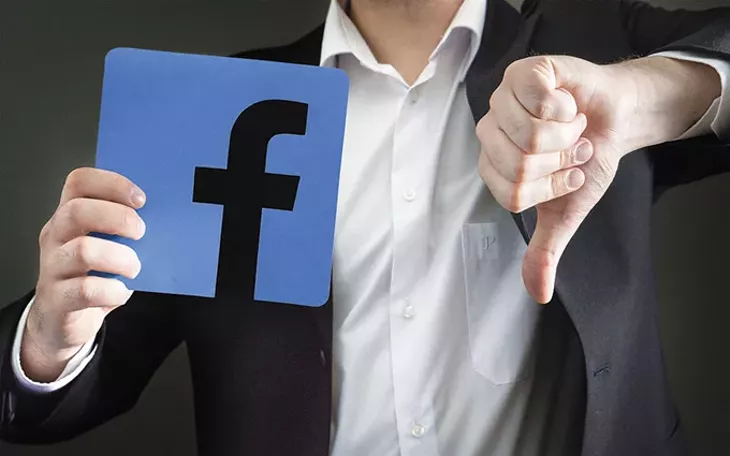 bigstock.com
In a recent survey of 1,000 Americans by the research group Techpinions, 9 percent of responders reported deleting their Facebook account in wake of data misuse reports.
In early March 2015, a YouTube video emerged featuring members of the University of Oklahoma's Sigma Alpha Epsilon fraternity singing a racist chant on a charter bus ride to Oklahoma City Golf & Country Club. The Lost Ogle jumped on the story and then local and national news outlets followed suit.
Oklahoma's "Obscure Local Social Blog" post on a local fraternity in hot water reached 1 million people on Facebook and earned the site about 400,000 page views.
These days, Patrick Riley, The Lost Ogle founder and editor, reminisces on that post and others from 2012 through 2015 when a post on Facebook, depending on the content, could go viral in the Oklahoma City metro or across the nation. Riley could watch his click-through rate from Facebook and Twitter climb and climb.
"Those were the glory days of publishing," Riley said. "Back when anybody could create a website and generate a ton of clicks and awareness pretty quick. Those days are gone unless you have a big checking account, which we know most publications don't have right now."
About a decade ago, Facebook introduced the "Like" button. Soon after, through an algorithm change, Facebook users' news feeds began to show the most popular posts first. Users began to not only share personal information, but they shared recipes, local services and news. Facebook traffic became critical to news organizations. So much so, those news organizations studied the algorithm to learn how to best post to Facebook and earn the most clicks. "Clickbait" headlines like "See this kid on a beach? You won't believe what happens next" lured users to take the bait.
Following the 2016 presidential election, Facebook entered the spotlight for all the wrong reasons, including influencing elections with fake news posts and data privacy issues. Meanwhile, about two-thirds of American adults were relying on social media platforms, including Facebook, for their news, according to a Pew Research Center survey from last fall.
Internally, Facebook was changing. While likely not noticed by the average user, media organizations saw likes and shares decrease. Even more troubling, there were fewer clicks to their websites. In January, Facebook announced what was happening: In an overhaul of the newsfeed, Facebook would now show users more posts from friends and family than news.
And then a month later, the social media company announced its Facebook Journalism Project: the Local News Subscriptions Accelerator program to funnel users toward digital subscriptions of metro newspapers.
"Facebook, for news organizations, is a curse that has fewer and fewer blessings," said Tres Savage, editor in chief of NonDoc, a journalism and media site based in Oklahoma City.
Back in 2015 when NonDoc launched, its founders recognized that social media platforms like Facebook and Twitter were critical to reaching an audience. As an online-only publication, Savage saw Facebook as the modern "newspaper delivery boy." This delivery boy was difficult to work with and he couldn't be fired.
"With Facebook, they are in charge of everything," Savage said. "They control the way in which they place stories in front of people. They have an unknown set of algorithms. We try to the best of our ability to make adjustments. There is no phone number you can call for tips."
These days, to keep an audience and reach new readers, news organization are left with the reality that spending money to "boost" a post means better traffic to their website.
At NonDoc, the editorial department faces an ethical dilemma: To boost or not to boost?
"If you have a story about a politician — we cover the legislature a lot — you can put $10 on that to make sure it reaches your entire audience," Savage said. "Does that look like you are playing political because you boosted this negative story about a Democrat but you didn't boost the positive story about a Democrat? What is the public's response to this?"
At The Lost Ogle, Facebook bills for boosting posts went from $50 to around $1,000 last month. It's all in an effort to keep Facebook readers seeing The Lost Ogle in their feed.
Riley summarized Facebook's ever-changing business model as a successful business strategy. News organizations became hooked on Facebook when no money was needed. Now, news organizations want to keep what they once had and Facebook offers it with a price tag.
"The people are still there," Riley said. "They want to get their news. They want to see The Lost Ogle. …The articles wouldn't reach as many people unless we pay to reach those people. That's the fact of the matter."
Gazette / file
The Lost Ogle, a local Oklahoma City-based news blogsite, uses Facebook to attract users to its site.
Aggregation and aggravation
In September, Pew Research Center reported that 66 percent of Americans use Facebook, and 45 percent of all Americans get news from the social media giant. While Facebook is not helping media outlets like it once did, its algorithm also no longer favors trustworthy sources.
The social media analysis site Newswhip reported in March that the Top 10 reporters on Facebook were only reporters in the loosest possible sense. Robert Costa of The Washington Post and The New York Times' Maggie Haberman didn't make the cut. Instead, two came from Truth Examiner, a Facebook page dedicated to anti-Donald Trump messaging; four were authors from Daily Wire, an alt-right propaganda site; and one came from Washington Press, a leftist propaganda site. The remaining three winners were a parenting blogger on the Today show's website, a reporter from the British "clickbait" site Ladbible.com and the India-based site RVCJ.com, which reported on May 12 that Dwayne "The Rock" Johnson has "officially filed for 2020 USA presidential elections."
He has not.
The result is an information crisis. Concurrent with the financial problems facing local journalism, nearly half of all U.S. residents are getting their information from unreliable sources, most of which are pushing extreme agendas rather than unbiased news, and Facebook is a conduit for those sources.
Kenna Griffin, an assistant professor and director of student publications at Oklahoma City University, said most people don't go to Facebook looking for news. Instead, they get it while passing through on the way to checking in on their friends and family.
"We're going there for affirmation. We want to see how many people liked our post or photo or whatever," Griffin said. "What happens then is we bump into the news while we're there."
And while people are on Facebook, they're frequently skimming the surface of posts, half-absorbing the headlines and moving on, often without clicking links or even knowing the source.
"We don't actually read our Facebook feeds. We scroll and scan, usually on our smartphones," Griffin said. "Which means my husband might say, 'Gosh, did you hear about that man who killed his daughter's dog because she wouldn't do the dishes?' And I'm like, 'Yeah, I did,' but the truth is I really don't have any information about that story. What I saw was a headline."
So fake news is a problem, but even that term is problematic, since journalists define it as false or misleading information while politicians and agenda pushers ascribe it to things with which they disagree. In January 2015, long before the subject became part of the national discussion, the Stanford History Education Group began a study on students' ability to discern real news from the fakes. In one instance, students were asked to evaluate two separate Facebook entries announcing Trump's presidential candidacy, one from Fox News, and another one labeled Fox News but not featuring the blue checkmark verifier. Only one-quarter of the students recognized the checkmark as an indicator of a verified source, and 30 percent thought the fake page was more reliable due to its graphic content.
"The interesting thing that was found later is that Pew said, 'Let's look at their parents. Do their parents know the difference?' They found that it was almost the same," Griffin said. "Sometimes we think fake news is more obvious than it is."
Jacob Threadgill
Advertising preferences after the installation of Facebook's purity browser extension from the activist group Citizens Against Monopoly.
Out of the shadow
When Facebook debuted its news feed in 2006, its 8 million users still needed a school email address — high school or college — to access the site. It became the first time the social media company was hit with privacy concerns, but it set the stage for a decade later as the same newsfeed — now with over a billion users — would play a major role in disseminating misinformation leading up the 2016 presidential election.
The role of Facebook as an unreliable modern-day newsy culminated in March with the revelation that the company knew Cambridge Analytica harvested the personal data of 87 million users and did nothing about it.
Facebook co-founder and CEO Mark Zuckerberg was called before a two-day hearing with 44 members of Congress to address privacy concerns. Sen. Orrin Hatch (R-Utah) asked Zuckerberg how Facebook makes money.
"We sell ads," Zuckerberg said with a sheepish smile in response to the perfunctory question.
In order to sell those advertisements, Facebook has targeting methods installed not just on its own site, but on other retailers, in mobile devices and with third parties, according to The Intercept.
Facebook stores every message, file and audio message a user sends or receives. It has access to users' webcams and microphones, tracks where a user is located, what applications they installed and their browsing histories, according to journalist Dylan Curran.
Facebook's public relations response has included a recent "Clear History" campaign to allow users to remove the tracking done on outside websites and applications, but the initiative has yet to go into effect.
Facebook's recent television advertising campaign announces that "From now on, Facebook will do more to keep you safe and protect your privacy, so we can all get back to what made Facebook good in the first place."
An April Gallup poll revealed that concern over privacy issues has increased since 2011. Those users "very concerned" over the invasion of privacy on Facebook increased from 30 percent in 2011 to 43 percent in 2018. Including the 31 percent of the "somewhat concerned" responses, a majority of those polled expressed having issues with Facebook's privacy policy.
During Zuckerberg's Congressional hearing, he repeatedly said that privacy protection is in the hands of the user.
The activist group Citizens Against Monopoly (CAM) has launched a website called ImNotYourProduct.com that includes a how-to guide to show just how difficult it is to gain access to the settings Zuckerberg was telling Congress about. CAM's website also includes a petition sent to Zuckerberg asking for all of the settings to be deactivated with one click.
The activist group's research found that disabling the settings requires visiting 11 different Facebook sections, clearing out three different personal interest caches, limiting four advertising types, and seven additional actions for information only available to other Facebook friends. Even after all of those steps, it doesn't completely free a user from the possibility of advertising scrapes.
"This is so frustrating," Citizens Against Monopoly director Sarah Miller told The Intercept. "We think people will have the same experience seeing how intentionally hard this is."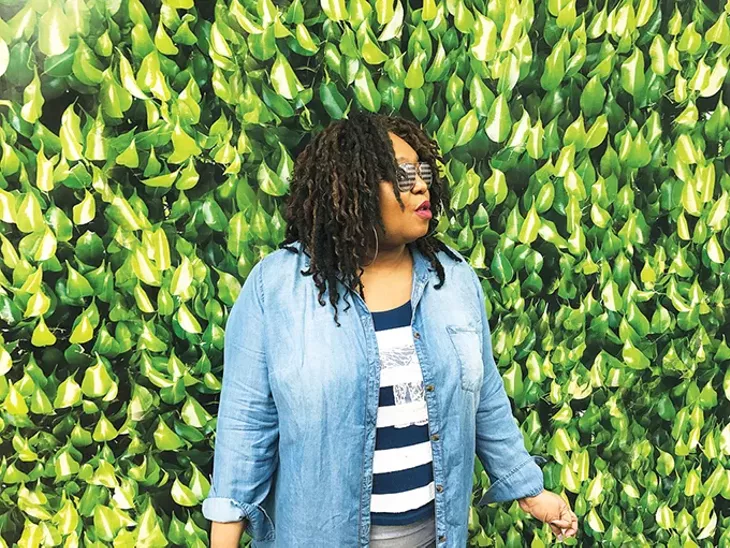 Jason Fisher / provided
OKC-based creative consultant Nicole Allen-Fisher said it would be impossible to do her job without a Facebook account.
Still here
In college, communications student Nicole Allen-Fisher was assigned to pick an issue and write a paper arguing both sides of it. Because the Oklahoma City resident's career is so entrenched in social media, she thought it would be a good idea to look into the pros and cons of such platforms.
When Allen-Fisher began to read a study on the mental health effects Facebook and other social networking sites can have on its users, it was a bigger wake-up call than she was expecting.
"It made me go, 'Why am I doing this?'" Allen-Fisher said.
Allen-Fisher wrote her paper before news of Cambridge Analytica's data access was publicly known. Skepticism and weariness have been piling up on some Facebook users for at least a few years now, and for many reasons other than privacy concerns. Negative posts, comments and news articles can flood one's feed as easily as precious puppy photos. Having a constant window into the selectively shared lives of Facebook friends can breed feelings of anxiety, envy and annoyance. And, of course, there is also the site's potential as a vehicle for spreading fake news.
For a while after the Cambridge Analytica news broke, the hashtag #DeleteFacebook was trending on Twitter. The movement gained support from celebrities like Jim Carrey, Cher and tech entrepreneur Elon Musk. The total number of private accounts that have been deleted since March is unknown, though the research group Techpinions conducted a survey in which 9 percent of respondents reported deleting their accounts. However, the survey was limited to just 1,000 Americans, and Facebook has a worldwide following.
Even if millions of users left Facebook in the last couple of months, the social networking giant reported more than 2 billion global users in 2017. The vast majority of its users still have their accounts despite any negative associations they might have with the service.
Though Allen-Fisher has contemplated ditching her account, she still uses Facebook because it would be impossible to do her job without it. Allen-Fisher works as a creative consultant doing everything from writing to event planning for local businesses and private contractors.
Facebook has become the unquestioned king when it comes to event planning and marketing. There is no other way to reach as many people while spending little to no money.
"It's like the new society pages," she said.
Allen-Fisher said Facebook's past actions have caused her to lose faith in how responsibly the site handles her data, but she also believes engaging in the internet world in any significant way is hazardous to one's privacy.
"I try to stay aware of it so it never takes me by surprise," she said, "but in this day and age, it's kind of par for the course unless you're just going to completely unplug."
Rather than labeling it as inherently good or bad, Allen-Fisher views Facebook and social media as a reality of the times that is not going anywhere.
"There have been some definite effects on our life that are negative because of social media in general, but I believe it has been the same thing with television or radio," she said. "Any time we open ourselves to a larger experience we're going to have some negative effects."
Facebook is still a free platform — at least for now. Allen-Fisher knows the act of actually deleting an account is simple. But withdrawing from the many conventions of modern work and social life that come with it is much more difficult.
"I figure I know what I signed up for," she said.