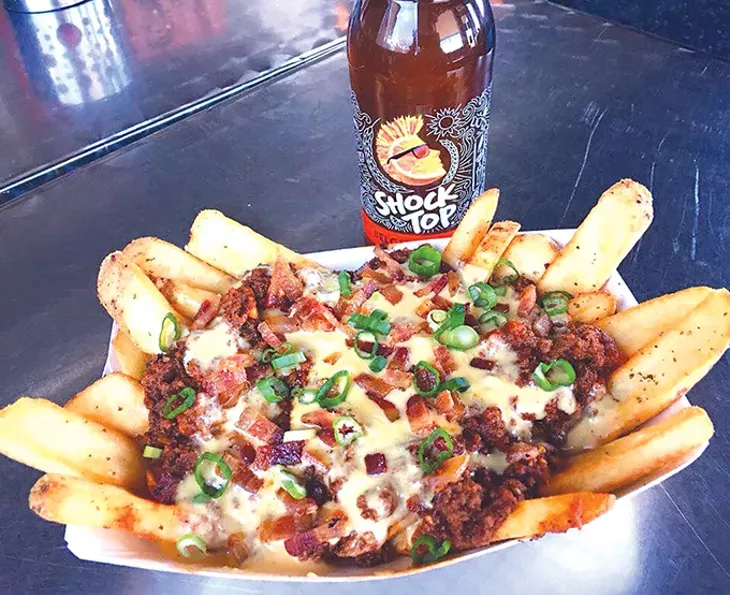 Bison Chili Fries are a go-to snack at The Pump. | Photo provided
Even while operating out of a kitchen not much larger than a parking space, chef Haley Hinson at The Pump Bar, 2425 N. Walker Ave., is able to produce plates that pair with the bar's ethos.
When owner Hailey McDermid and husband Ian opened The Pump in 2015, they wanted a fun outdoor patio experience that is promoted by a jovial staff and unique tiki-themed drinks highlighted by a daily special called The Dirty Harry.
"We want the menu to complement that [environment] and do bar food on an elevated level and made with good ingredients," Hailey McDermid said. "You're not meant to come in and sit down with one giant plate in front of you. It's meant for sharing and communal and social experience."
The Pump has recently debuted an updated small plate menu and doubled its brunch offerings, the latter of which now includes three types of tater tots, which have been a staple bar snack since opening.
Its most popular snack is the Okie Poutine ($10), which is The Pump's take on the national dish of Canada. Tots are topped with braised short rib, cheese curds and brown ale gravy. Cheese curds set the dish apart from gravy fries but can be difficult to source in Oklahoma.
"We went through hell with our cheese curds trying to find the right ones, but we have great ones now," Hailey McDermid said.
New additions to the snack menu include pretzel nuggets served with beer cheese or Nutella (both $7), spicy pork rinds ($4) with picante-lime seasoning and the Pho Rench Dip ($11), which combines two popular Vietnamese dishes into one plate. Pho Rench Dip is sliced ribeye with pickled veggies on a baguette with pho broth, so it's like a banh mi version of a French dip.
A new Buffalo chicken quesadilla ($10) is served with a side of elote (Mexican street corn), which replaces the faro succotash as a side item.
Head bartender Meghanne Hensley, reigning winner of Oklahoma Gazette's best bartender title in the Best Of OKC fan vote, designs a daily seasonal cocktail based on the weather or ingredients on hand.
"I do a really awesome mulled wine when the weather gets cold that sells out every night," Hensley said.
Cold weather usually means hot toddies, stouts and richer drinks, but during a warm weather outbreak last week, Hensley broke out an Orange You Glad I Didn't Say Banana drink with banana rum, aged rum, orange juice, lime and coconut cream, cinnamon and sliced banana.
The new brunch menu features the Bump and Grind ($8) cocktail with espresso rum, horchata rum, cold brew KLLR coffee and chocolate bitters. Bartender Rainier Crespo also created a Hangover Horchata ($8) using his family's recipe.
Bar bites
Guyutes
730 NW 23rd St.
405-702-6960
While you grab a drink on its patio, snack on Gimme the Beat ($7) roasted beet hummus with green onion and sweet potato chips (pictured) or Pig Lips ($7), bacon-wrapped cherry tomatoes.
Hopscotch
10909 N. May Ave.
405-286-4246
Burgers and fries are the focus at this sports bar. Choose between five different types of fries or tomato bisque served with grilled cheese bites ($8).
The Jones Assembly
901 W. Sheridan Ave.
405 212-2378
The hippest place in town offers more than concerts. You can also snack while you drink. Tuna tartare, scratch biscuits, octopus in a Thai chili glaze and deviled eggs highlight the snack portion of the menu.
Pub W
3121 W. Memorial Road
405-608-2200
Pub W has three locations in the metro area and highlights Oklahoma with Squashpuppies ($7) — a take on the hushpuppy with extra veggies — and serves it with honey butter and jalapeño jam.
Republic Gastropub
5830 N. Classen Blvd.
republicgastropub.com
405-286-4577
Republic features a few elevated takes on bar classics like the Scotch egg ($10), pork belly sliders served with kimchi coleslaw ($12) and truffle potato skins ($10).
Sidecar Barley & Wine Bar
1100 N. Broadway Ave.
405-421-0203
A large cocktail, wine and liquor menu is highlighted by small plates and sandwiches. Snacks include a meat and cheese board ($12), smoked salmon ($11) and kale chips ($8).
Print headline: Boozy snacks; What places in the city have the best boozy bites?