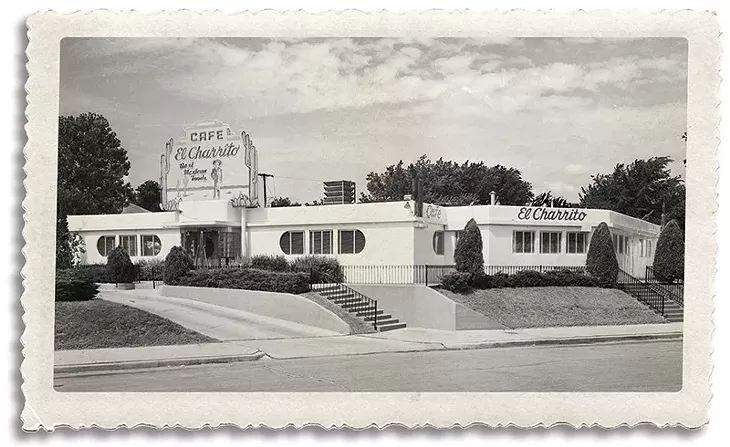 Provided
El Charrito, one of Oklahoma City's first Mexican restaurants, was located in the building that currently houses Paseo Grill, 2909 Paseo St.
In 1968, the biggest national restaurant news was the transition of a regional favorite into a coast-to-coast phenomenon as McDonald's added the Big Mac to its permanent menu.
In Oklahoma City, the restaurant scene was still dominated by cafeterias, but Mexican food began to establish a stronghold, and the city's first true fine dining experience, The Cellar, received national recognition.
Long before Casa Bonita became a central plot point in a memorable episode of South Park at its suburban Denver location, Casa Bonita got its start in Oklahoma City on NW 39th Street in 1968.
Although Casa Bonita's Lakewood, Colorado location is famous for having a giant waterfall and ostentatious décor, the original Oklahoma City location opened by Norman native Bill Waugh built off of the city's first Mexican restaurants, El Charrito (which was in the process of merging with El Chico in 1968) and El Rancho Sanchez, by offering buffet-style options.
"As I look back, the food wasn't all that good [at Casa Bonita], but there was lots of it," said Dr. Bob Blackburn, executive director of Oklahoma Historical Society. "You could order until you were stuffed. You could eat these Velveeta-based cheese enchiladas. It was just rolled up tortillas with lots of onions and cheese on it, and Oklahoma City people loved it."
Each table had a flag that diners raised when they wanted more food, which was a byproduct of Oklahoma City's cafeteria culture. In the late '60s, Oklahoma City was still very much the "cafeteria capital of the country" and had 37 operational cafeterias when the city was given that distinction by the president of the American Restaurant Association.
According to Blackburn, Oklahoma City's cafeteria culture was a byproduct of its rural roots, in contrast to Tulsa, which had big city influence due to its earlier oil boom.
After World War II there were fewer opportunities for small family farmers, as 1,000-acre farms became the norm, Blackburn said. This meant small country cafes like one operated by the Dodson family in Cordell didn't have enough customers to survive in their original location, so they went to Oklahoma City, where they opened two cafeterias in 1952.
"[Cafeterias] knew how to cook country food for people that worked hard on the farm and they wanted 2,000 calories for lunch so they could go back and work in the field," Blackburn said. "One generation back they were on the farm, so they're used to eating pinto beans and cornbread, chicken and dumplings and things like that. People had the skill sets to provide these meals with a population that expects it, and expects to pay country prices in the city, and all that leads to the popularity of cafeterias."
Hightower's Cellar
Provided
John Bennett left was recommended to The Cellar and Hightower owner Frank Hightower by his Bennett's mentor, master chef James Beard.
Born in 1951, Black-burn was working as a full-time contractor by 1968, facilitating a housing boom brought to Okla-homa City by the new employment opportunities provided by recently arrived corporate manufacturers like General Motors and Western Electric.
As the suburban parts of the city began to grow in 1968 ("Everything north of 63rd Street was a dirt road," Blackburn said), downtown Oklahoma City was in the early stages of urban renewal, a time when the controversial Pei Plan orchestrated by architect I.M. Pei brought optimism to the city.
In 1968, there were positive signs that the urban renewal development would be able to follow through on its plans to use federal block grants to demolish dilapidated buildings and spur investment through financial incentives. Griffin Tower (now BancFirst Tower), the Santa Fe parking garage, Fidelity Bank Building (now Bank of Oklahoma) and Kerr-McGee Tower had begun construction by 1968, according to Blackburn.
"By then, they had not done wholesale destruction," Blackburn said. "It didn't look like a war zone yet. It looked like it might work in 1968. Everyone was hopeful, the economy was booming and suburban development was going nuts."
In 1960, 80 percent of Oklahoma City's retail was located in downtown, but that number reversed by 1964 as malls like Penn Square Mall (then an open-air shopping center) and Shepherd Mall in the outer core of the city attracted businesses, Blackburn said.
One businessman fighting to hold onto his downtown position was Frank Hightower, whose grandfather built the Hightower Building in 1928, which survived urban renewal and remains as the only 1920s skyscraper in the city.
Hightower, who died in 2000, was a Yale University graduate who had a taste for finer things. He originally established The Cellar at Hightower in the basement of his building in 1958, but wanted to convert it into the city's first true fine dining restaurant, but he needed the right chef to pull it off.
Hightower reached out to James Beard, the country's preeminent authority on French cooking, with whom Hightower had taken cooking classes. Beard suggested Oklahoma native John Bennett, who Beard met when Bennett was doing vegetable prep work and making sauces at the Mermaid Tavern in Stratford, Connecticut, while he was a student at the nearby Culinary Institute of America (CIA) in Hyde Park, New York.
Beard worked as a consultant at the tavern and struck up a friendship with Bennett after he asked Beard if he would like to speak to his class at CIA. Beard agreed, but only if he could bring his friends Julia and Paul Child, who were then unknown and finishing Mastering the Art of French Cooking, which would go on to launch Julia Child as one of the country's first celebrity chefs.
The experience with Beard and the Childs that day at CIA was the beginning of a lifelong friendship between Bennett and the culinary luminaries. Instead of returning to CIA to finish formal training, Bennett and a friend were able to travel across the kitchens of France thanks to a letter written in French by Julia Child.
Not long after returning from France, Bennett — still in his early 20s — was hired by Hightower to oversee the new Cellar menu.
"We were on the leading edge, especially in Oklahoma City," said Bennett, now 76. "We led the way as far as food quality and our menu was mainly French-inspired. Actually, I still get requests for recipes on the menu."
With an opulent dining room that featured tableside flambéing and a rolling dessert cart featuring decadent desserts, The Cellar became the first restaurant in the city to offer a full course of forks and have silver dining ware.
Money was no object at The Cellar, Bennett said. Hightower would go to great lengths to order produce, and would send Bennett to France to taste-test wine. Bennett was unable to find fresh mushrooms in Oklahoma City, so they had Portobello mushrooms shipped from Dallas, which were stuffed with creamed crab and topped with breadcrumbs and Gruyere cheese.
"We got all the wine in and got some really nice wines and they were reasonably priced, but no one would order them because they thought they were expensive, so we [the staff] drank them," he said. "It was liquor by the wink. Everyone had a locker, but we had an open bar and never had a problem whatsoever. They'd ostensibly order a bottle of vodka and it would last for years. We built a wine cellar, and to this day it has cork-lined bins where you can see the customers' names on it."
Blackburn said the Skirvin Hotel (now the Skirvin Hilton Oklahoma City) offered the nicest menu in the city prior to the opening of The Cellar, where the Skirvin's fixed menu averaged about a $3 total check, compared to $1.50 at a cafeteria. The Cellar's menu that featured fresh seafood like Dover sole and trout — which was still uncommon to find in Oklahoma City at the time — would have average meals at $6.
Emerging scene
The city's healthy economy in the mid-1960s allowed The Cellar to gain a healthy clientele and receive accolades. In 1968, it received a four-star review from Mobil Travel Guide, becoming the first restaurant in the state to receive such a distinction, according to
Classic Restaurants of Oklahoma City
by Dave Cathey.
"We don't get John Bennett without Frank Hightower," Blackburn said. "John Bennett was this flamboyant young man who wanted to experiment and explore opportunities. He could've gone to Cattlemen's to sling steaks, but he would've been bored to tears. The Skirvin had a set menu, and he was never going to flourish in that situation based on his talent and personality. Combine those two personalities with a beautiful building at a time when downtown was still alive. They walked onto the stage at the right time. Ten years earlier it wouldn't have worked and 10 years later it would've been too late. By 1978, urban renewal had made downtown a wasteland, and we're still suffering for that now."
Bennett left The Cellar in 1969, but not before inspiring a new generation of chefs.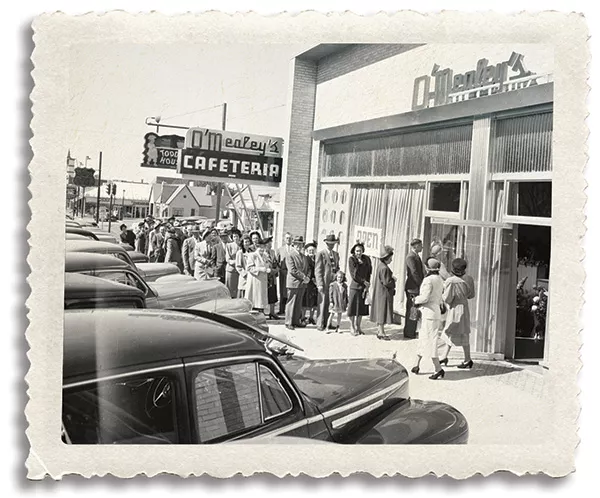 Oklahoma Historical Society / provided
Demographic changes in Oklahoma contributed to Oklahoma City being designated the "cafeteria capital of the country."
Rick Bayless, who is now one of the country's most famous Mexican food chefs based in Chicago, came from a restaurant tradition. His parents opened the successful barbecue restaurant Hickory House in 1952, but Bayless told Bennett and Blackburn years later that his voyage to pursue his own culinary career started at The Cellar.
After seeing Child on television, Bayless knew The Cellar was the one place in town he could get fine French-inspired cuisine, so he saved up money and took the bus to the restaurant as a preteen. Bennett said he remembered serving Bayless chopped steak covered in mushroom gravy served with a bouquetiere of vegetables and a piping of potatoes on the exterior of a wooden plank.
"Rick told me that, 'I'd have the chocolate mousse and then they'd leave the cart there because they knew I loved it, and they said I could have as much as I wanted.' He said to me, 'Thanks for inspiring me to get into the food business.' I apologized to him and told him sorry because it's such a rough business," Bennett said.
After leaving The Cellar, Bennett briefly at Christopher's before moving to San Francisco. He returned in 1975 to open The Grand Boulevard restaurant on N. Western Avenue. The Cellar closed its doors in 1984.
Despite working in fine dining, Bennett was a fan of eating at The Anna Maude cafeteria across the street from The Cellar after long afternoons of cooking. He frequented the Boulevard Cafeteria, Glen's Hick'ry Inn, The Patio and more.
"Anna Maude's was all home cooking. Queen Anne was good in Founders Tower," Bennett said. "The Boulevard was always good. It was one of my favorites and I had favorite dishes there. They had a rice pudding with custard sauce that was just killer. They had pea salad, cauliflower salad. Everything was good; I enjoyed everything."
A half century on, the only major restaurants from that long ago time in Oklahoma City are Cattlemen's Steakhouse, 1309 S. Agnew Ave.; Jamil's Steakhouse, 4910 N Lincoln Blvd.; Florence's Restaurant, 1437 NE 23rd St.; and Coney Island, 428 W. Main St.
Chef John Bennett's famous chocolate mousse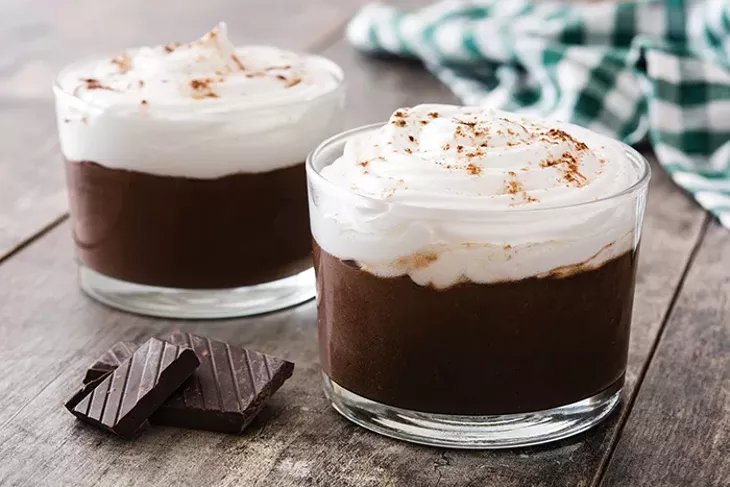 Editor's note:
The chocolate mousse recipe at The Cellar at Hightower was a mainstay during John Bennett's tenure as executive chef. Bennett now offers his recipe to
Oklahoma Gazette
readers who want to feel like they are dining at The Cellar in 1968.
Melt together in microwave 30 ounces of Baker's German sweet chocolate and two sticks of butter. (Do not overheat; put the butter on the bottom and chocolate on top. By the time the butter is melted, the chocolate can be stirred to finish melting.)
Meanwhile, beat in mixer:
1 cup egg yolks (about 7 or 8 large eggs) and reserve the egg whites (about two cups)
Beat egg yolks until thick and lemon-colored.
In small saucepan, blend together 1 cup granulated sugar, 1/2 cup white Karo corn syrup, 3/4 cup of water.
Dissolve the sugar in the water, add the corn syrup then put on the heat. Cook on medium heat until it spins an 8-inch thread or gets to 235 or 240 degrees on a candy thermometer. Remove from the heat and let cool for just a minute or two.
Carefully pour the syrup into the egg yolks while continuously beating at a medium-high speed. Continue beating until slightly cool; add the melted chocolate and butter, some vanilla paste or extract (to taste) and mix well. Scrape with a rubber spatula into a clean, stainless steel bowl.
Clean and dry mixer bowl, beat two cups of egg whites until soft and fluffy but not dry.
Carefully blend or mix the chocolate mixture and the egg whites together until mixed but do not overmix or the whites will deflate.
Cool chocolate base for about six hours or overnight in refrigerator until solid.
Whip one cup of heavy cream with 1/4 cup instant superfine sugar and vanilla until cream is stiff. Remove cream to another bowl and reserve. Put solid chocolate base into mixer with paddle attachment and add a big spoonful of cream to incorporate into the chocolate and lighten it. Spoon mousse into large bowl or smaller individual dishes, top with remaining whipped cream and add grated chocolate on top, if you wish. Refrigerate for about an hour.