Alexa Ace
City Rescue Mission, 800 W. California Ave., sees a significant increase in clients starting in September.
Sixteen people experiencing homelessness in Oklahoma City died during winter 2017. Some froze to death on the streets while others died trying to stay warm in fires that got out of control.
Having somewhat of a cold weather plan in place to shelter people experiencing homelessness was not enough to save those lives. That was when city shelter leaders got together to craft a more exhaustive plan, said Dan Straughan, Homeless Alliance executive director.
"We knew we had to have something more formal, more structured and more robust," Straughan said. "All the shelter directors meet once a month for lunch, and so we just got together and, in consultation with The City of Oklahoma City and some volunteer groups, put together this program. It's pretty structured. We've all agreed that we will open overflow beds when it's 32 degrees [Fahrenheit] or below, and we determine that 48 hours in advance. So we always know and can tell people if the shelters will be open tonight and tomorrow night. We all agreed that for forecasting purposes, we would use the National Weather Service website and use 73101 as the location."
Salvation Army, 1001 N. Pennsylvania Ave.; City Rescue Mission, 800 W. California Ave.; Jesus House, 1335 W. Sheridan Ave.; Grace Rescue, 2205 Exchange Ave.; and Sisu Youth Services, 3131 N. Pennsylvania Ave., all open up overflow beds for the winter contingency plan crafted in 2018.
"Last winter, we didn't lose anybody," Straughan said. "That's an outcome, and that's exactly what we wanted to happen. We hope for the same thing this year."
The plan
Currently, the five shelters in the plan collectively offer about 161 overflow beds for the winter contingency plan, but that's just phase one.
"In three phases, we can actually go to a little over 300 beds," Straughan said.
Alexa Ace
Dan Straughan is executive director of Homeless Alliance.
If they see the beds filling up and expect to max out, Grace Rescue Mission can open its gym for an additional 75 cots. If those were to fill up as well, which Straughan said would likely only be due to a long stretch of low temperatures, Homeless Alliance can open its day shelter for an additional 70 spaces.
"We will not turn somebody away. If we were one over capacity, shelters will just make room," Straughan said. "We may just have to provide transportation."
As soon as National Weather Service forecasts temperatures lower than 32 degrees, an email goes out to all shelters and other partner agencies like local libraries and meal sites.
"What most of them do is make sure that people who are homeless are aware that that's available to them. That's the big thing," Straughan said. "For all those shelters that are doing cold-weather contingencies, there's additional costs involved in staffing, in supplies, food, that kind of stuff, so Regional Food Bank [of Oklahoma] steps up to provide extra meals during the winter. United Way made a special sort of emergency grant to defray the cost of staffing and security at shelters."
As of late December, the weather contingency plan has been activated 16 nights and the highest utilization was Nov. 11 when 141 beds were occupied.
While the whole system activates when temperature forecasts fall to 32 degrees Fahrenheit or less, some providers like City Rescue Mission open their overflow beds at higher temperatures. Including those nights means the winter contingency plan has been activated 39 nights, with the first being Oct. 30.
Erin Goodin, City Rescue Mission CEO and president, said they have filled pretty much all of their overflow beds when the contingency plan has been activated.
"Especially on our men's side, not so much on our women's side, but every night, our cold weather men's beds are full," she said. "We haven't turned anybody away, but we will increase our count a little bit if we need to. We try not to overload our security staff at night, but we have never gotten to the point where we've had to actually turn anybody away."
Jamie Caves, executive director of Sisu Youth Services, said Sisu's overnight beds are usually filled as well.
"Our emergency weather beds are utilized most every time they're available. Maybe not all of them, but to some extent we almost always are on a wait. Typically, if there's an extra bed, there's two or three youth that are going to fill those beds regardless of the weather really," she said. "But we definitely want to make sure that they have a safe place to stay when the temperatures are below 32 degrees."
Youth focus
Sisu Youth Services is the only shelter in the plan that specifically caters to youth experiencing homelessness. After the closure of the only other youth-focused overnight shelter, Sisu became the only place where youth could find a bed to stay overnight. That made Sisu much more busy than ever before.
Caves said things have somewhat stabilized but its decision in May to temporarily expand three available overnight beds has stayed in effect. Sisu currently has 19 overnight beds, and five additional spaces open up when the cold weather contingency is activated.
Miguel Rios
Erin Goodin is CEO and president of City Rescue Mission.
"It was pretty chaotic and stressful for a few months after, but it has stabilized some," she said. "There's a lot of pressure when you're the only one because that means you have to be really careful about suspending a youth for bad behavior, so that puts us in a situation where we really have to weigh out, 'Is this safe for the other youth here, and what is the contingency plan for this youth?' Weighing those against each other is a difficult position to be in, but when you're the only one, it's certainly something that we're faced with constantly."
Being a shelter that focuses on youth also comes with different obstacles officials have to help clients overcome. For example, unaccompanied minors aren't able to stay at any of the adult shelters.
"So if find yourself 17 and homeless, there isn't another shelter you can stay at," Caves said. "Then there's things like enrolling in school, there's health-care barriers sometimes if they are a minor. … This age population, we find that there is sometimes a lack of skill and that they do not have the skills they need to rely on themselves. So we also make sure that we're teaching them how to do some very basic functions like cook a simple meal for yourself, how to do some basic chores and keep things clean. … The goal is for this experience with homelessness to be brief and one time, but in order for that to happen, we know that they need some skills."
Cold shelter
Even when the temperatures remain higher than 32 degrees throughout the cold months, shelters across the city see a significant increase in the number of clients they serve.
For City Rescue Mission, the increase begins around September. Goodin estimates a 40 percent increase.
"Traditionally, around Christmas and when it gets colder, we do see an increase. It usually hasn't been as high as what we're experiencing this year," she said. "We have more families than we've had in a really long time."
Currently, Goodin said, City Rescue houses about 40 families and anywhere between 80 and 120 children per night.
"We have a lot of clients that come in with an average income of $900 a month and their housing expenses are $700 a month, and that's just not a sustainable housing situation," Goodin said. "Most of them come from housing and to our shelter, and it's usually evictions."
Caves has noticed two main reasons winter increases the number of people they serve.
The first is an increase in desperation.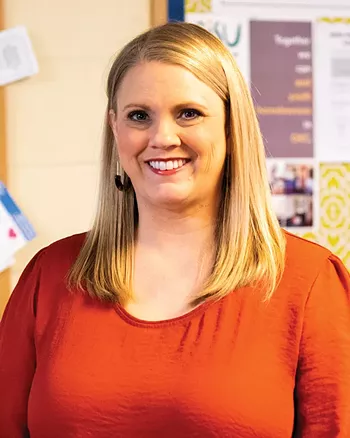 Miguel Rios
Jamie Caves is executive director of Sisu Youth Services, the city's only emergency overnight shelter specifically focusing on youth.
"The cold weather changes the desperation of the situation and needing shelter. It isn't just about not wanting to be outside or being exposed to violence, but now we're talking about, 'Do you have the proper equipment to survive the night?'" she said. "It means we carry different supplies. We have HotHands and gloves and scarves and sleeping bags, and if we are full and someone is sleeping outside, then we will absolutely provide those supplies for them."
The second thing, which she said was also prevalent last year, is an increase in youth being kicked out of homes.
"It seems as though when the kids get out of school and the stress and tension of the holidays come together, we're seeing an increase in minors that are being kicked out of the house," Caves said. "That's happened both years that we've had that increase in young people that just don't have a place to go anymore."
Caves said Sisu has to turn people away several times a week but works with them to find other shelters and resources.
"We will work to find another solution for someone. We don't ever want camping to be the answer, but some of the youth choose that as the answer. If that's what they want to do, that's OK. That's their decision," she said. "We just want to provide them the supplies that they need to be able to camp and stay safe. We'll also get them connected to another adult shelter."
Temporary fix
Despite the positive impact the cold weather contingency has already had in the lives of people experiencing homelessness, Straughan, Goodin and Caves said the plan is ultimately a Band-Aid on the larger issue of homelessness. All three agreed that the answer is more affordable housing.
"There's nothing wrong with a Band-Aid. When you're bleeding, you need a Band-Aid, but it's not the ultimate answer. The ultimate answer is housing," Straughan said. "Ideally, as a community, we need to look at — and MAPS 4 will go a long way in doing this — preventing homelessness on the front end and providing housing and other assets to people that are currently experiencing homelessness."
Goodin also pointed out that housing prices have gone up while wages have stayed stagnant.
"Our clients really need affordable housing in safe areas. That's key," she said. "We've experienced a huge increase here in the number that we're serving. I think on our busiest night, we've been about 525-530 at night, and that's significantly more than what we've served in the past. Housing is huge, and affordable skilled wages. Most of our clients aren't going to have four-year degrees, but they need something that they can do that pays a wage so that they can afford housing."
Additionally, Caves said a Housing First model is important. Housing First would provide a home for people without a place to stay so that they can focus on bettering themselves when it comes to other things that might be fueling their homelessness.
"Until you have that housing stability, you can't really focus on your mental health. I do believe we're severely lacking in the mental health support that we're providing to our community. I also think we need to address criminal justice reform because we know that it makes a significant impact on a family when a parent is incarcerated," she said. "It's all those cycles of poverty and all of those things that affect people, and when we continue to create those cycles of poverty without making meaningful change, we're sort of forcing people into this being their life."
All three, however, also agreed that the city is making important decisions to move in the right direction.
"People maybe don't really realize that Oklahoma City is on a seven-year trend of slowly but steadily decreasing homelessness, and there's not that many big cities in this country that can say that. We've kind of figured out what works; we just need more resources to do more of the work," Straughan said. "One of the things that sets Oklahoma City apart from other cities is how well the nonprofit and government sectors work together. We're just used to collaboration. Maybe that's a silver lining of being a disaster-prone state … is we've recognized over decades that teamwork makes the dream work."
Helping hands Donations, primarily monetary ones, are typically what shelters need the most. Shelters are usually in an ongoing need of winter items like blankets, hats, gloves, socks and lip balm as well.
"During cold weather contingency, we hire additional security to come in overnight, so it increases our expenses," Goodin said. "We also need socks, men's clothing, men's work boots, travel-size toiletries, those are very helpful."
Along with donations, volunteering is a huge part of what keeps shelters going. Sisu, for example, is 90 percent volunteer-run, so it depends on people taking time out of their day to help with its operations.
"Volunteering to come work shifts, especially people that might have experience in education or mental health backgrounds or social work, we'd love to have them come in and work a shift once a week, once every other week and just really be involved in supporting youth and providing that direct care," Caves said.
Sisu also feeds its youth through a meal train, so it depends on community members donating prepared foods.
"So 365 days a year, the community brings food to Sisu to feed the youth," Caves said. "This is another excellent way we can get the community involved. They can sign up with a group of friends, sign up themselves, they can bring dinner once a month, once every three months, but bringing food to feed 20 hungry people is also really important and an awesome way to get involved for those that maybe don't feel super comfortable with direct care."
Visit homelessalliance.org.