National Cowboy & Western Heritage Museum / provided
"She Awaits Her Warrior" by Martin Grelle
The National Cowboy & Western Heritage Museum is hosting the 53rd annual Cowboy Crossings exhibition, an art show that captures the imagery and sentiment of the Old West while expressing its resilience as a rich piece of American history that continues to endure in modern times.
The exhibit is a combined effort of two groups, Cowboy Artists of America (CAA) and Traditional Cowboy Arts Association (TCAA), who have come together through painting, illustration and handmade works to elucidate the significance of cowboy culture in the present day.
"The two shows are just really showing a lot of the contemporary art scene in the sense that Western culture is alive and well," said Nathan Jones, associate curator of cowboy culture.
Founded in 1964, CAA is the longest running art organization of its kind. Its mission was simple: protect and preserve Western culture while continuing to uphold a standard of quality essential to its lasting influence.
For the last 53 years, it has seemed to have accomplished just that. After its debut in Oklahoma City, its exhibit was featured in other cities across the United States before returning home to its original location at The National Cowboy & Western Heritage Museum.
Featuring the works of 19 artists, the CAA side of the exhibition offers a combination of images and sculpture to conjure a realistic representation of life in the West. On average, the artists each show five pieces, making up a display of around 100 in total.
"There's a lot of … different ways for the West to be portrayed," said CAA president Jason Rich. "Each artist brings a very unique perspective depending on their life experience and their history, and it shows up in their art. So it's kind of fun to see a group of like-minded individuals portraying the West, but they can do it in such a neat variety and interesting way."
The organization uses a three-man jury to approve the pieces brought forth by the members to ensure each one meets the quality requirements expected of CAA. Membership is invitation-only and is extended to artists they feel would be beneficial to their mission — one way to ensure the organization's displays are an accurate representation of its group and vision.
"We are a really close-knit group and a family of sorts and good friends and kind of a brotherhood," Rich said. "You've kind of got to be like-minded in your love for the West and its culture and desire to support that and perpetuate it through your art. … We want people that love what we do and want to be a part of it."
Contemporary cowboys
Twenty years ago, a few TCAA members got together with similar interests in mind. In search of a way to display their works, the members of TCAA had the opportunity to meet Don Reeves, who worked as a curator for The National Cowboy & Western Heritage Museum, at a conference in Elko, Nevada, in 1999.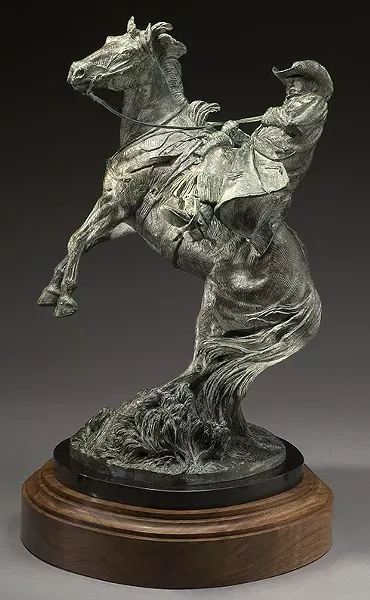 National Cowboy & Western Heritage Museum / provided
"Strike Lightning II" by Harold T. Holden
Both the museum and TCAA members felt they were a good match for one another, and shortly thereafter, their works were on display.
"Their mission statement to preserve and promote Western culture was the same as ours. So there was compatibility right there," Cary Schwarz said.
Schwarz is a saddlemaker and one of the original TCAA founders. As a nonprofit organization, a lot of its activities tend to be centered on education.
Cowboy Crossings provides an outlet for TCAA to inform the public about a historic culture flourishing in a contemporary era, a pursuit it has been committed to from the moment of its inception.
"Part of what we're trying to do is to showcase these pieces so that there's a higher level of appreciation and value ascribed to these works so that when you read between the lines of preserving and promoting, part of it is to restore economic stability to the trades — visibility and economic stability — so that younger folks could look at this as a trade that they could get into and hopefully feed a family," Schwarz said. "But that's a tall order. That's not easy to do."
In contrast to CAA, TCAA is a group of craftsmen who communicate their message through pieces that demonstrate their handiwork and, often, their profession. Schwarz will be demonstrating both with the saddle he submitted for display, hoping to encourage aspiring craftsmen while instilling in his audience a sense of appreciation not only for these works, but "for the Western culture at large."
On the TCAA side of the exhibit, viewers will find a variety of handmade works from bit spurs and silverworks to rawhide and saddles, all carefully crafted symbols that pay homage to the seemingly immortal spirit belonging to the Old West.
"They're putting a new spin on very old traditions," said Michael Grauer, McCasland Chair of Cowboy Culture at The National Cowboy & Western Heritage Museum. "As Grant Wood once said, a new spin on an old fable."
Western value
Regardless of the differences between groups, both CAA and TCAA have come together for the purpose of promoting a sense of preservation for the ideals born from the American West. As Grauer puts it, "One plays off the other."
Though the pieces might be different, the diverse set of art forms on display give its audience a deeper look into the commonalities prevalent among these artists. Underlying their passion for the West is a lifelong admiration for the places they have grown to be part of.
"That's kind of how I grew up — riding, training horses — and so it's just always been a love of mine as far as subject matter, and so that's what I've drawn and painted for as long as I can remember," Rich said of his paintings. "It's just been a wonderful opportunity for me to blend two of my passions — art and Western culture and lifestyle — into one."
When touring the exhibition, Jones hopes the audience will take time to enjoy the pieces around them, a characteristic that complements the museum's atmosphere.
"It's kind of a Western value to slow down and appreciate things," he said.
The works provided by CAA will remain on display through Sunday. TCAA pieces will remain in the museum for a longer duration and will be taken down after Jan. 6, 2019. All submissions are available for purchase.
Visit nationalcowboymuseum.org.