The Oklahoma Craft Beer Festival — which in normal years heralds the beginning of the suds sampling season — is upon us once more.
This is the 12th year for the festival, which co-founders Jeremy Witzke and Greg Powell started in the parking lot of Tapwerks in Bricktown.
It has now spread into the state's largest festival of the season, with 2,500 VIP tickets and 2,500 general admission tickets on sale for the May 14 event. The VIP session runs from 1 p.m. to 4 p.m. and the general admission starts at 6 p.m. and ends at 9 p.m.
"We wanted to start promoting some of the local brands that were just coming online, like COOP and Anthem," Witzke said. "We wanted to promote and really start kind of our own craft beer movement, if you will, in Oklahoma, because, to that extent, we really only had Choc before. So it was kind of to celebrate and to give those guys an outlet to try and get their products in more hands."
They filled in the rest of the festival slate with national brands, numbering about 20 in total. Graduating from a parking lot to the Cox Convention Center, the festival has burst its banks and now packs the fairgrounds mid-spring with its celebration of the craft beer renaissance.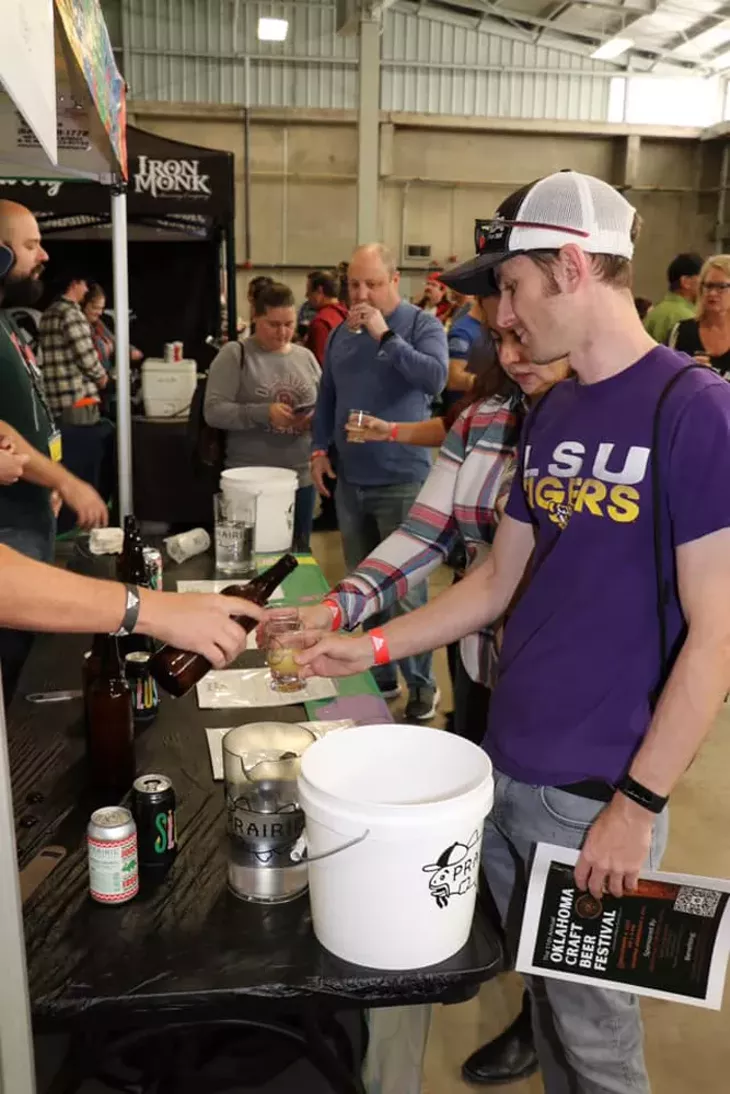 "I would say probably six or seven years ago is really when you started having some of these local breweries start to get big enough. In the past, we've always had a section of the event called 'breweries in planning.' That was the guys that were just getting their legs. They weren't full production breweries yet, but started building their own place, testing recipes and all that kind of stuff. And it was kind of a way for them to start to get their name out there. And now a lot of those have turned into full production breweries. Lively. Big Friendly. 405, I believe, was a brewery in planning. That list just goes on and on and on. Pretty much anybody that has a local brewery that hasn't started in the last two or three years has come as either a brewery in planning or when they first opened to showcase their products," Witzke said.
In 2022, more than 80 breweries (including 10 or more new faces) will be on hand for people to sample their output, with everything from core and flagship beers to experimental or on-off brews made specifically for the festival that might eventually make it into production rotation. They plan to return to the spring schedule moving onward instead of its temporary shift to the fall.
"Last year was kind of an anomaly just because of COVID pushing everything back. We had that variant that popped up around last spring so we pushed it back to October. So it's kind of a little bit of a turn-and-burn for us because it is usually always centered around Craft Beer Week, which is the 16th through the 21st, I think, of this year. So we usually always did it the weekend before American Craft Beer Week to kind of kickstart everything," Witzke said.
A centerpiece of the festival has become its competition. There are currently five categories: IPA, seasonal (all-encompassing), pilsner, sour and stout. 2021 was its first year. Winners receive, among other prizes, a flag to fly in their breweries.
"We kind of threw it together last minute, and we didn't honestly think that we would have a ton of entries and then the next thing you know, I look over and there's a hundred beers sitting over there. Last year, we just had some people that were in the beer industry or craft consumers, if you will, [as judges]. This year, we've got some people that actually have a little more training about beer tasting. … When I took the flags around to the winners, they're super happy. It's a feather in their cap that they can hang in their taproom. We decided to change color every year, so you can have a myriad of colors on your wall if you're a repeat winner," Witzke said.
But moreover, the festival has always been about comradery and celebration of what our state has accomplished in the craft brewing arena.
"Our mission has always been, and will continue always to be, to promote craft beer in the state of Oklahoma, whether that be regional, local, or anything that has to do really with craft beer. I'm all for the competition, and not really even competition, but just the celebration of the beers that are coming into the state," Witzke said.
While the original Tapwerks location has now been assumed by The Joinery concept, Witzke said he plans for the Tapwerks concept to re-emerge when the time is right. But until then, the beers are flowing from the original gang each spring.
For more info, visit okcraftbrewersfestival.com