Jacob Threadgill
Birra Birra's Supreme pizza
Birra Birra Craft Pizzeria
1316 W. Memorial Road, Suite 102
birrabirrapizzeria.com
405-607-0060
What works:
The servers are prompt and knowledgeable, and the pizza ingredients are high quality.
What needs work:
The cheese bread was only slightly warm under melted cheese.
Tip:
Do not be afraid to ask your server about cocktail and drink pairings.
Earlier this month, a Twitter user in Chicago created a meme associating nine different photos of iconic Bill Murray movie roles with different neighborhoods. Local public relations maven Tracey Zeeck took the template and applied it to the Oklahoma City metro.
Her post received nearly two thousands likes and inspired photographer Cody Lusnia to apply the photos to local pizza joints — the beauty of the internet. I love it when someone makes content that appeals directly to you.
"I must've been thinking about pizza that day and said, 'Let's see if I can put one together,'" Lusnia said in an interview with Oklahoma Gazette. "The one that caught me was the zombie one that made me think of Little Caesars. It's sort of in jest. If you've eaten Little Caesars, you know that it's not the greatest, but when you have $5, it's fine. I wanted to have fun with it and didn't want it to be a knock on anybody."
Sauced, Hideaway, The Wedge, The Hall's Pizza Kitchen, Empire Slice House, Falcone's and Pizzeria Gusto are also listed in Lusnia's meme, but his pairing of Birra Birra Craft Pizzeria with the photo of Murray's character from Lost in Translation in a tuxedo as Suntory Whisky's pitchman caught my attention.
Opened in Chisholm Creek in March, Birra Birra, 1316 W. Memorial Road, comes from the folks at Provision Concepts (Broadway 10 Bar & Chophouse, Sidecar Barley & Wine Bar, Hatch Early Mood Food) and includes the ice cream shop Bibi's Craft Ice Cream.
Lusnia admitted that as a downtown resident, he has not made it up to the Memorial corridor to visit Birra Birra, but I found his outside impression interesting.
"In the end, Suntory whisky is not any different than any other whisky that is sold. They're all basically made the same way," he said. "There's a marketing aspect to it. So, whatever they're doing at Birra Birra isn't wildly different than Pizza Hut except the ingredients are higher quality and the atmosphere isn't the old parlor with the checkered tablecloth that we grew up with. It's a façade of fanciness."
After my first visit to Birra Birra, I can say that the experience is certainly pricier than the average neighborhood pizza joint, but excellent service and a relaxed setting justify it.
Overlooking the manmade body of water in the late evening and sitting on the second floor, the restaurants on the end of the Chisholm Creek development are great spots to watch some of Oklahoma's famous sunsets. There are a few other Provision Concepts restaurants, including Hatch and Sidecar, nearby.
"Adding craft pizza to our portfolio was a must," said Provision Concepts chief financial officer Jeff Dixon. "I've had a passion for brick oven, wood-fired pizza since my uncle Tommy Byrd created Bellini's in the early '90s. I worked at Bellini's while in college and had a second round of pizza in helping create Upper Crust with Hal Smith's group. The cuisine is in my blood, coupled with the development at Chisholm Creek. The opportunity to bring more flair to the pizza scene here in OKC was something we couldn't turn down."
Everyone's pizza
I commend Birra Birra for appealing to all sorts of eaters. Pizza is something everyone loves but not always something they can or want to eat. The addition of cauliflower and gluten-free crusts help in that regard. I am surprised it does not have a vegan cheese option, but its dairy cheese can be left off any of their veggie pizzas or they can be built to order without cheese. Birra Birra does offer vegan Bolognese and an Impossible patty for its burger, which is normally made with wagyu and Italian sausage and sounds like a real winner.
As excited as I was to dig into some pizza, I started the meal with an order of cheese bread ($10), which is a five-cheese blend melted over ciabatta in a cast-iron skillet served with Alfredo, pesto and red dipping sauces. The choice of ciabatta helped mitigate the redundant quality of a lot of cheese bread, which is basically deconstructed pizza. The dipping sauces came in handy for the pizza crust later in the meal, but I would have preferred the bread to be toasted before the cheese was melted. It was only warm with the melted cheese.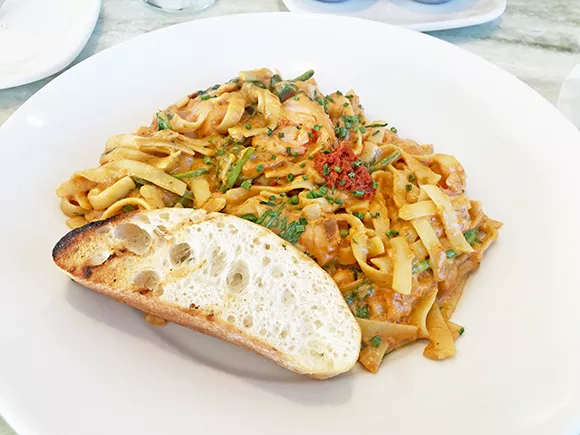 Jacob Threadgill
Smoked salmon pasta with sun-dried tomato cream pesto
I was impressed with the service throughout the meal. Our server was attentive and knowledgeable about the cocktail menu, even suggesting a few off-the-menu drinks. We tried the Bellissimo ($9), which is the restaurant's top-selling cocktail featuring grapefruit rosé vodka, peach puree and prosecco. Our server also made a Lemon Drop with ginger liqueur and vanilla flavor of her own creation that was quite fun. I was impressed with the servers' knowledge and training. When you are paying a higher price, it is a great sign when it is reflected in the service.
This also comes through in the quality of ingredients. We tried the Supreme ($18), which has the ingredients you would expect to find, but the sausage was ground nicely and the mushrooms were fresh. I expected the crust to be crispy in the middle because it was so thin, but it was actually quite soft, which I assume is what the kitchen intended. I should also note that Birra Birra has three deep-dish pizzas, and its Chicago Classic is one of its overall top sellers. It is only one of a handful of restaurants in the metro to offer deep-dish.
I enjoyed the pizza, but upon return visits, I would actually gravitate toward the pasta on the menu. Birra Birra offers nine choices — much more than the standard lasagna or spaghetti and meatballs at other pizza joints. I ordered the smoked salmon pasta ($16) with fettuccine and baby spinach tossed in a sun-dried tomato cream sauce. The salmon was smoked on the premises and really popped even in a cream sauce, which was not too heavy. I liked that an additional dollop of sun-dried tomato pesto was included on top for added acidity.
Between quality ingredients and excellent service, Birra Birra delivers on its mission as a craft pizzeria.