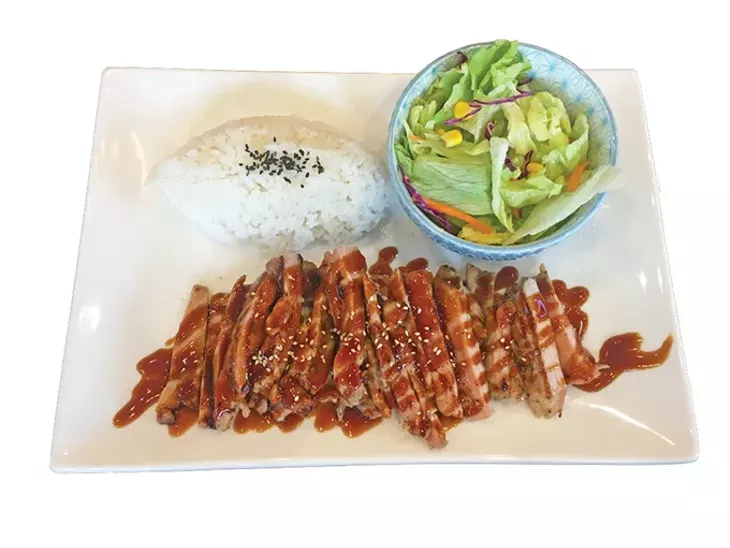 Jacob Threadgill
Chicken teriyaki thigh meat with rice and salad, a standard teriyaki plate order
The roots of teriyaki might date to 17th-century Japan, but the modern Mecca for all things teriyaki is Seattle, where over 500 chain and independent shops operate in the metro area.
In Japanese, "yaki" translates to "grilled" and "teri" refers to glaze, according to a 1962 entry in the Merriam-Webster Dictionary, which corresponds to its rise in popularity in the United States.
Seattle's love affair with teriyaki began with the opening of Toshi's Teriyaki in 1976, and is now considered the Mecca for teriyaki in the world. Norman resident Jun Koo's first job was as a cashier at a Seattle shop while in high school in the late 1970s, the same as his wife Judy, whose family operated a few teriyaki shops in the city.
When Koo's job as an engineer with Boeing brought him to Oklahoma in 2014, he couldn't find a restaurant that satisfied his craving for teriyaki.
"I wanted to eat good teriyaki," Koo said. "I was really craving it. It was a weekly thing for me in Seattle."
After meeting David Kim at Norman Korean Baptist Church, the two began to talk about their background as business owners.
Kim owns a successful Daylight Donuts in Moore, and Koo started a contracting company when he was 23 while his wife started a coffee business that expanded to seven shops, and Koo opened a few restaurants in Seattle.
Koo told Kim about his craving for teriyaki, and the two became business partners, which led to a yearlong process that culminated in the opening of Krave Teriyaki at 10740 S. May Ave., Suite 117 in mid-July.
"I was looking for a second business, and [Koo] had a lot of experience," Kim said. "Honestly, I didn't know what teriyaki really was before he brought it up, but it didn't take long for me to be on board."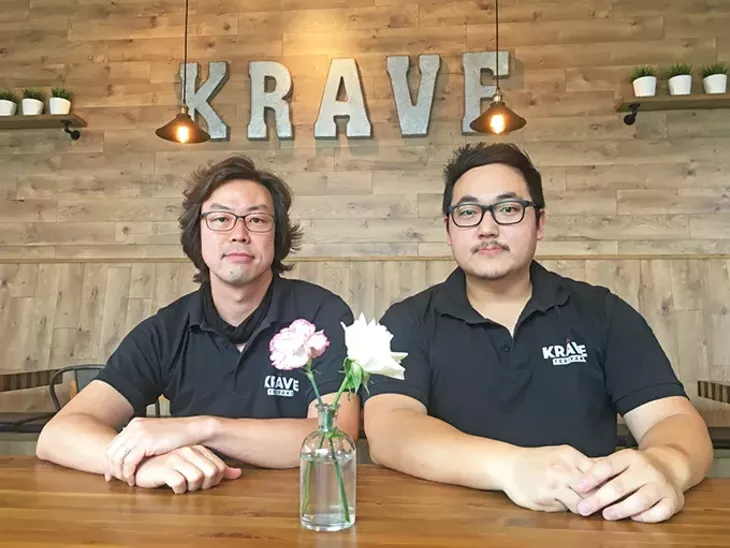 Jacob Threadgill
Jun Koo and David Kim are co-owners of Krave Teriyaki.
Kim's naivety of a standalone teriyaki concept speaks to its lack of prevalence outside of being a cooked option for people that don't want to eat fish at a sushi restaurant.
At Krave, the restaurant offers teriyaki plates ($8.99-$10.99) with traditional chicken breast or thighs but also offers many other proteins like chicken katsu (fried cutlet), thinly sliced beef, pork loin, salmon, shrimp and tofu all covered in house-made teriyaki sauce that is available in levels of spiciness.
Koo's wife Judy serves as the restaurant's head chef. She worked in her family's teriyaki shops while growing up before becoming a successful coffee roaster and business owner.
Krave is her first full-time kitchen job, but she's leaning on recipes she learned from her family, which means the final menu combines Japanese and Korean dishes. She and the kitchen staff make the sauces in-house everyday, using as many local ingredients as possible.
Teriyaki is soy sauce-based, and the staff adds other ingredients to soy sauce for sweet and savory notes. The process requires a few days of fermentation to develop a depth of flavor much deeper than a store-bought version.
"There are not a lot of authentic restaurants around here, and I wanted to eat," Judy Koo said with a smile. "I wanted to offer people something new. This restaurant has been going really well."
Krave also serves Korean beef short ribs ($15.99), fried rice ($8.99), udon noodle soup with shrimp tempura ($9.49), six sushi rolls ($6.99-$9.99) and yakisoba. Yakisoba is a Japanese street egg noodles stir-fried with vegetables and the customer's choice of protein cooked with a special sauce that has spiciness and a touch of Worcestershire sauce.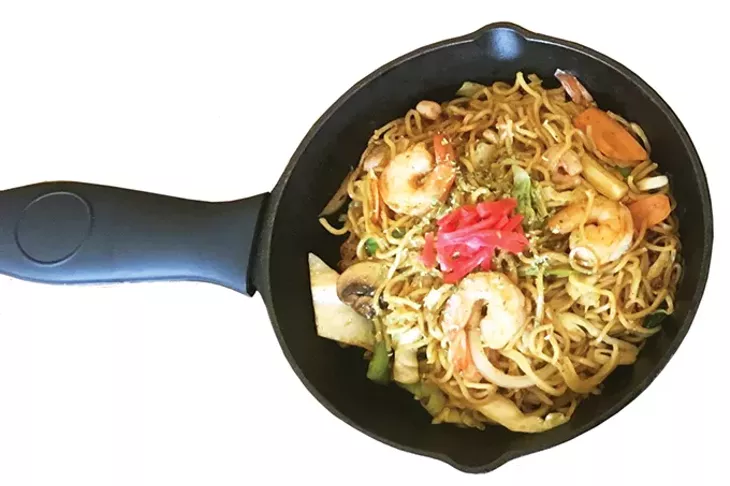 Jacob Threadgill
Yakisoba
The menu rounds out with Krave specials, bone-in chicken wings or crispy boneless bites available in either a sweet garlic butter or a sweet and spicy sauce that combines dried pepper with the Korean gochujang chili paste and sweetness.
"The surrounding Asian community has really embraced it," Jun Koo said of the Krave specials.
Kim and Koo searched for a location for months, finally settling on the May Avenue location on the border of Oklahoma City and Moore. Koo used his background as a contractor to build the restaurant's center tables and benches himself.
"It has our hearts and effort in here," he said.
The restaurant has bright laminate panels on the wall for a chic farmhouse look from Kim and Koo's design.
"I thought the location was perfect because there is nothing like this around here," Kim said. "Lots of residential and [Oklahoma City Community College] down the road. There is Pub W and Mexican and places, but it is limited when it comes to Asian restaurants."
As a veteran restaurant operator, Koo has been very pleased with the reception of Krave Teriyaki. It sports high customer ratings on Google and Yelp, and he said the goal is to eventually expand locations in the Oklahoma City market.
"It's been far better than I expected," he said. "Even though you might have tons of business experience, you never know until you open and actually operate. There is a lot of nervousness and excitement at the same time."