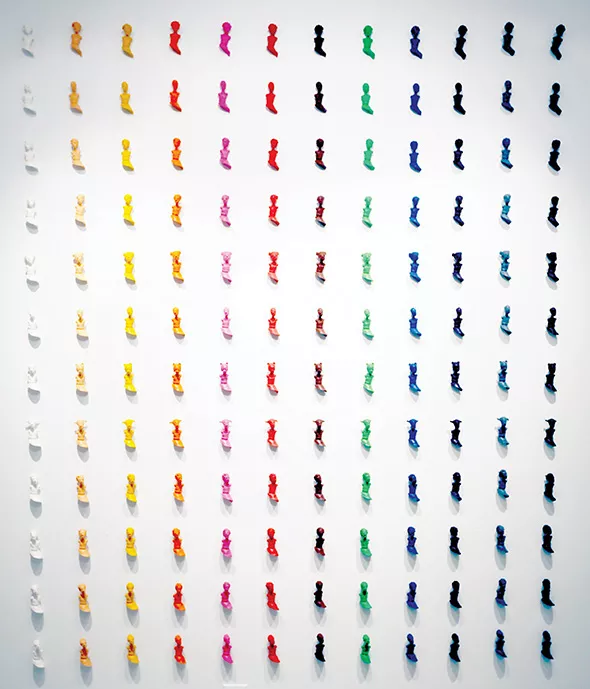 provided
Mustang artist Holly Wilson's "Under Our Skin, Girls" is sculpted from Crayola Crayons.
Dyslexia doesn't actually cause people to see letters backwards, but it might help them see the world in a different way.
"Indicators of dyslexia are usually presented as negative or scary things," said Scott Henderson, director of Science Museum Oklahoma's smART Space galleries. "Some of the positive indicators of dyslexia are also observable, but they're never really listed alongside the negative ones."
Henderson said positive aspects of the neurological condition which can cause difficulty in processing language include "big-picture thinking, creative and spatial abilities, a highly developed sense of intuition and empathy [and] aptitude with objective-based hands-on learning."
"Innovators, engineers, storytellers, entrepreneurs — that's kind of where you see those characteristics," Henderson said. "It's a different way of learning and not a disability. … It's not seeing letters or words backwards. … It's also not an indicator of a lack of intelligence."
provided
John Gill's ceramics are on on display at Beautiful Minds – Dyslexia and the Creative Advantage in smART Space at Science Museum Oklahoma through July 14, 2019.
Some of the potentially helpful aspects of this learning difference are on display at Beautiful Minds — Dyslexia and the Creative Advantage through July 14, 2019. Henderson said the inspiration for the exhibit is his 11-year-old daughter Lilli, who was diagnosed with dyslexia in kindergarten.
"My daughter is growing up with dyslexia, and through that journey, I've learned a lot of amazing things I thought the public should know about," Henderson said. "It's usually just a negative thing you hear about. You never really hear about the positive advantages of dyslexia, so I wanted to frame the exhibit around that. … When you focus on the disadvantages, it doesn't help the child's self-esteem or the learning process, and it makes it 10 times harder for the child to learn in a traditional way because it's a lot harder for them to process. … If people understand that there is an alternative way to manage dyslexia, there's a way to success."
Alyson Atchison, associate curator of the museum's smART Space galleries, also has dyslexia, although she didn't know it until she was studying art in college.
"When I started with printmaking, everything that I had done before in art suddenly started making sense and it fell into place," Atchison said. "I finally was able to slow down and make things less muddy, and other things started making sense to me. It just so happens that a lot of printmakers are dyslexic, and it takes this different way of looking to understand the process."
Some people don't realize they have dyslexia until much later in life. Film director Steven Spielberg, for example, didn't find out until he was 60 years old. Many other notable names in art, culture and science have been diagnosed with dyslexia. In her book Proust and the Squid: The Story and Science of the Reading Brain, cognitive neuroscientist and psycholinguistics professor Maryanne Wolf speculates that Leonardo da Vinci was dyslexic.
"One of the things we noticed when we started doing research about it is how many of the historical people who have made big impacts on the world with their inventions or their creative thinking had struggled with dyslexia as well," Atchison said. "Steve Jobs, Albert Einstein, the Wright Brothers, John Lennon, all these people who have made creative discoveries."
provided
Mark Wittig's "Stacking School Chairs"
While Atchison's prints are not included in Beautiful Minds, museum patrons can see works by three other contemporary artists with dyslexia: John Gill from Alfred, New York; Mark Wittig from North Little Rock, Arkansas; and Holly Wilson of Mustang, Oklahoma.
Wittig's work "Stacking School Chairs" seems to present traditional education as a difficult obstacle to surmount. In the artist's statement on his website, he wrote that some of his works "use school artifacts to explore the stress a person with a learning disability can go through. … For some viewers, the work I create is a metaphor for the frustration I and others have felt living in a society that devalue fluencies and skills outside prevailing norms."
Atchison said she developed creative problem solving skills "out of necessity" because she sometimes had trouble learning in traditional ways.
"When I was growing up, in math class, I would get the right answer," Atchison said, "but you now how your teacher would always say 'Show your work?' I would get counted off because I didn't get to that right answer in the same path that they taught. I was taking more creative paths to get there. … That's just how my brain worked, the creative thinking and creative problem solving. I couldn't necessarily follow along with the path that they were trying to teach me."
Wilson's "Under Our Skin, Girls," features 12 subjects sculpted in 12 colors of Crayola Crayons.
"If we could see ourselves as all the colors in the crayon box, in all the shades," Wilson, describing the work on her website, wrote, "we would be kinder, we would be able to feel if just for a moment another's life and our world could change in such a way that children would not worry about if they are too light or too dark to belong and they could feel safe."
The exhibit also features artwork made by Trinity School students with dyslexia, and a display created with Decoding Dyslexia Oklahoma tells the stories of several students who have had successful lives after being diagnosed with the learning difference.
Henderson said his own daughter is also doing well.
"We caught it at an early age, so now she's going through the programs," he said. "She's able to manage and take care of her dyslexia and learn how to use it to her advantage. … She sees things and pinpoints things that I would never notice. She can rearrange a room and plan out things. She's very interested in architecture. Her spatial abilities are incredible."
Viewers can see short films starring, written by and in some cases directed by children with dyslexia from the multimedia resource SuperD!ville, and information provided by the ReadWrite Center lists signifiers of dyslexia to aid in early intervention and offers resources for parents. Atchison said ReadWrite's Facebook page has received hundreds of messages from museum guests wanting to learn more since the exhibit opened in November.
For Atchison, realizing she has dyslexia came as a relief.
"I think sometimes parents say, 'Oh, possibly my child is dyslexic,' and it's something that they really don't want to admit; it's a scary thought," she said, "but for me everything made sense finally. It was a path to success more than it was a hindrance. It was, 'Now I get why I'm like this, and now I understand what I need to do.'"
Visit sciencemuseumok.org.