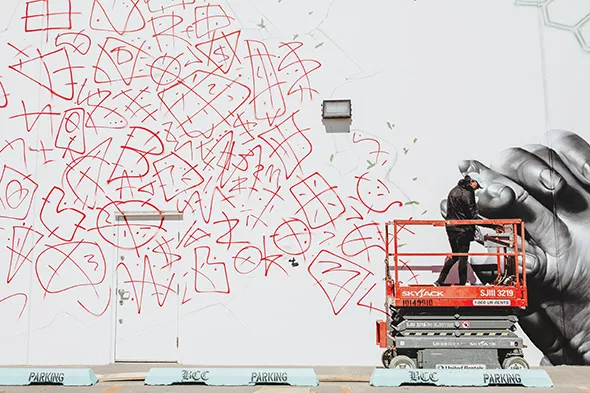 Alexa Ace
Street artist Jeks lays down the foundation for his second mural on the southern wall of BCC Collective.
Four months after street artist Jeks put the finishing touches on the iconic Albert Einstein mural on the former cigarette and candy company wall, he is back in action on the southern wall.
Inside BCC Collective, 1015 NW First St., the gears steadily grind. The "Blue Collar Criminals" have been growing in number and putting in continuous work at the "factory," as they have come to call it.
The planted seeds have borne flowers, and plenty of them. St. Patrick's Day weekend, the collective unleashed its first major harvest with more than 20 strains. The hive is buzzing with a dedicated team of professional trimmers getting the product ready for sale days before it hits shelves.
Since opening New Year's Day to a line of curious patients waiting under gray skies in freezing temperatures, the dispensary has only been picking up steam.
Young adults steeped in street culture and weed nerds stand beside patients who qualify for AARP membership at the counter. The smaller crops they have harvested over the past few months have steadily sold out, many of them in a matter of hours.
"I never expected it. I just hoped," said owner Darin Delaney. "I knew we were growing some really good genetics and some good product, so I'm stoked that people are liking it."
Being a vertically integrated company, they can afford to charge lower prices than some other dispensaries. Prices start at $10 a gram with all taxes included, with a pricier "platinum shelf" available. Delaney initially set prices based on what he had seen in California for cannabis of similar quality but realized that Oklahoma had a smaller market and a much lower cost of living and adjusted accordingly.
"I'm trying to make it where everyone can check it out, sample it and see what a Blue Collar Criminals product is, what a BCC Collective product is," he said. "When I did the math and realized I could still do all right with those prices, at the end of the day, I was going to get to let a lot of people try it."
The collective blurs the lines between the recreational and medicinal markets, much to the chagrin of some patients who feel the company has gone too far in its marketing. Delaney has listened and reeled in some of the company's image, making converts of some critics. Its website and listings on Weedmaps and Leafly have been rebranded under BCC Collective. The meaning remains the same and the scantily clad women have been reduced on the company's social media, but the dispensary has not strayed from its core mission, with lab testing sheets available on the counters and a menu detailing the effects of each strain and which ailments it can treat.
"That's what's been happening in marketing for a long time," Delaney said. "I didn't invent that. It's not uncommon or unusual to use an attractive person to sell your product. If it looks like we're having fun, it's because we are. It doesn't have to be uptight, and just because it has the title 'medical' attached to it, it doesn't have to be some stuffy environment or white walls only or anything like that. Like everyone has seen, we're pretty high-tech, we're pretty state-of-the-art. We're extremely sterile. We're extremely clean. We run a really tight ship."
Growing business
Cesar Herrera has brought his genetics and knowledge to the dispensary, but grower Som Kiani has been putting in the hours from dawn until past dusk every day since September, caring for hundreds of cannabis plants.
"It's like babysitting, you know, but a little bit more intensive and it's a lot of plants to babysit," Kiani said. "I don't leave until maybe 9 or 10 o'clock. Even when the lights go off, there's still things that need to be done."
Though Kiani still uses the royal "we" in the spirit of the collective, he is a one-man team. His last day off before March was in October.
"I love this, and I love Darin to death," he said. "He's been such a big brother to me. It's like I've told everyone else; if this was a fucking chocolate factory, I'd be down with it."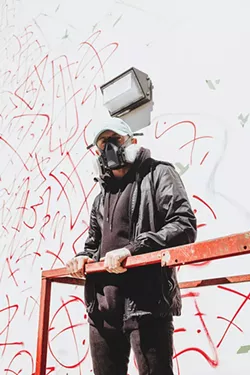 Alexa Ace
Brian Lewis, aka Jeks, is based in Greensboro, North Carolina, and painted BCC's mural of Albert Einstein.
Kiani's family has owned a restaurant for 30 years, and for years, he has grown herbs and vegetables for it. The transition from a produce farmer to a cannabis farmer has been relatively easy.
"Darin, I've known him since I was about 18, so 14 or 15 years; he kind of thought of it in his head," Kiani said. "He's like, 'You know how to grow a few things. You want to give this a shot?' and I was like, 'Yeah, it should be about the same.' It's like that. They're all the same. Light, attention, water, making sure what you put into the cubes is the same thing that comes out. It's not too hard, man. It's the old saying, 'If you love what you do, it's not really work.'"
Delaney, who has both a background in construction and experience with the California cannabis industry, knew it was best to start slow and then ramp up production rather than hitting the ground running. The facility was built in the 1940s, and much of the plumbing was old. The massive amount of water that hydroponic growing requires put strain on BCC and caused issues, which the collective was able to correct before it started building additional, larger grow rooms.
"There's kind of three phases to this facility," Delaney said. "The first one was just getting up and off the ground. We wanted to get one room going and just see kind of what the environment gave us, what the facility gave us, just how everything worked out."
BCC will soon begin construction on the second grow room and has converted the vault into a cellar for curing cannabis, which was designed and built by BCC's resident jack-of-all-trades construction whiz Mike Madden.
"His nickname is 'Madman,'" Delaney said. "He's mad. He's crazy. He's my ace in the hole. He can build anything. This would not happen without all of these people. That's the thing. I would only be able to carry it so far, but not as big as it is. Every single person that's involved plays a really big role, and I'm just extremely fortunate to have these people help me out. That's what's really pushed everything to be bigger and better. The team is just kind of unmatched as far as I'm concerned."
Visit bcccollective.com.