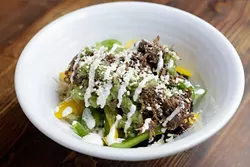 Garett Fisbeck
Beef barbacoa burrito bowl with sauteed pepper blend at Cultivar, Monday, Jan. 23, 2017.
If it had nothing else going for it, Cultivar Mexican Kitchen would be a hit for the patio alone.
Even in the depth of Oklahoma City's winter, which 2016 taught us can be anywhere from snowy with temps below freezing to 70 degrees Fahrenheit, the patio gives diners a look at an always-busy Automobile Alley.
Think about how crazy the phrase "an always-busy Automobile Alley" would have sounded 15 years ago, before restaurants came to Ninth Street and Broadway Avenue and the area became a pedestrian-friendly zone dotted with bars and interesting shops. Its growth has a lot to do with the reason Cultivar, 714 N. Broadway Ave., exists in Oklahoma City.
Once inside the restaurant, the first challenge is understanding where to order. Cultivar has two lines: one for tacos and another for everything else. Whichever line you're in, you end up at the same register. The thing to remember is that everything else includes burritos, bowls, salads and other make-your-own options in which you get to choose from different ingredients.
Even seasoned veterans get a little turned around here. What if you want a burrito and a taco? Get in the "everything else" line and you'll be able to order tacos at the register.
Soft drinks can be ordered in those lines, but anyone in the mood for something harder should head over to the bar.
Garett Fisbeck
Queso and chips
After figuring out the lines, the rest is easy. The menu is divided into tacos, seasonal tacos and a few other items, including chips and queso ($7 small, $9 large) and free-range rotisserie chicken ($9 half, $16 whole).
The queso had a rocky start but has improved considerably since Cultivar opened. The restaurant's chips are cut from tortillas and fried crisp and thick. The queso is ridiculously smooth and creamy. Together, they put most Mexican restaurants' offerings to shame.
Pay attention to the seasonal tacos, as they're the most apt to change. A few recent inclusions were the seasonal duck confit taco ($7.75) and the seasonal fried chicken taco ($4). The fried chicken taco, which will stick around for another week or so, was by far my favorite.
The flavor was closer to a Buffalo chicken taco dressed with Valentina hot sauce, celery and blue cheese, and it was phenomenal.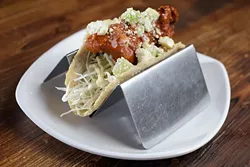 Garett Fisbeck
Seasonal fried chicken taco
I can't be positive, but the fried chicken taco definitely tasted like the work of chef Josh Valentine, who had a similar appetizer made with pork at his late, great restaurant The Divine Swine.
The duck confit taco came covered in chunks of roasted sweet potato, cranberry sauce, cabbage slaw and celery seed aioli. It was a bit too much all at once, jumbling flavors and losing the bold richness of the meat. In my experience, Cultivar is at its best when it goes simple.
If you want to try the fried chicken taco, move quickly. President Gary Goldman said the spring seasonal taco menu is about to come online. The new lineup will include a Southern-fried chicken taco, a Korean pork belly taco and a pastrami taco.
Though it has become a popular lunch and dinner spot, Cultivar is really killing it at breakfast. Breakfast tacos range from simple egg, beans and cheese tacos for $2.50 to a meaty brisket taco for $4.
Garett Fisbeck
Breakfast burrito with scrambled eggs, pico de gallo, refried black beans, rice and Jack cheese
Breakfast burritos ($4.75) are just as big as the ones served at lunch and include eggs, rice, pico de gallo, beans and cheese. It's an extremely filling start to the day. I like to boost the flavor and protein with the addition of carnitas or barbacoa meat for $2 more.
Tortillas are wonderful. I've never been one to eschew tortillas. But anyone looking to cut down on carbs and calories might look to Cultivar's burrito bowls for lunch. These aren't diet dishes by any means. Each one is a big heap of rice, beans and a choice of different fixings from the burrito bar all piled up into a delicious mound of filling Mexican goodness.
Cultivar's motto is "farm to fire," so there's an emphasis on using freshly prepared organic ingredients, which can make choosing toppings a real chore. I found the sautéed peppers to be a great addition, giving the bowl a balance of textures and a green, fresh flavor to complement some of the heavier elements.
Proteins are divided into three categories when choosing a bowl or burrito. The most expensive are the premium options: carne asada steak and rotisserie chicken. Slightly less expensive are the specialty meats, including heritage pork carnitas, grass-fed beef barbacoa and chorizo potatoes. Vegetarians also have an option with herb-roasted mushrooms.
Beef barbacoa is my choice almost anytime. The slowly braised beef isn't quite steak cotton candy, but it is super tender and melts easily in the mouth while you're chewing other ingredients.
If a burrito sounds like too much, the barbacoa taco ($5.50) has plenty to recommend it, including a crisp Brussels sprout slaw and a creamy cumin-lime aioli.
Before the weather turns unbearably hot again, give the restaurant's chicken posole soup a try. Cultivar goes through a lot of chicken, thanks to those always-working rotisserie grills, and the mild, hearty soup is a great showcase for that flavor.
But as the days warm up, keep moving your table closer to the patio.
When the weather is right, it's one of the best in the city for soaking up the sun, downing a cocktail and watching Oklahoma City grow up around you.
Print Headline: Cultivating fans; With the addition of chef Josh Valentine, Cultivar Mexican Kitchen is becoming Automobile Alley's Mexican food hub.