Vilona Michael / provided
Asian District Night Market Festival features performances from different cultures.
Super Cao Nguyen 40th Anniversary Food Fair
1-6 p.m. Saturday
2668 Military Ave.
Free (dishes are $8)
Asian District Night Market Festival
6 p.m.-midnight
Military Park
1200 NW 25th St.
facebook.com/asiandistrictok
Free
Two events Saturday allow Oklahoma City to celebrate the diversity and history of its Asian District.
From 1 p.m. to 6 p.m., Super Cao Nguyen, 2668 N. Military Ave., hosts a food fair in celebration of its 40th anniversary with dishes by some of the city's top chefs with portions of the proceeds benefiting Homeless Alliance.
The food fair serves as an opening act for the second Asian District Night Market Festival, a free event in Military Park, 1200 NW 25th St., that features food trucks, vendors, dancing, cultural performances, a children's area and an egg roll eating contest.
Night Market Festival expands after last year's inaugural event attracted 15,000 people, a turnout that surprised Asian District Cultural Association president Thuan Nguyen.
"I was expecting five to 10 thousand people, and we got 15 [thousand]," Nguyen said. "We surveyed a lot of people that attended and used that as a starting point. A lot of people said that the lines were long for the food trucks and that we needed more food vendors."
The event now features 10 Asian-themed food trucks, an additional 13 food local vendors and an additional 40 merchants and non-food vendors. The event includes a children's activity area with large inflatable slides and an appearance by the OG&E Thunder Bolt fan experience and a booth from Oklahoma City Energy Football Club. Two lanes of northbound traffic on Classen Boulevard will be closed to allow for safer access to the festival by foot.
Nguyen founded the association last year after being unable to revive the Asian District Association. He moved his THN Insurance Solutions business to a shopping center in the Asian District a few years ago and would look out his window across the street and wonder if they could get more use out of Military Park.
"We saw a need for the association in the community. It needs something to preserve culture for our up-and-coming children," he said. "The first generation that was refugees has gotten old or passed, and they've passed the torch to the next generation in the 30-50 age group. If we didn't do anything now, then our younger generation was going to lose their culture, and there's not preservation of that anywhere else. Our mission is to build and bridge the gaps between the generations. We created a festival where we're not bound by our difference to embrace cultures, appreciate the arts and culinary aspects of the community."
Vilona Michael / provided
This year's Asian District Night Market Festival features 10 food trucks and 13 food vendors.
The stage in Military Park hosts a variety of events, including singing, cultural dances, an egg roll eating competition supplied by VII Asian Bistro that builds off last year's pho competition. Nguyen said a variety of different Asian cultures will be represented during the event but it's impossible to feature every group in the city.
"If you don't see certain representation this year, they'll be there next year," he said.
The city hosts a variety of lion dances during the lunar new year, and Night Market Festival gives four Oklahoma City groups an opportunity to compete for a $1,000 prize.
The festival is the cultural association's largest fundraiser, which uses sponsorships like those from Bob Moore Auto Group, Oklahoma City Abstract & Title Co., Lee's Sandwiches and Neuroradiology & Pain Solutions of Oklahoma to fund both long-term and short-term beautification projects in the district.
"The streetscape was installed in the early 2000s with MAPS funding," Nguyen said. "We were one of the first districts in the city to get funding, and after the streetscape was complete, it started booming in places like Uptown 23rd and [16th Street] Plaza District."
The cultural association will use remaining proceeds to fund upkeep of the medians on Classen, including light pole painting and the eventual purchase of banner brackets to promote events throughout the year. Ultimately, Nguyen wants to establish an Asian garden with a multi-use space for cultural activities and education.
"Going onstage and seeing the amount of people [at last year's festival] really shot to my heart because in the world today, where we're defined by hatred, crimes, mental and substance abuse, this festival doesn't let that define us," Nguyen said. "No matter who you are, everyone came to this festival. It was so great to see people of every race at the festival, and we embraced cultural differences to come to one area. That's what community is all about."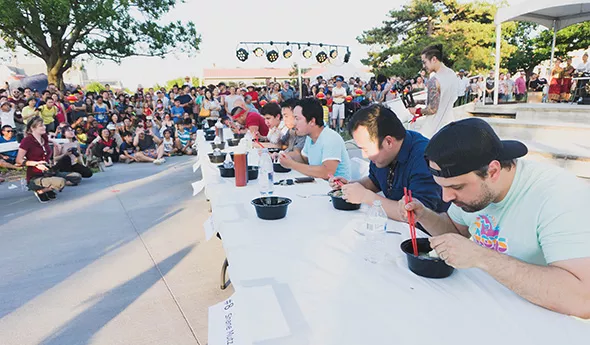 Vilona Michael / provided
After last year's pho eating competition, this year's Night Market Festival features an egg roll competition.
Ruby anniversary
Super Cao Nguyen opened at its original location 40 years ago, and in the subsequent years, under the ownership of the Luong family, with expansion to its current super market location, it has become a meeting place and influenced the city's chefs for its ability to bring in new and fresh ingredients.
In honor of its anniversary and to highlight the many chefs that shop at the store, Super Cao hosts its Food Fair, where dishes from the city's top culinary talents will be available for $8. Half of the proceeds will benefit Homeless Alliance.
Participating chefs include Vuong Nguyen (Ur/Bun), Kevin Lee (Gogi Go!), Alain Buthion (La Baguette Bistro), Koji Omori (Tokyo Japanese Restaurant), Chris Becker (Della Terra Pasta), Robby Vernon (Hacienda Tacos), Ryan Parrott (Picasso Cafe, Oso on Paseo), Jeff Chanchaleune (Gorō Ramen), Russ Johnson (Ludivine), Wakana and Matt Sebacher (Tamashii Ramen House), Thai Tien (Grand House), Kathryn Mathis (Big Truck Tacos), Melissa Aust (Stella Modern Italian Cuisine), Henry Yang (Tsubaki Sushi) and Shelby Sieg (The Pritchard).
"We're celebrating our 40 years in the community," Hai Luong, Super Cao vice president, said. "Back then, there wasn't even an Asian District; it was just Military Park area. Now it's a diverse area and a melting pot."
Visit facebook.com/asiandistrictok.