Phillip Danner
Tyler Doolittle poses with Fire Leaf's Cannabis Cup prizes.
The first High Times Oklahoma Cannabis Cup is now in the books, with a new class of ganjapreneur who can lay claim to the mantle of cannabis champion.
Jon Cappetta, High Times vice president of content, said Oklahoma submitted a record-breaking number of entries for a Cannabis Cup event.
Fire Leaf was the major winner of the inaugural competition, with two Cannabis Cups in hand — one for best sativa concentrate and one for best hybrid concentrate — and three other medals.
The only other Oklahoma company to snatch two Cups was CBD Plus USA/Lotus Gold. It won best topical for its Colorado Cures Pain Cream and best hemp-derived CBD product for its collaboration with White Mousse Oklahoma.
"My hemp pain cream that I personally created won a Cup. The first product that CBD Plus launched underneath the CBD Plus brand is the product that is our number one seller. It's the first product ever in a High Times Cup that was in a cannabis space category and won from 100 percent CBD product. It's the unicorn. It's never been done," CBD Plus USA/Lotus Gold founder and CEO Ryan Vicedomini said. "Our second Cannabis Cup was a collab with White Mousse Oklahoma. This was their first crop, and it won the Cup. It's totally hemp-derived. When people actually have to go to a point where they're using dabs for medical and not just recreational, now they're going to be able to get a true full spectrum based off what we formulated together. It's amazing. The profile on that product is mind-blowing."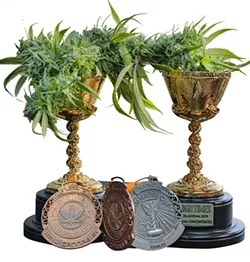 Phillip Danner
Fire Leaf dispensary's Cannabis Cup trophies
The name of the collaborative champion is the CBD BHO Badder.
Stability Grows, which grows for and sells to Lotus Gold, won the third-place category for two prizes with Forbidden Fruit. It took home medals for indica flower and for non-solvent concentrate in collaboration with Country Hash.
Bringing Fire
Fire Leaf owner Tyler Doolittle said his company put in a total of 17 entries among the 16 categories. In addition to the Cups for best
sativa
concentrate with Lemon Cheese Quake and best hybrid concentrate with Fruity Pebbles OG, both were also awarded to Oklahoma Dab Labs, the processing company under the Fire Leaf umbrella. Fire Leaf also picked up a third-place win for its White Pineapple vape cartridge and a second-place win for its Maple Bacon Krispi Barz.
Doolittle said they entered some categories more than once and others not at all.
"Our bacon maple bar won, but we also entered our gummies, our Happy Sap and a few other things," he said. "In the cartridge category, we took third place and we entered like four or five cartridges. We just entered a bunch of different flavors and varieties because it's hard to know what the judges are looking for."
The edible was in the works for about three months and hit shelves about a month before it won second place.
Fire Leaf also took third place in the pre-roll category with its "jeffrey" infused pre-roll.
"It's a pre-roll with some good weed, and we cover it with bubble hash," Doolittle said. "That's our name for it. Everybody calls them different things. For us, that's just what we went with."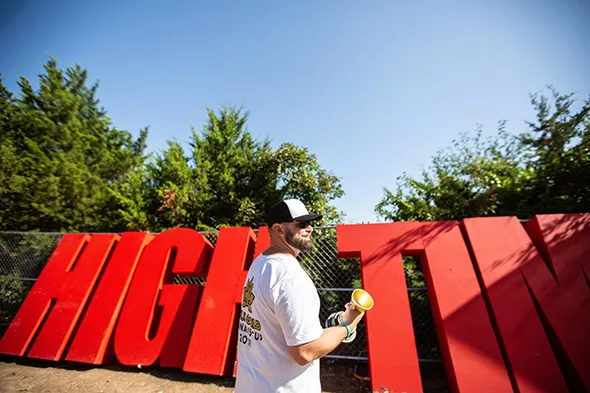 Alex Ace
Ryan Vicedomini, founder and CEO of CBD Plus USA and Lotus Gold, won a Cannabis Cup for the Colorado Cures CBD topical he developed.
As far as their Cup-worthy concentrates, if you do not already have a batch, you will have to wait for the next run.
"The White Pineapple was a short run. It's a clear run, so we double-distill it, and we had it for approximately two weeks. First of all, we do a flower run through our BHO extractor and then we run it through the double-distillation process. We do it two times and do a couple other proprietary things to it. About a month ago, we started doing that. They sell out. As soon as we get any of those, they are gone. They last about a day. They're kind of more of what I want to call our reserve line," Doolittle said. "So we're going to have regular Dab Lab products that are a little bit more affordable and then some of those products that are double distilled and flower ran and stuff like that. They're a little bit more pricey, but for the connoisseur, they're a lot better quality and flavor and stuff like that. We want to offer something for everybody."
Fire Leaf did not enter the indica concentrate category.
"We didn't put in an indica concentrate, so in my mind, I think if we would have, maybe we would have got all three, but the two that we did do, we won," he said.
Doolittle said Fire Leaf's extractor works in the lab here for about a month and then travels to Washington to train further under extractors there who have been doing runs for about 20 years.
Fresh start
Jayson Emo helped mentor New Leaf Medicinals on its laboratory processes. They took home a Cup for infused product with its moon rocks and a second place sativa flower win for its Tropicana Cookies.
Emo decided not to enter the competition the first year.
"I take my preparation for the Cup pretty seriously, so the timeframe I had to work in to be able to enter something wasn't really in my favor," Emo said. "And to be frank, I have so many Cups at this point that I've trained people in the state, and one of the people that I trained won a Cannabis Cup, first place. They got second place for their flower. Seeing those guys get up there and those guys win is better. They need this to separate themselves in the industry and kind of go forward and rise to the top. I'm already validated with my work, so now we'll let them get out there, get a taste of it, rock with it for a year. And we'll come back next year and put my best up against theirs and see if they improved over the year, see if they get what it takes to battle some serious competition."
"I think it's nice that everybody got to warm up and see what the competition is all about, to see what the event is all about. Because I'm bringing some heat next year. Nobody has any more excuses."