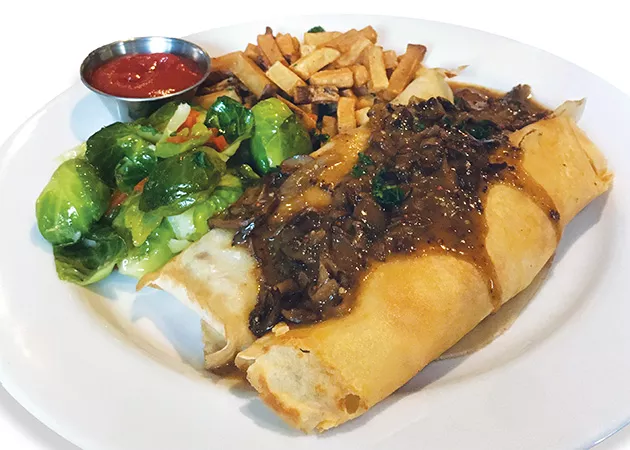 Jacob Threadgill
Crêpe of the day topped with wild mushroom sauce
Café Cuvée
1200 N. Walker Ave.
cafecuvee.com
405-898-8120
What works: It delivers both contemporary and classic French-inspired dishes like cornbread and hazlenut-crusted salmon.
What needs work: The Brussels sprouts were a little bland and could have benefitted from texture.
Tip: Don't forget about breakfast and brunch service.
On the bottom floor of the Ambassador Hotel, Café Cuvée is carrying the legacy of the city's influential Coach House, but making it more accessible with all-day service in an atmosphere that accommodates both relaxed and fancy moods.
I moved to Oklahoma City in 2017 and never had the opportunity to dine at The Coach House, which closed in 2016 after 31 years serving French food done right and where chef Kurt Fleischfresser's apprenticeship program trained many chefs that are shaping Oklahoma City's culinary scene to this day.
As The Coach House converted from a special occasion restaurant into more approachable The Hutch on Avondale, 6437 Avondale Drive, under Coach House chef de cuisine David Henry, one of his former students guides Café Cuvée.
Fleischfresser took over leadership of the restaurant in the Ambassador, 1200 N. Walker Ave., which was Viceroy Grille at the time, in 2017. First, he tapped apprenticeship program graduate Taylor Desjarlais to lead Café Cuvée's opening in August 2018, but Desjarlais left for another opportunity and Fleischfresser promoted Coach House graduate Jeffrey Gordon to Cuvée's chef de cuisine position, who officially took that role in early 2019.
"[Café Cuvée] really reminds me of The Coach House because as long as we're doing good food, we can really play around with whatever we want," Gordon said. "I trained under David Henry, and he had more molecular gastronomy, avant-garde plating style and chef Kurt was old-school, French technique and mastering the basics."
Café Cuvée has most of the traditional dishes you might find at a stuffy, white tablecloth, old-school French restaurant on which you read a menu by candlelight but also provides contemporary dishes that hint at Henry's influence on Gordon.
There are Escoffier-approved dishes like bouef bourgignon ($24), coq au vin ($24), mussels steamed in white wine sauce ($16) and steak tartare ($18), but there are also more inventive dishes like scallops topped with kettle corn gremolata ($35), ancho chili glazed tuna ($22) and seasonal specials like classic chilled potato and leek soup vichyssoise made with Peruvian purple potatoes.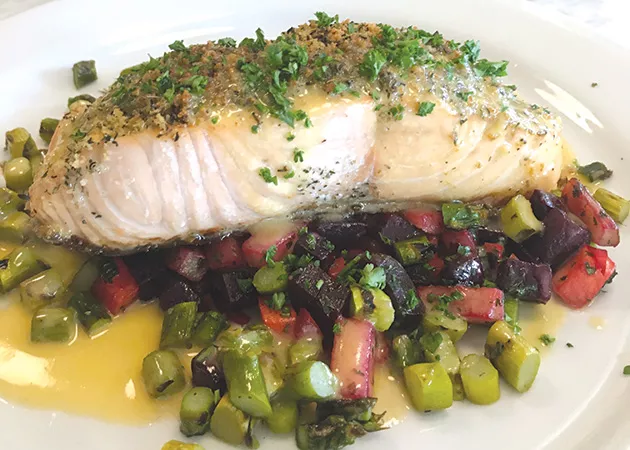 Jacob Threadgill
Salmon with herbs de Provence and panko crust, red flannel hash, asparagus and yellow tomato butter will be on the menu full-time in late February or early March.
"I'm not sure who else is doing soufflé in town," Gordon said. "Things like lavender crème brûlée and the Peruvian purple potatoes are just little things that we're trying to do to set us apart."
Gordon said that Cuvée's cornbread and hazelnut-crusted salmon ($28) is a nod to The Coach House's version with cornbread and pecan that was served with tomato butter. This spring, he plans to offer salmon crusted with panko and plenty of herbs de Provence with tomato butter made with yellow heirloom tomatoes. I love that idea. Herbs de Provence (thyme, savory seasoning, fennel, rosemary, basil, lavender, tarragon) is one of my favorite blends to use at home with salmon. When I put it in the smoker, I just coat it with plenty of olive oil, herbs de Provence, salt and pepper.
"It's usually used with chicken or pork, but it works well with salmon," Gordon said. "It's so herbaceous and floral."
Cuvée also offers Dover sole fileted tableside and a S'mores chocolate mousse — the server uses a blowtorch to singe cinnamon in front of guests. Dinner service also includes a free amuse-bouche of the kitchen's selection like a potato and herb croquette or salmon belly tartare. Whether you order dessert or not, the meal ends with a bite-sized mignardise, often a macaron or shortbread cookie.
I also can't think of many restaurants in the city open from 6:30 a.m. until 10 p.m. every day of the week. It supplements its midweek breakfast menu with brunch offerings on the weekends. When the restaurant opened, it originally closed between 2 and 5 p.m. to get ready for dinner service, but it has made the switch to continuous service by hosting happy hour wine and cocktail specials during the afternoon.
"I think being in a hotel, people might be a little scared if they can come in or not or the dress code," Gordon said. "It's kind of intimidating when you're walking up the steps. Are flip-flops OK? We're pretty laid-back in that aspect."
Gordon said he is pleased with the reception of the restaurant and that dinner service has really picked up over the last year. It is already booked solid for Valentine's Day with 150 reservations.
Jacob Threadgill
Cassoulet is served like a soup at Café Cuvée.
I've stopped into Cuvée on a few occasions, and it's always supporting a healthy lunch crowd. It was the first place I ever got to eat escargot. Growing up, my dad told me snails tasted like erasers, but Cuvée ameliorated those preconceptions with plenty of butter and garlic and a consistency like a more substantial oyster.
Cuvée is home to not only an excellent beef burger with blue cheese, lardons and garlic aioli, but one of the best veggie burgers in the city, which was somewhat of a passion project for Gordon.
"I spent about three months developing that mix," he said. "When I came in, they were doing a white bean burger that you had to cook in a sauté pan, and I really wanted to get something you can grill."
He individually shreds and roasts beets and mushrooms and puts washed black beans in the oven until they split. The ingredients are blitzed with quinoa, oats, chile powder, smoked paprika and cumin for a final product that holds up on the grill and while you're eating it.
Instead of a traditional cassoulet made by layering beans with duck, sausage and pork, Cuvée offers a stewed version that starts with white beans and is topped with duck confit, sausage, pork skin and pickled onions ($6 for a cup).
The restaurant has recently begun offering a savory crêpe of the day option at lunch, and I couldn't pass up the crêpe stuffed with cornbread, roasted chicken, carrots and peas and topped with forestière sauce made with demi-glace, Dijon mustard, cream, plenty of wild mushrooms and thyme. The dish was excellent and makes me want to try to fennel pork loin ($32) with the same sauce on the dinner menu.
Whether you want breakfast, lunch, dinner or an post-work drink, Cuvée is a comforting restaurant that will make you feel at home.
Visit cafecuvee.com.