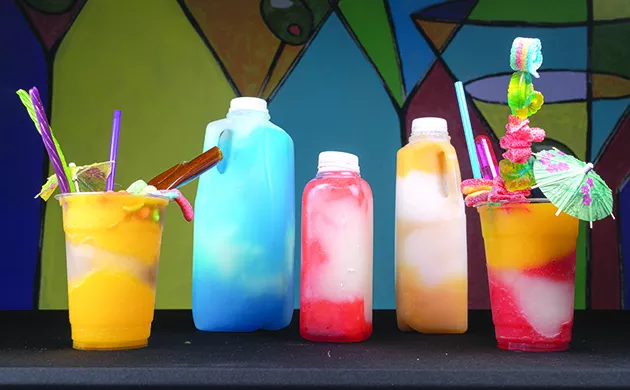 Phillip Danner
Customers can get daiquiris in the lounge or take them to-go in a sealed container.
A strong bond between longtime friends brings a jubilant taste of the South with colorful wine-based daiquiris to Oklahoma at Good Times & Great Vibes.
Opening in January 2019, Good Times & Great Vibes, 232 S. Air Depot Blvd., Suite D, in Midwest City is the vision of friends LaBrika Chaffer and Ryan Rutledge. The business partners met a decade ago when Chaffer ran track at Oklahoma City University and Rutledge played basketball at its gym on campus.
"We're longtime friends, and she's someone that I can trust and go into business with and knew she'd always have my back," Rutledge said. "She'd already had a snow cone stand back in San Antonio and knew how to open a business and avenues to take to get there. We put our heads together and came up with a nice scheme and slogan."
The duo originally opened as A Good Time Daiquiri Lounge in January 2018 but changed the name so customers would not think they were serving a liquor-based drink.
"It's why we changed our name, so that we can franchise and do more than this location, and that's in our plans," Chaffer said.
The traditional daiquiri is a combination of rum, lime juice and sugar shaken together that dates to Cuba in the early 20th century, according to liquor.com. The first frozen versions made appearances in the 1950s with the invention of the electric blender, but it wasn't until the 1980s that the brightly colored frozen daiquiris arrived 45 minutes outside New Orleans in Hammond from innovator David Briggs Jr., who developed the frozen drink machine that made a consistent product, according to distillerytrail.com.
"We wanted to bring something fun to Oklahoma," Rutledge said. "This has been around for many years in many states, for example New Orleans, Dallas, Houston, Vegas, Miami, and it's a more Southern thing."
Good Times & Great Vibes uses a concept that is popularized at many Texas drive-thru daiquiri bars that uses a flavorless base wine that can be flavored to taste like rum or tequila to make frozen daiquiris and margaritas with a lower alcohol content.
"People who don't know in Oklahoma the types of daiquiri options in other states, you get a daiquiri or frozen drink, have a good time," Chaffer said. "That's why a lot of people like us, because you don't taste any alcohol. You can listen to some music, sip on a delicious-tasting drink, chill with friends and play some game, watch sports. For the brief moment you're in this place, nothing else matters."
There are mega-sized versions of Jenga, Connect Four and Uno while other tables have card games and dominoes. Every Friday night, Good Times & Great Vibes hosts karaoke that includes a $5 happy hour from 7 to 9 p.m. The first Sunday of every month is an open mic that includes music, comedy and poetry.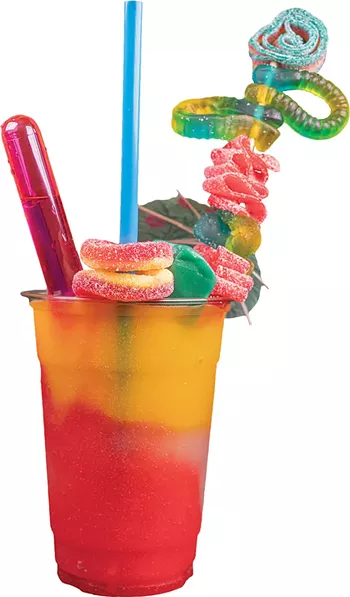 Phillip Danner
Customers can get wine-based daiquiris topped with candy at Good Times & Great Vibes.
Good Times & Great Vibes started with three frozen drink machines, but that number has expanded to five, and Rutledge said they would like to have as many as 8-10 machines.
Drink sizes range from 16 ounces ($6.95) to one gallon ($25.95).
"We rotate flavors," Rutledge said. "We might have strawberry piña colada, peach, blue raspberry, green apple and the next week might be margarita, mango."
Drinks can be taken to-go in a sealed container, but customers who hang out in the lounge have the option of adding colorful candy like Skittles, alcohol-soaked gummies and sweet and spicy Fruit Roll-Ups to the drinks.
"[Rutledge will] give me an idea of 'How can I make this work?' and make it easy and fun," Chaffer said of the candy additions. "It's just a good time. I'll have certain things in the back of my mind and won't say out loud. Then he'll come along and say, 'I bought this and that,' and I'll say, 'I was just thinking that.'"
The lounge also offers bottled and cans of beer and a few snacks like chips. It also partners with restaurants like Tez Wingz, 3801 N. Oak Grove Drive, in Midwest City and Mama E's Soul Food, 3838 Springlake Drive, and food trucks like Fat Sosa's to bring food to the lounge on weekends.
"In the future, our next location will have food," Rutledge said.
However, there are no immediate plans for expansion. He said reception has been more than they expected in their first year of business, but they want to see it continue to grow before adding a new location.
"Although we've been open for a year, we don't take anything for granted," Rutledge said. "We're keeping 10 toes down and pushing, keep grinding and keep moving forward. Don't get content with what we have, although we see it's working. It can always grow and expand. We've been open a year and most businesses crumble within year one and three."
Chaffer said one of her favorite memories was partnering with Oklahoma City Zoo and Botanical Garden on its 21-and-up date night that saw the line for daiquiris extend all the way to the entrance.
"The most rewarding thing was when they'd take that first sip and we'd ask if it was worth the wait and they said yes," she said. "People will drive 30-45 minutes just because they remember us from the zoo. New Orleans people have come in here and so far, knock on wood, we're New Orleans-approved."
At the core of Good Times & Great Vibes is the bond between Rutledge and Chaffer.
"There have been numerous times if I wanted to give up, she pulled me back or if she wanted to quit, I'd pull her back. You have to keep that confidence level up and give all grace to God," Rutledge said.
"It's been an amazing ride, and let's go for some more," Chaffer said.