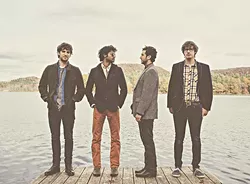 The members of Boston-based Darlingside are a tight and quirky group.
Their website describes this in detail. Take, for instance, violinist Auyon Mukharji, "a feeble child" propelled into classical studies by his parents who sensed "a lack of athleticism and physical prowess," or guitarist Don Mitchell, who is known for his "humility, partially webbed toes and ironic disposition."
You get a sense of deep comfort in what the four friends do. It's a comfort formed throughout school at Williams College in Massachusetts and later in a shared apartment.
"We lived in that house together and got pretty close, as you might imagine," Mukharji said. "All four of us write. We all sing and mix. As far as presenting a visual image, we are four guys around one mic."
Darlingside is just the kind of outfit The Depot, 200 S. Jones Ave., in Norman is bringing in as part of its new Whistle Stop Series.
Sparked by the idea of early railroad whistle signals, which would tell passing engines to stop for waiting customers at the station, the series draws touring artists looking for a venue that can offer impromptu stops.
Darlingside's tour is its first since weathering Boston's heavy winter in the recording studio. Its album, due out in September, signals a change for the band. "Our first few years, we were more of an indie rock outfit, five-piece with a drummer," Mukharji said. "This album is our indie folk incarnation."
With the drop of their drummer, the five became four and took on a form reliant on vocals and strings — what they do best. Though similar in that they all play strings, the members' musical training is diverse.
Mitchell, who in addition to guitar plays banjo, was a boy alto in Chorus Angelicus. Mukharji's a classically trained violinist but studied mandolin in Ireland, Brazil and Turkey. The group cellist, Harris Paseltiner, also dabbles in everything from organ to erhu and pennywhistle. Bassist David Senft thought singing was mandatory in college and spent a couple years as a street performer.
The group is shameless in its inspirations, including the exceedingly relevant Punch Brothers and The National, as well as electronica and Taylor Swift pop hooks.
"We can take some of the things we hear, the pop stuff for instance, and translate that to our instruments," Mukharji said. "We throw a lot of stuff against the wall. It's a lot of fun to mash these things up."
A free music preview of select tracks can be found at the band's website darlingside.com.
Print headline: Folk darlings, Boston-based Darlingside whistled in for a show at The Depot.