And With Him Came the West / provided
And With Him Came the West is available to stream 10 a.m. June 11 to 11:59 p.m. June 21 at deadcenterfilm.org.
Oklahoma Gazette:
What is
And With Him Came the West
about?
Mike Plante:
Famous in the Wild West for winning a gunfight at the OK Corral in Tombstone, Arizona, Wyatt Earp saw the best and the worst from fame in the late 1800s. Desperately wanting to write his own legend in his old age, he went to Hollywood in the 1920s and asked silent Western filmmakers to make a movie about him. He hung out on film sets and told his legend, and somehow it worked, shaping the idea of the Wild West for generations to come.
OKG:
What sparked your interest in Wyatt Earp and made you want to make a film about him?
Plante:
I grew up in western Colorado and visited ghost towns all the time, and of course, loved Western movies and considered them factual. Then I lived in Tucson, Arizona, for 12 years, a little more than an hour away from where Earp's legend started, visiting every year. As an adult, you start to learn what life was really like in the Wild West, and it's far more complex in both positive and negative ways. Wyatt and his family's life can't really be boiled down to simple notions of heroes versus villains. Once I saw photos of him in Los Angeles, in modern clothes standing next to a car, I really wanted to dig in more. How could someone live in both the past and the present, in the Old West with primitive photography and then on Hollywood movie sets? We think it's something modern to control your identity with the media, but the Wild West is far ahead of us.
OKG:
Why do you think people aren't aware of Wyatt Earp's time in Hollywood?
Plante:
Maybe because there are no moving images of him. He visited sets but didn't act in a film. There are photos of him in the 20s, but not on a movie set as far as we can tell. So we only know Burt Lancaster and Henry Fonda and James Garner, for example, playing a character based on a real person. Almost every other famous gunfighter and sheriff from the Wild West didn't live very far into the next century, so we assume they are all stuck in another era. But some did live into old age, and then it's just math; they were young in the 1880s and old in the 1920s. Yet it's still so trippy.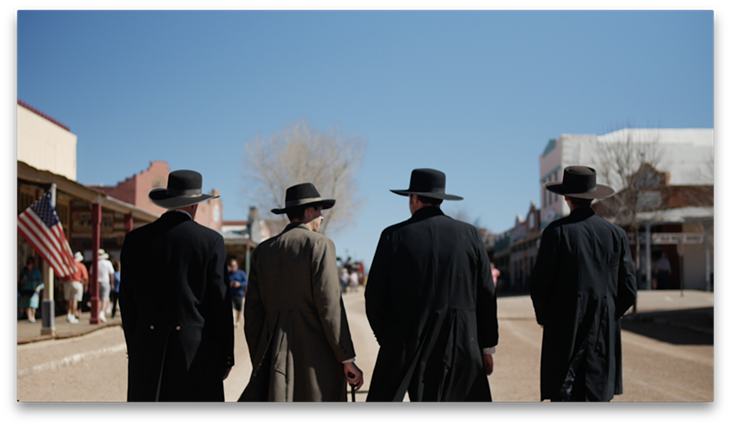 And With Him Came the West / provided
And With Him Came the West is available to stream 10 a.m. June 11 to 11:59 p.m. June 21 at deadcenterfilm.org.
OKG:
What is the most interesting thing you learned while making the film?
Plante:
Wyatt was at the production of the very first feature film in 1897. It was a boxing match, and since it went 14 rounds, then, by default, it became a feature documentary. I had heard bits of the story, but once we spent time researching it, all the layers unfolded. There is even a whole book about just that one fight and film called
The Fight That Started the Movies
. I think this event sent Wyatt on his path to influence movies, to help create his legend and affect our entire vision of the Old West.
OKG:
What do you want audiences to take away from
And With Him Came the West
?
Plante:
The Wild West may be far more complex than what a movie told you. Even my doc can only give you a hint at it. And it's both fun and important to explore history beyond the headlines.
Visit
deadcenterfilm.org
.