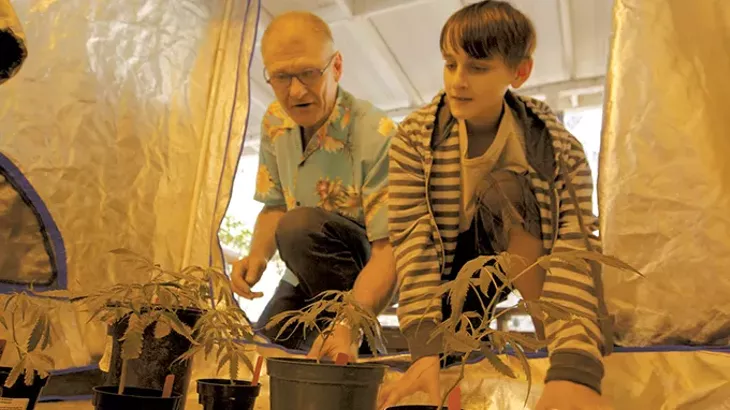 provided
Weed the People screens at deadCenter Film Festival less than three weeks before state voters will decide on State Question 788.
Editor's note: This article is part of a series examining cannabis and cannabinoids in Oklahoma leading up to the June 26 medical marijuana referendum.
Weed the People holds a special place in Ricki Lake's heart. The actress, television host and Hairspray alum was emotionally moved by the documentary's stories of young children using cannabis oils to combat cancer, but the film also hits an even more personal note. Weed the People is a lasting tribute to Lake's late husband.

Lake co-produced the documentary with husband Christian Evans, whom she married in 2012. Evans suffered from bipolar disorder and manic episodes and died by suicide in early 2017. Evans used medical marijuana to cope with his disorder and was also motivated to spread the word on the plant's many potential medical uses through his father's death from cancer.
Weed the People likely would not have been made without Evans' interest. Lake believes there could be no better tribute to his legacy than this film.
"I feel like these kids are being helped because of his own quest to find answers," Lake said in a recent Oklahoma Gazette phone interview. "He was talking about CBD years before Sanjay Gupta was around."
deadCenter Film Festival screens Weed the People 4:15 p.m. Saturday at Harkins Theatres Bricktown 16, 150 E. Reno Ave. A second screening is scheduled for noon Sunday at the same theater. Admission is $12, and those interested in attending are encouraged to arrive early.
Lake made Weed the People with director Abby Epstein, whom she had partnered with before on the 2008 documentary The Business of Being Born. The idea for their second project together specifically came from a little girl with cancer that Lake met with her husband.
"I happened to tell Abby, 'Oh, we're doing something crazy. Christian and I are moving this little girl into our house, and are going on this journey to find cannabis for her disease,'" Lake said. "And Abby's like, 'We should be documenting this. This is our next movie.'"
They never ended up using that particular girl for their film, but the idea led them to many other families looking to treat their children's cancer through cannabis oils.
Epstein said Weed the People is a movie about healing. There are a lot of other marijuana documentaries out there, but not many that put a human face with its medical uses. It is hard to come away from the documentary, which follows the intense, high-stakes treatments of several young cancer patients — including one infant — without feeling any sympathy.
"Neither of us really knew much about the cannabis world before this," Epstein said. "We were not big cannabis users, we never used this medicine, we were not politically involved in legalization. We came into it skeptical but open."
While the pair came into the documentary with a mostly neutral approach to the subject, the process of filming has turned them into advocates. Lake wants to channel her late husband's passion in an effort to help as many families as possible.
"We're really hoping to make a difference," she said.
Real use
When Weed the People viewers first meet Chico Ryder, the boy is weak, pale and bed-bound — physically ravaged by the adverse effects of the chemotherapy he was receiving for his aggressive soft tissue cancer.
However, through the use of cannabis oil, Ryder was eventually able to counteract most negative effects of chemo. His physical improvement is clear and remarkable.
"When we screen it in front of an audience, there's an audible gasp when they see Chico in the doctor's office," Lake said. "He looks like a different child. It's great that we're able to see these kinds of outcomes."
Filming for Weed the People began in 2012, but the bulk of the footage was gathered in 2013. Epstein said they met most of their subjects organically within the cannabis oil community. Many families who use these projects for their children connect with each other through Facebook and social media.
While Weed the People is an informative film, it is also a personal one dealing with real life-or-death situations. When Epstein began following a child's treatment, she had no idea how things would develop.
"It's a very, very tricky thing to film, obviously, because you just don't know the prognosis of these children," Epstein said. "You're kind of in it for whatever happens. It's scary, but luckily, almost all of them are doing quite well."
The logistical side of making a documentary is not easy either. Lake and Epstein have two children apiece.
"I feel like we had a guardian angel watching over us with this project," Lake said, "because it really came together so beautifully."
Well-timed
Lake said it is no coincidence that Weed the People is screening at deadCenter less than three weeks before Oklahoma voters will decide on State Question 788, which would legalize medical marijuana. Both Lake and Epstein will be in Oklahoma City for the film's screenings.
"That's why we're coming," she said. "That's the reason; it's definitely a conscious decision for us to come so we can hopefully help move the needle."
There is a common notion that medical marijuana is something that is completely untested, but Weed the People make a point to emphasize how cannabis is actually one of the oldest medicines known to man, with documented uses going back 5,000 years.
It is only within the last century that there has been a prohibition against it, a movement Epstein said had little to do with the plant's healing properties.
"The prohibition of the drug has nothing to do with its safety profile or addiction," Epstein said. "It only has to do with politics, greed and corruption. That's it."
The director knows it is hard to combat decades of misinformation on cannabis, but she asks voters to approach the issue with an open mind and do their research on medical marijuana before they hit the polls.
"The big thing is to really open your mind up to the science of this to see what this looks like," she said.
Visit weedthepeoplemovie.com.