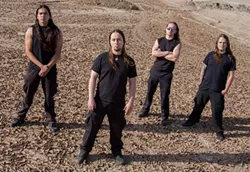 Veteran death metal quartet Abysmal Dawn will touch down in Norman for one hellacious night in its monthlong conquest of North America. Frontman Charles Elliott has added his guitar and growl to the LA-based outfit since Abysmal Dawn's inception in 2003. Now, more than a decade and three (soon to be four) albums later, Elliott still loves nothing more than unleashing sonic devastation onstage and then sharing some beers afterward with the folks who came out to brave the aural gauntlet.
"I think the most cathartic experience is playing death metal for a rabid audience," Elliott said. "When we perform live, there's this energy that you can't get anywhere else in the world, and when you go home, the volume gets turned down and you miss that. So that's why I keep doing it; I'm addicted to the feeling that it gives me."
Perhaps there's irony in the title of Abysmal Dawn's latest album, Obsolescence, because the time-tested metal mainstay seems far from it. The new record will be released on Oct. 27, and it charts a voyage to new waters while honoring the past.
"It's a little bit faster, but it still has some groovy elements," Elliott said. "It's a culmination of everything we've done."
Abysmal Dawn's trademark melodic elements and catchy riffs are evident in the new single "The Inevitable Return to Darkness," which is available for free download on the band's Bandcamp site.
"We just enjoy a good melody in our technical death metal," Elliott said.
Back in the band's primordial days in winter 2004, when Abysmal Dawn was passing around a three-song demo and building a repertoire for its first album, From Ashes, the focus was squarely on melody.
"We started progressing more to the technical aspect, but I don't think we ever lost a sense of melody or catchiness. In that sense, I think we're different from a lot of metal bands," Elliott said. "I just kind of play what I like. I'm not heavily involved or infatuated with everything that's new in this scene. I feel like we're one of the few bands that's maintaining the old-school feel while adding something modern to it."
Lyrically, Elliott is inspired by life experiences and scenes of the world he catches through other media. His songwriter's ear is shaped by everything from thrash to jazz fusion — even what he calls "angry, female-fronted alt music" like Portishead and The Gathering.
"I keep my mind open, but in the end, what I really like playing is death metal," he said. "To play this music, you've got to be a little insane because there's no real payoff in it. It's more something you do out of love and stubbornness — and even pride."
Elliott and his bandmates are excited to play new cities on this tour and unveil new songs that they have worked on for so long.
"Part of the fun of this whole thing is meeting new people and having new experiences," Elliott said. "Now we get to play them live, and that's the whole point."
Headline: From dusk till Dawn, The harrowing sludge of death metal outfit Abysmal Dawn should make for one hell of a night.