Alexa Ace
top to bottom salmon nigiri, California roll and Sexy Lady
Celebrating its 10-year anniversary this month, Park Harvey Sushi has earned its reputation as a sports bar filled with authentic memorabilia and serving contemporary sushi in the heart of downtown.
Owners Freddy and Rachel Nguyen are in the process of transitioning the space in honor of its decade of success by updating the interior and increasing its wine selection.
"We want to give it a new look after 10 years," Freddy Nguyen said. "We'll add a few new food items to the menu after we finish painting, making the bar look nicer. We carry a lot of wine, but there will be more. My wife is the wine specialist; I'm more of a beer guy."
After decades in the restaurant business, Freddy Nguyen opened Park Harvey Sushi, 200 N. Harvey Ave., at the corner of Harvey and Park avenues in the former Gaijin Sushi location, which was only open for a few months.
How has Park Harvey thrived in a location that quickly chewed up its previous tenant?
Nguyen said it's a combination of customer service, continuity and cleanliness. Head sushi chefs Chuong and Kevin Nguyen have worked at Park Harvey for all of its 10 years, and most of the wait staff have been there at least half as long.
"People ask how I kept them so long, and it's how we treat them," Nguyen said. "We take good care of them. You have to keep good employees. We want to keep the best employees around."
Another factor is Nguyen's foresight. He leased the space before the Oklahoma City Thunder played its first game and nearby Devon Energy Center opened. He has been able to build a large lunch clientele from nearby office buildings and a 3-6 p.m. happy hour that includes beer and wine specials that gets especially popular on Friday afternoons. Customers can watch multiple televisions while snacking on housemade pretzels and enjoying a cold drink or sushi rolls, nigiri and sashimi.
"I did my research, and there was no other sports bar or sushi bar in downtown [at the time]," Nguyen said. "We are at our busiest before Thunder games, but we get people who come from the Skirvin, including players from other teams [before the game]."
The sports-themed sushi bar is an homage to a few of his previous ventures, which included Outfield Sports Grill and Chinese restaurants. The Nguyens decided to open a sushi restaurant after watching Rachel's brother succeed with Kang's Asian Kitchen, which is now Nhinja Sushi with five locations.
Sports are a passion for Freddy Nguyen, who ran long-distance for the University of Oklahoma in the 1970s. Since graduating, he has remained an active booster with OU and considers former football coach Bob Stoops and basketball coach Kelvin Sampson friends.
"I ran the 5K, 10K and marathon [at OU]," Nguyen said. "It's why I know so many people, but now I've got a beer belly."
All of the memorabilia in the restaurant is Nguyen's own collection. He said one of his favorite memories is flying with the OU basketball team when they played in the Final Four in Atlanta under Sampson in 2002.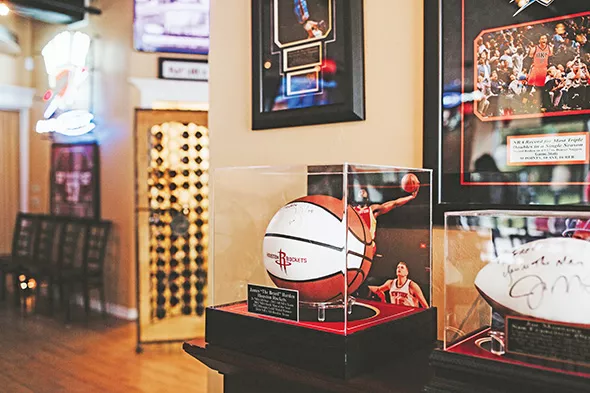 Alexa Ace
Freddy Nguyen's friendships with sports legends are reflected in Park Harvey Sushi's decor and memorabilia.
When Sampson became an assistant coach for the NBA's Houston Rockets, Park Harvey was the first stop for the team after checking into its hotel when they visited Oklahoma City. There are photos of Rockets players inside the restaurant, but make no mistake; Nguyen's allegiance remains with the Thunder. There's a large picture of Russell Westbrook that shows Nguyen in the background, courtside, cheering the team on.
"We sit behind the bench when the Rockets come to town. [Before every game,] they come in here. People with the Thunder know that I'll take care of them," he said with a sly smile.
Late nights at Park Harvey take on a bit of a "What happens there stays there" motto.
"I can point to every item and tell why I have that football or basketball," he said. "[Hall of Fame quarterback] Joe Montana wrote, 'You the man,' but people don't know why, and it's because I took good care of him, but I can't tell you everything that happened."
Nguyen's favorite sushi roll on the menu is the Thunder roll, which tops spicy scallops on a roll filled with asparagus, cream cheese, eel and tempura white tuna ($15). Overall, the menu is seafood-forward in a contemporary setting. The chefs add and subtract rolls every two years, but they put an emphasis on specialty rolls with plenty of garlic or spicy mayonnaise.
One of the few non-seafood items on the menu is crispy, panko-coated Buffalo wings, as a nod to its sports bar roots.
"You don't see a lot of sushi restaurants with [Buffalo] wings," Nguyen said. "These are the best wings. We sell a lot of wings."
Nguyen is a busy man, working at a law firm during the morning to hone his managerial skills while Rachel handles the lunch crowd. He spends the rest of his time at Park Harvey, talking to customers surrounded by a lifetime of his sports memories.
Park Harvey Sushi is open 11 a.m.-9:30 p.m. Monday-Friday and 4 p.m.-9:30 on Saturdays.
Visit parkharveysushi.com.