Gazette / file
Rep. Forrest Bennett, D-Oklahoma City, opposed a measure to tighten Medicaid eligibility.
Oklahoma will soon hire a private contractor to crack down on Medicaid fraud, identifying people who might no longer be eligible for the low-income health program and sending recommendations for benefits cancelation.

It's unclear how many of the nearly 800,000 Oklahomans, most of whom are children, would lose health care coverage under the new law, known as the Act to Restore Hope, Opportunity and Prosperity for Everyone (HOPE). Oklahoma Council of Public Affairs, a conservative, state-based think tank, estimates a savings of $86 million. The law was the first a House bill signed by Gov. Mary Fallin in the 2018 legislative session, which follows past sessions in which lawmakers dealt with fiscal challenges by cutting core services.

The House bill reflects a renewed focus this session on Medicaid, known as SoonerCare in Oklahoma. So far, proposals to tighten Medicaid eligibility rules for low-income parents and create a Medicaid work requirement also advanced. Supporters argue policies targeting waste and fraud ensure that the neediest Oklahomans receive the social safety net and they are truly eligible for them, but the policies also shrink the program, resulting in savings for the state.

Not everyone is convinced this is the right approach to reforming Medicaid, which is a joint federal-state government health insurance program. Rep. Forrest Bennett, D-Oklahoma City, delivered a rebuke against the new law, encouraging lawmakers to connect Medicaid reform discussions with investments in education, criminal justice reform and increasing access to quality and affordable health care.

In an interview with Oklahoma Gazette, Bennett said there are many concerning aspects of the Medicaid eligibility checks. For one, the private contractor will be motivated to justify their hiring by identifying ineligibility. Medicaid recipients identified with a discrepancy in their eligibility status have 10 days to respond to the findings. If they don't respond to dispute or provide new information, their benefits are canceled.

"By kicking people off the rolls and not changing their social status, we, as a society, end up paying for it another way," Bennett said.

He explained it could create a burden for hospitals with uncompensated care and increase client loads to religious and nonprofit organizations providing health care services.

"So we are paying for the least among us either way," he said.

Another view

Medicaid, which is typically viewed as an entitlement program for the poor, reaches only so much of the state's poor population. Under state requirements, a person must be both low-income and categorically eligible to qualify for Medicaid, or SoonerCare. Those categories include children, seniors and disabled adults, pregnant women and low-income parents with dependent children.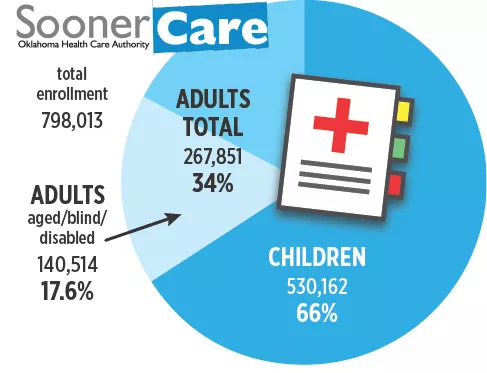 Graphic Jim Massara / BigStock
According to the Oklahoma Health Care Authority, 66 percent of people on SoonerCare are 18 or younger and 17 percent of people qualify because of their senior status or are blind or disabled.
Nico Gomez, president and CEO of Care Providers Oklahoma, said that lawmakers periodically target Medicaid with reform efforts that miss the mark.
"My thought has always been if you want to try to reform Medicaid, then you really truly have to help people break the cycle of poverty," Gomez said about the income-drive program overseen by Oklahoma Health Care Authority, which he previously led for three years. "Instead of throwing people off the program because you can no longer afford them, how about you help them through education, job training and job opportunity so they no longer qualify? That's the best Medicaid reform."
Gomez said SoonerCare plays a significant role in safeguarding the health of many of Oklahoma's children. By providing primary health care to growing children, combined with a strong public education system with opportunities after high school in the ways of higher education, trade schools or employment, Oklahoma could affect generational poverty and improve the outcomes for poor children, thus reducing the number of people seeking Medicaid services.
"We have a wonderful opportunity, and I don't want us to miss it because if we do, we will all suffer," Gomez said. "They've got to have that hope that once they graduate, there are opportunities."
Active legislation
In recent years, Medicaid faced crucial tests at the state level. Two years ago, when Oklahoma lawmakers were staring down a $1.3 billion budget hole, a bill requesting a federal waiver to exclude all able-bodied adults younger than 65 — about 111,000 Oklahomans, mostly women — from Medicaid passed on the House floor but later died in committee.
Last year, the HOPE Act was proposed and passed the Senate. It carried over into the 2018 session, garnering a hearing by the full House two days after the Senate passed Republican Sen. Josh Brecheen's Senate Bill 1030, which would block 43,611 caregivers and parents from receiving SoonerCare by lowering the eligibility level to 20 percent of the federal poverty level. It also came one week after the governor issued an executive order to develop a work requirement for the state's Medicaid program.
It's hard for those in health care serving SoonerCare patients, explained Cassidy Heit, a public policy and communications associate at Oklahoma Primary Care Association, an organization representing community health centers serving more than 200,000 patients, one-third of whom are on SoonerCare. The association opposes Brecheen's bill. If the bill were to become law and receive approval by the federal government, a family of three qualifies for Medicaid with an income of $4,084 a year. The state would also lose $118 million in matching Medicaid federal dollars.
"We know that when patients fall off Medicaid and become less familiar with the system, they are less likely to enroll kids that would still be eligible for care once restrictions are imposed," Heit said. "We are not just concerned about adults losing care, but we are concerned about their kids losing access as well."
If the legislation were signed into law and the state implemented a Medicaid work requirement, it could further lead to loss of Medicaid eligibility for many working low-income parents.
"It's a Catch-22 scenario where you have to work a certain number of hours per week but are restricted in the income you can make," Heit said. "It works out to be well below the minimum wage. If both go forward, it could be virtually impossible for adults in Oklahoma to retain coverage through Medicaid."