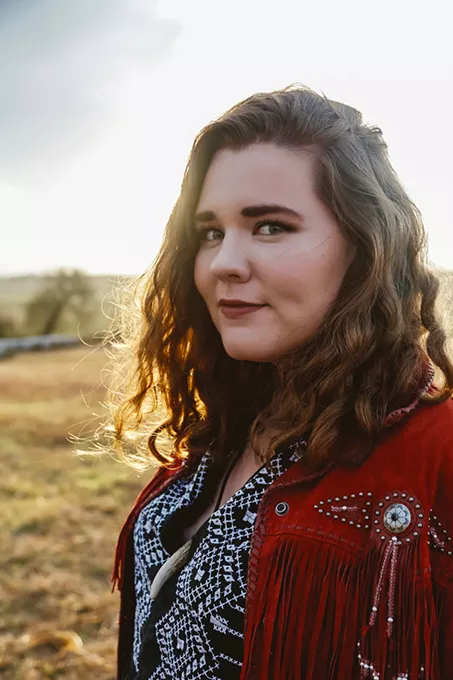 Parker Slack / provided
Mallory Eagle
The title of country singer-songwriter Mallory Eagle's debut album, Red Dirt Home, could be taken as a clear nod to the famously iron-stained soil of her home state. And, of course, it is that.

But Red Dirt Home, which was officially released in February, and its album-opening title track were also written with a more particular place in mind. Tucked away in rural Weatherford are several dozen acres of land that have been in Eagle's family for generations. Her cousins have a big, beautiful farmhouse there, and the land is also where she keeps Misty, her cute but stubborn American Paint Horse.

The land is marked by breathtaking hills, a miniature canyon and plenty of wooded areas to explore.

"Even though I never met my great-grandparents, this was their land," Eagle said. "I feel a presence of their spirit, and it's a warm feeling."

Her connection to the land and her family was a powerful muse in the early stages of writing the album. Though Red Dirt Home was released almost three months ago, it finally gets an album release show 9 p.m. May 10 at Tower Theatre, 425 NW 23rd St. Guitarist and singer-songwriter Adam Duran opens the concert. Tickets are $10-$12.

The wide-open landscape plays perfectly with Eagle's traditional country sound and the introspective lyrics found on her debut. Her dad, visual artist and illustrator Cameron Eagle, would play a lot of bluegrass and classic country around the house when she was growing up. Many photos of Eagle as a baby or young child are in cowboy hats and overalls. She remembers her family taking many trips to historic Cain's Ballroom in Tulsa and watching her mother and father two-step.

All of that has played a role in the artist Eagle is today.

"I think it's just years and years of having that around me that just rubbed off," she said. "But I put my own sound to it. I want it to be as organic as possible."

Eagle said it is not her goal to replicate any one kind of sound. Rather, her music is a reflection of what's in her heart.

"I could be making a jazz album," she said. "It's whatever comes straight from the heart. I want people to feel something."

Eagle wanted her first album to be a reflection of who she is and from where she comes. Oklahoma is an indelible part of that identity.

"Red dirt is in your blood," she said. "If you're from here, Oklahoma is always home, no matter where you go. And when you meet other Oklahomans outside of here, you have an instant connection."

Musical upbringing
Eagle's dad took her to Oklahoma International Bluegrass Festival every year growing up, even before she was born.
"I was literally listening in the womb," Eagle said. "Banjo was a part of my heartbeat."
In school, Eagle was always involved in vocal and choir classes. For several years, she even competed in a youth opera program.
"They were always commenting about how I had an Oklahoma accent in my German aria," she said. "I was like, 'Well, I don't really know if I can iron that out, but we'll try.'"
That early operatic training still comes in handy today. Eagle said the competitions taught her a lot about breathing and control. She does not have a problem with vocal reach.
"I can just belt something no problem and it doesn't hurt at all," she said.
Despite her early interest in classical music, Eagle's musical goal was always in other areas. In high school, she joined the bluegrass band Cimarron Station as a vocalist. They played her first paid gig when she was 17, and since then, she has been hooked on the idea of professional musicianship.
"I was like, 'Oh, OK. This could be a thing for me,'" she said.
Starting strong
Last year, Eagle graduated with an associate's degree from the Academy of Contemporary Music at the University of Central Oklahoma (ACM@UCO). She also recorded
Red Dirt Home
in the school's second-floor recording studio with production help from Caleb Earl Gray.
Much of the album was written and recorded while Eagle was planning a move to Nashville to attend another music school and find a nesting place in the country music hotbed. Red Dirt Home was intended to be her musical foot in the door of the new city. She was scheduled to move before the album would be totally finished, but things did not turn out the way she planned and her move was postponed.

"The school didn't work out for me, so I stayed and finished it through all the mastering and everything," she said. "I'm really glad I did that because I really got to play it all out."

Amazingly, considering the quality of her debut, Eagle did not have much proper guitar or songwriting experience before her time at ACM. But an innate musical desire pushed her to quickly learn.

Red Dirt Home has a classic country sound, but Eagle's lyrics come from a youthful perspective. There are moments of sass, like on "No Cash" and "Cheers to the Bottle," but also moments of self-aware reflection and angst.

The first song Eagle wrote for the album was "Beauty or Beast," a crossroads song that came after a fight the songwriter had with her parents. Eagle was living at home at the time and, as she now admits, was not treating them well or with the respect she would others.

"My mom said something to me about, 'You need to figure out who you are,'" she said.

Eagle remembers immediately going to her room and tearfully writing out the song, plucking at her guitar. At the time, she was not even sure which chords she was playing.

Though Red Dirt Home was released a few months ago, Eagle thinks it is an ideal time to hold a release show.

"It's given time for people to listen and digest," she said. "Now they might know the songs a little better when they come."
Forever home
Eagle's original Nashville plans might be derailed, but the country mecca is still in her future. She plans on moving to the city this summer, with her album release show functioning as a prelude to her eventual goodbye.
The coming move has given new meaning to
Red Dirt Home
. While Eagle might be physically moving, she will never be able to leave her home state behind.
"I almost get a little emotional about it," she said. "I do love it out here, but of course, I have to go out and chase other opportunities and see what can happen. But I always have this to come back to, and that's a really reassuring feeling."
No matter where music takes Eagle, she plans on taking a proverbial piece of red soil with her.
"There is something special about Oklahoma," she said. "There's so much talent, and it's such a beautiful state."