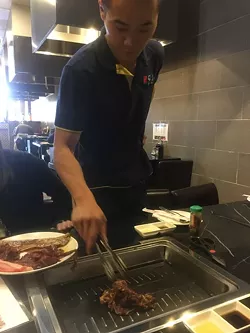 Diners take control of their meal by attending to meat on a sizzling electric grill at Shilla Korean BBQ in Norman. | Photo Jacob Threadgill
My quest for a true piece of Oklahoma history has been an unsuccessful one. Since I first moved to Oklahoma a few months ago, I've heard stories about the iconic original commercial for Sooner-born drive-thru chain Del Rancho.
For nearly four decades, the "It's his sandwich" commercial that featured a bowl cut-sporting kid delivering the line "Steak supreme sandwich" in the most deadpan manner, was Del Rancho's only television advertisement. It aired for so long that the commercial's original source of parody, a Schlitz Light beer commercial with James Coburn, was more than likely lost on the audience.
The commercial was remade in 2012, and subsequent advertisements have made their way onto YouTube. To a T, almost every new upload has a comment in search of the original. The search has spread to local message boards and blogs where posters also try in vain to find the original Del Rancho commercial.
If nothing else, my quest to find the commercial has only highlighted the integral part Del Rancho has played for many Oklahomans over the decades.
The first restaurant opened at 3300 S. Western Ave. as Ranch House under owners J.R. and Rosamond Holt in 1959 and was eventually renamed Del Rancho after its second location opened in Del City. Legend (and The Oklahoman) has is that J.R. Holt developed the idea for the signature and comically large steak sandwich supreme during a dream that woke him at 4 a.m. in 1961.
Rancho history
Holt's creation finally made its debut in 1964, and the Oklahoma foodscape was forever changed. For many, chicken-fried steak is as much part of the Oklahoman identity as football and supplying tax breaks to the oil industry. It's also the star of the official state dinner, which was adopted by the state Legislature in 1988.
Del Rancho is still family-owned to this day. Holt's grandsons James and Michael Burchett operate many of the eight Del Ranchos across the state, with a ninth in Stillwater opening soon. The Kirkpatrick family independently owns the Del Rancho in Norman.
The chain expanded to Texas in the mid-2000s but has since downsized. James Burchett said through email that they are currently working to remodel two stores while in the process of opening the Stillwater location.
The decision to update existing stores makes sense, although I imagine there are some who might not consider a Del Rancho experience "authentic" unless you feel like you're in the 1970s.
Outsider perspective
Undeterred by not finding Valhalla in my quest for the original Del Rancho commercial, I set out to try my first steak sandwich supreme. I dined at the Warr Acres location, 5111 N. MacArthur Blvd., and the first thing I noticed was the retro feel.
You drive past the large yellow-and-neon sign featuring Del Rancho's mascot, a cartoon cowboy that looks preserved from the days of Nixon administration, holding what I can only presume is his sandwich, the steak supreme. Once you pull into the carhop section, the lack of digital interfaces is somewhat comforting, like a warm blanket that smells like asbestos and Virginia Slims. It feels good, but there is a creeping feeling in the back of your mind that there should be a better way.
The feeling of pressing the silver button and talking into an intercom that looks like it came from a military surplus outlet to order your food is like stepping into a time machine.
The reception to the waitress taking my order was surprisingly clear as I placed an order for an original steak sandwich supreme ($7.59), a side of onion rings ($2.99) and an unsweet iced tea ($1.99).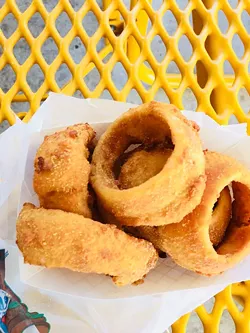 Onion rings | Photo Jacob Threadgill
The food took longer than an average wait at a Sonic to arrive, but as Del Rancho's website says, all food is cooked to order and never frozen, so that is to be expected. It would've been nice to have a credit/debit card reader by the menu, but the waitress had to retrieve one from the restaurant and added a few minutes onto my wait time. I'll be honest; I was expecting the worst out of the steak sandwich supreme — a chewy gut bomb with only a fried aftertaste.
I couldn't have been more wrong. The sandwich arrives overflowing from the bun with at least a 2:1 meat-to-bun ratio. The steak looks like it's wearing the cowboy hat of Del Rancho's cartoon mascot.
The meat is surprisingly tender, and the coating provides delicate flavor beyond flour, pepper and grease. Once I realized the sandwich was actually high quality, my spirits lifted and I began to devour the meal. I thought I might make it only through a few bites just for posterity's sake but quickly found myself eating the whole thing. There is a moment at the center of the sandwich when its toppings — Miracle Whip, tomatoes and iceberg lettuce — all converge into a few bites that I can only assume are akin to finding Nirvana.
The Miracle Whip provides a sweet contrast that is missed if its mayonnaise counterpart was used, and it's just another reason to feel nostalgic while eating at Del Rancho.
As good as the sandwich was, the onion rings were disappointing. They arrived without an ounce of seasoning, and the coating was in a middle ground between crispy and soft. I was shocked to see the sandwich "only" has 654 calories, according to MyFitnessPal. I was expecting it to be twice as much.
It might've been a few years since your last Del Rancho experience, or perhaps you take for granted the Oklahoma City-based chain. As an outsider experiencing his first steak sandwich supreme, I can say that it would be something Oklahomans should take pride in claiming as their own. Sure, it's ostentatious and shouldn't be part of a balanced diet, but it's also delicious and unlike anything else in the country.
Print headline: Uniquely Oklahoma;Del Rancho's Steak Sandwich Supreme is an Oklahoma icon, but how does it stack up against contenders?