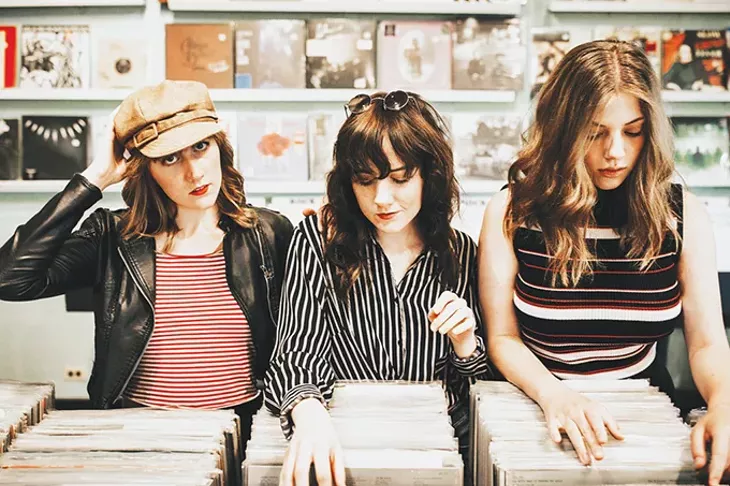 Madi Jones / provided
Annie Oakley's full-length debut, Words We Mean, is scheduled for an October release, but copies will be available at its release party 7:30 p.m. Friday at The Blue Door.
They just turned 21 this month, but the Babb sisters have been making music together for about as long as possible.
"I remember singing with her very early, even in our cribs," said Sophia about her twin sister Grace. "My mom and dad would always sing us to sleep with an 'Our Father' song. It was the 'Our Father' prayer but put into song. I remember us putting on some nice shows for each other singing that song."
In comparison, Nia Personette, their bandmate in folk trio Annie Oakley, got a late start. She didn't begin playing violin until the age of 6 and wouldn't see the sisters perform together for several more years.
"The first time I ever heard [them] sing," Personette recalled, "I think it was sixth grade. I was 12, and they sang the national anthem at a school assembly, I think, and I was shocked because I did not know they could sing at all and everyone was like, 'Oh my God, Grace and Sophie!'"
The Babbs invited Personette, who was classically trained and preferred Red Hot Chili Peppers and The Killers to folk music at the time, to join them in Annie Oakley in their freshman year of high school.
"I said, 'Yeah,' but I hadn't ever improvised or anything like that before, so it took me a really long time to get into the swing of it," Personette said. "My first show with them was December of 2013. It was just this little cafe. It doesn't exist anymore, but it was on Main Street in Norman. I got up and I played one song and I sat back down."
Madi Jones / provided
Grace Babb, Sophia Babb and Nia Personette have played in Annie Oakley since they were high school freshmen.
Mature expression
Though their parents were mostly fans of popular country artists such as Tim McGraw, the Babb sisters became drawn to rootsier music after Sophia's guitar teacher introduced her to Bob Dylan, Gillian Welch and other folk and Americana artists.
"To me, roots and folk music just feels like the songs of the people," Sophia said. "I remember listening to Alison Krauss when I was 13 and feeling close to tears just because of the passion she sang with in her music moved me, and I never felt that kind of same passion while listening to pop country. I didn't feel like it was that honest."
Annie Oakley, the band's self-titled, self-recorded debut EP, was released in 2013, followed by two more EPs (2015's Thought of You a God and 2017's Lunar Manor Sessions). The band's full-length debut, Words We Mean, is scheduled for release in October and features guest appearances by several Oklahoma musicians including John Calvin Abney, Kyle Reid and Cody Brewer.
"In the past, we were probably just trying out recording, trying out putting out music," Sophia Babb said, "and this time, we said, 'Hey, we want to record a full-length album, and we really want it to be deliberate and well planned out and thought out.' … There's nothing spontaneous on the album. It was all put together in a way that's very composed."
Grace Babb added that the maturity that has come with age has helped them be more confident in how they express themselves.
"We've definitely gotten older, and I think that shows," Grace Babb said. "We've gotten more selective about what notes we sing, what notes we play on the violin or guitar."
Personette agreed.
"We had a really solid plan for exactly what we wanted to do," she said, "and nothing that's on it was really very unplanned."
The only unplanned aspect of the album is the delay in its release date, which forces the band to postpone touring to promote it until 2019 after they have graduated from college. The Babbs are currently studying journalism at Oklahoma City University, and Personette is double-majoring in letters and economics at University of Oklahoma. Sophia plans to spend the fall semester abroad in Germany. Grace, meanwhile, spent part of the summer as an instructor at Girls Rock Camp in California.
"I learned so much," Grace Babb said. "It's strange because when you're a teacher, I feel like 90 percent of teaching is just pretending that you know what you're talking about, that you have it together so that they can respect you. So in doing that, I gained a lot of confidence in my own knowledge because I pulled up things from my mind that I forgot that I knew to share with these girls about singing and performing. So that really taught me what I already knew."
Honest communication
The Babb sisters have rarely spent so much time away from each other.
"They are never apart by any normal human being standards," Personette said.
Words We Mean might be the most confident, deliberate statement Annie Oakley has made to date, but that doesn't mean the band lead by dual frontwomen operates from a singular point of view.
"I think we write completely different," Grace Babb said, "and that might be where some of the big, obvious differences lie, is that it has been written by two entirely different people. For me, I write songs like they're poetry. I love rhyming. I love a rhythm of words, and I like a play on words. So I always focus on those three elements when I'm writing; like 'Into the Light,' that's a good example of my style of song writing, where I have almost a theme of word choice and I come back to that continuously, to the structure of what it was."
Her sister takes a different approach.
"For me, you can look at a song like 'If I Were a Ghost,'" Sophia Babb said. "That's a good example of how I write. It's much more direct and, maybe, emotionally honest in a way that is less play-on-words and more up front."
The title track laments the lack of honesty in relationships, a theme common throughout the album.
"For the past two years, I feel like my social life and my romantic life have been dominated by communication issues," Grace Babb said, "whether it's on my end or the other person's, and whenever someone is honest to me, I love it. That's what I want from someone. That's what I want to be to someone. It's all honest, and this album has a lot of songs about that."
The Babbs often use their music to express their true thoughts and feelings.
"And times when we weren't honest and times when we didn't say what we meant, eventually, we usually write a song about it, kind of in response," Sophia Babb said. "So this album feels like we're kind of putting out into the world exactly what we meant to say, and I feel like the next album we won't have to touch on that subject anymore because we got it out this time."
Though Words We Mean won't be released until October, Annie Oakley will have copies available at album release shows Friday at The Blue Door, 2805 N. McKinley Ave., in Oklahoma City and Saturday at Tulsa's Woody Guthrie Center.
Visit theannieoakley.com.