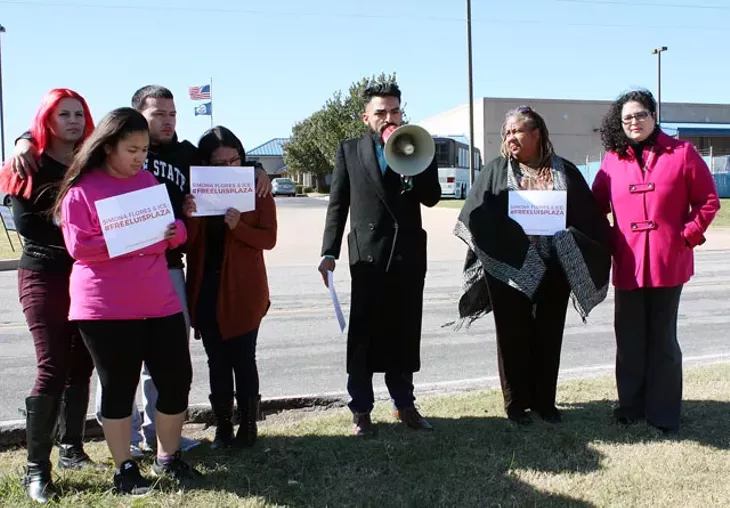 Photo Laura Eastes
Family and friends of Luis Plaza gathered outside the U.S. Citizenship and Immigration Services office in south Oklahoma City in late October.
The crowd outside the U.S. Citizenship and Immigration Services office in south Oklahoma City was small on an early Friday afternoon in late October. The message they chanted was strong, short and personal: "Free Luis Plaza."
"His only dream was to be left alone," said Luis Plaza Jr., speaking of his father, Luis Plaza Moreno, an undocumented Mexican immigrant. "Today, this is happening to us. We hope this doesn't happen to … others out there."
Two days earlier, Plaza, along with his eldest son and the family's attorney, Giovanni Perry, walked into the federal immigration office for a visit they believed would result in an extension of Plaza's order of supervision, which requires illegal immigrants to check in regularly with authorities as a condition for staying in the country.
It didn't work out that way. According to federal immigration records, Plaza was classified as an absconder, a term used to describe immigrants who ignored and evaded immigration orders. Three days after being detained at the Oklahoma City immigration office and hours after his family and activists made a public call for federal officials to consider his stay of deportation and reunite him with his family, Plaza was deported from the country he called home. For the past 15 years, Plaza had built a life for his family in Norman.
The Plaza family, which includes six children — three are United States citizens, one is a green card holder and two more have protections under the Deferred Action for Childhood Arrival Program, or DACA — join a growing number of families at the crosshairs of the Trump administration's immigration crackdown. Following the inauguration of Republican President Donald Trump, who campaigned for harsher immigration policies, immigration agents have stepped up raids, incarceration and deportation of low-priority immigrants across the country. The results include not only a steep increase in arrests of non-criminal immigration violators, but families torn apart.
The Plaza family is the first Oklahoma family to take their story public in hopes of helping other immigrant families.
The beginning
In winter 2011, Plaza was driving on an icy road when he was pulled over by law enforcement for a routine traffic stop. While no criminal conviction resulted from the stop, Plaza — who illegally entered the United States in 2002 near Nogales, Arizona — was taken to the Cleveland County Detention Center, where he was turned over to officers with U.S. Customs Enforcement (ICE). He was later released on an immigration bond.
Thus, a traffic stop set into motion a series of events that almost resulted in Plaza's deportation in 2013, Perry said. More than two years after the first encounter with ICE officials, an immigration judge issued a removal order for Plaza. The family fought to have it canceled, calling on a judge to grant a stay of removal allowing Plaza to remain with his American children. On Aug. 14, 2013, ICE granted Plaza a one-year stay of removal, which is a temporary postponement that prevents an order of removal.
As the year stay came to an end, Perry explained she began working to extend it. While visiting the federal immigration office for an unrelated matter, Perry approached the officer overseeing the Plaza case. After asking what she and her client needed to do to extend the stay, Perry recalled the officer responding that Plaza was not a priority and advised he "stay under the radar."
"He said, 'I don't want to see him anymore,'" Perry recalled during an interview with Oklahoma Gazette. "Mr. Plaza heard the same because he had been reporting regularly and had an ankle monitor, which was removed. He was told he didn't need to come back."
Immigration visit
This fall, as Perry witnessed another client with similar circumstances to Plaza's case be granted an extension of stay and handed paperwork to renew work authorization, she asked an ICE officer about Plaza's case. Perry said she was encouraged to bring Plaza in for a similar meeting. On Oct. 25, shortly after Perry, Plaza and Plaza's son arrived at the immigration office, Plaza was arrested.
According to information provided to Oklahoma Gazette by U.S. Citizenship and Immigration Services, Plaza "did not report as instructed, and he was classified as an immigration absconder on Aug. 13, 2014."
Plaza's classification surprised Perry, who stated she periodically checked on Plaza's case. She was notified that the initial 2011 immigration bond remained, which she took as a sign that Plaza was compliant with immigration orders. She immediately began the application for a stay of deportation, which was filed on Oct. 27. That same day, ICE issued its first comment on the Plaza case:
"On Oct. 25, 2017, deportation officers with ICE arrested Luis Plaza Moreno, 44, from Mexico, after he had failed to report to ICE for more than three years, as requested and instructed. A federal immigration judge ordered his removal in 2013. He is currently in ICE custody pending removal proceedings."
ICE declined to comment on more specifics of the case but issued this statement on its overall efforts to uphold immigration laws:
"ICE continues to focus its enforcement resources on individuals who pose a threat to national security, public safety and border security. ICE conducts targeted immigration enforcement in compliance with federal law and agency policy."
Three days
Early in the morning on Oct. 28, Plaza phoned his Norman family from Mexico to share the news he was deported near Del Rio, Texas. The family called Perry, who had not received any notification on the stay application.
"They took him to Mexico and dropped him off with just the clothes on his back, nothing else," Perry said.
On Oct. 31, ICE first confirmed to media that Plaza was removed from the United States three days earlier. Perry had also received notification on Oct. 31 that Plaza's application for a stay was denied on Oct. 27.
"How can they say there was good faith and consideration of the application if they denied it within hours?" Perry asked. "There was already an order to remove him, but it was still out of the ordinary compared to when I have filled stays for other clients. When they are not detained, it takes longer — three to five months before you have a decision. When they are detained, they are a priority. Normally, it takes one to two weeks, not one day."
Perry advises that all immigrants should continue to comply with their immigration orders and continue to appear for scheduled appointments.
Hope
"I don't wish this pain that I am feeling on anyone, on anyone," said Ivon Plaza, one of Plaza's daughters.
The Plaza family described their father as a hard worker who loves his family and is respected by those he meets. He first came to the United States to provide a better life for his family. While heartbroken from their father's encounter with ICE, they believe he will one day return to the United States.
Print headline: A Norman man was recently detained and deported to Mexico, leaving family heartbroken and his lawyer asking questions.