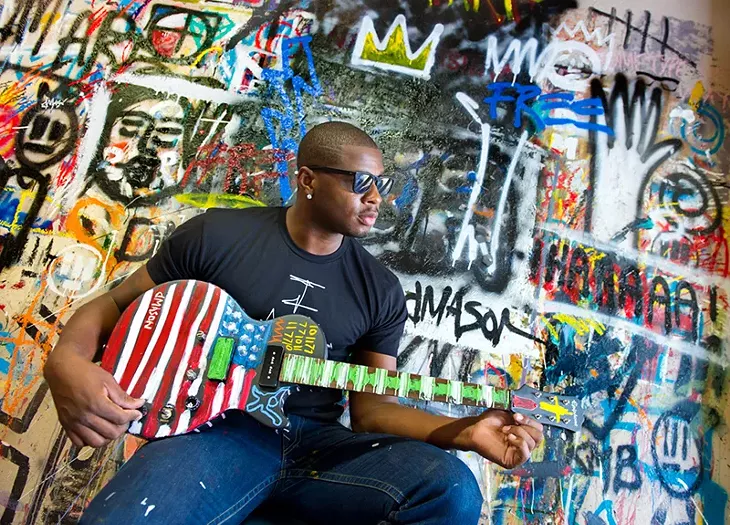 shannon Cornman
Desmond Mason with a newly painted American Flag guitar against an on going wall mural project in his Midtown studio, Oklahoma City.Photo/shannon Cornman
It's easy to talk about how great of a guy Desmond Mason is. Perception is an interesting thing, though. How well do we really know him? In talking with people around Oklahoma about why he's so beloved, the general responses include: A) He was a star basketball player at Oklahoma State University; won the NBA Dunk Contest in 2001; and spent nine years in the NBA, including a season with the Thunder. So, basketball. Check. And B) He's an artist. So, art. Check. He's an artist and an athlete. People know that.
But it's also like saying you have heard of a book, you know the title, author and general premise but you don't have any idea what lies within the pages. Mason's depth is substantial — as a person, a father, a husband, a leader, an entrepreneur, a studied artist, an all- around trendsetter and someone who is overflowing with original beauty, hustle and compassion. Mason is many things. He's not just an artist; he is art.
Mason's love of life is contagious and energetic — he has an ease about him that screams total inner peace. It was hard for me not to cut our conversation short and just see if he wanted to go skate, because the dude handles a board as well as a brush or a basketball.
We started things off discussing the Oklahoma City art scene and how wonderful the growth and change has been in recent years. "The art scene here is growing very rapidly," Mason said. "There are some pioneers in art here. Ten to 15 years ago, Oklahoma City was very Southwest-art related, and that's what people focused on, not so much the contemporary young artists or the abstract expressionist artists. The scene has picked up fast."
Mason moved back to OKC four years ago, and within months, he had his own studio that he has been working out of for the last three and half years.
"Oklahoma City has really embraced my art," he said, "which they've always done and I've always appreciated."
After a few years of people popping in and out of his workspace, stepping over gallons upon gallons of paint and the messy beauty that is a working artist's studio, he decided it was time for an actual gallery. D. Mason Art Gallery opened a few months ago.
"My goal for the gallery was to be able to hang my own work and not have it in other galleries," he said. "We will have one local artist a quarter, a full solo show. It will just be their work, up for a month, and then my work will go back up. It was really just to show my work outside of my studio."
A current trend in exhibits and art shows — not just in OKC but all over — has been art events, with the focus on attraction, loud noises and eclectic distractions. This can be frustrating to those who feel a gallery should be about nothing but what's on the walls. Maybe that's a purist's point of view. It's not a shock that Mason, a studio art major at OSU, feels the same way.
"I've been very fortunate to see a lot of places, and one of my favorite places in the world to see art is the Tate Modern in London," he said. "I knew exactly what I wanted my gallery to be. In the center of the gallery, there's an acrylic bench that's virtually invisible. I wanted something in the middle, but I didn't want it to obstruct the view. When you walk in, it's a clear bench. You can walk right into it if you're not looking. The walls are stark white, the floor is concrete — it's very simple. It's all about what's hanging on the wall."
A student of the game
Mason is a lifelong student of art. And despite being the 17th overall pick in the 2000 NBA draft, he has always felt that he is an artist first and an athlete second.
"It hit me a long time ago. When I first got into painting, I was riding around with buddies, skateboarding and tagging walls and drawing in my books, just trying to get out of the neighborhood," Mason said. "I was an artist quite a ways before basketball, but they were hand in hand for a long time in my life."
He has never forgotten his childhood dreams or where he came from. They're a daily inspiration for him, but they have also created strong opinions on arts in Oklahoma's public school systems and as an outlet for kids everywhere.
"The unfortunate part is the funding of art programs in public schools. That is killing kids from being creative," Mason said. "I was a public school kid growing up, and that was really big in my life, to be able to have that kind of outlet."
His family plays a big role in his art, and it is his first source of inspiration. He has been married to his wife for 12 years and has two kids, an eight-year-old daughter and a four-year-old son. His family's support and reflecting daily on what he has overcome is a driving force in Mason's hustle.
"It's amazing being able to go into the studio and create and really just to be able to look back at where I came from," Mason said. "I reflect on that and some of the things I went through, some of things I saw young that I shouldn't have. I had a lot of naysayers growing up."
He's an internationally known artist, with exhibits from Hawaii to Las Vegas, Tokyo to one of the raddest shows in the states, ArtBattles, in which he recently had a solo exhibit. Some notable figures attended his ArtBattles show — NBA players Chris Bosh and Dennis Rodman, 2 Live Crew's Luther Campbell — and then an unfamiliar face but familiar name approached Mason: Marcus Suarez.
"He's a graffiti artist from New York that I'm a big fan of," Mason said. "He was the pre-[Jean-Michel] Basquiat, doing what he was doing. I walked through the exhibit with him and showed him my whole body of work, and he kind of stamp-of-approvaled me. He gave me some pointers. It was amazing. I love his work and his massive murals that are all over the world — just incredible. It's guys like that; they just really inspire me and push me to continue to do what I do."
If you know Mason's work, you will no doubt see a hat tip to Basquiat. It's extremely challenging as an artist to not be too heavily influenced by the works of people you admire, to let that love organically flow through an artist's brush. Mason is a modern-day living artist, which he says he's trying to get better at each day. He wants to blaze a trail for young kids and people who are young in the art game, as people like Basquiat, Banksy, Shepard Smith and Mr. Brainwash currently do for him. If it sounds like street art is Mason's game, you're spot-on. But it's his all- time favorites who still have the biggest impact; Picasso is his No. 1, followed closely by Mark Rothko, Wassily Kandinsky and Andy Warhol.
That blend of love for current modern artists mixed with the classics is a big reason Mason's pieces are so unique, and it's also why he doesn't work in one medium. One piece might be classic contemporary, the next straight-up graffiti. His style is a mix of abstract expressionism, street art and multiple mediums, but at the core, he is simply a modern-day contemporary artist.
What's in store
Sometime next year, you can expect to see Mason's upcoming fashion line. (His leggings are already a standout in the fashion game.) He talks about this next step like someone who could walk into a meeting with Valentino and hold his own.
"The concept is my work, thoughts and designs being put on garments," Mason said. "I'm talking high-end fashion. That's why I've been drawing on Louis Vuitton purses; I'm testing it out."
While being an international artist in OKC, Mason is still heavily involved in the arts at OSU and has done countless things to help those programs expand. But he also believes more can be done.
"My next goal with OSU is to get a gallery for the students," he said. "I want to have a gallery where they can display their work and to have exhibitions while they're still actually in school so they understand what it's like to be in a gallery, hang in a gallery, have it function exactly like a gallery."
The fact is, Mason could be anywhere, but he's here in OKC helping artists thrive, helping the art scene continue to grow and believing in the beauty and growth of this city just as much as we all do.