Garett Fisbeck
?Beef carpaccio at Patrono, Tuesday, May 17, 2016.
My empathy levels for pasta goes off the charts.
Almost as much as bread, pasta has taken a real beating in the public consciousness over the past few years. People talk about "cutting out" pasta from diets like it's a middleman or distant cousin in a will.
"It's not worth it," they say. "If I eat pasta, I'll never lose that last 5 pounds."
It's true. If you want to lose your last 5 pounds of happiness and get one of those lean, muscled, miserable bodies, you definitely should get rid of pasta. Feel free to get rid of it in my direction, while you're at it, because there's no way I'm quitting it, especially after visiting Patrono Italian Restaurant, 305 N. Walker Ave.
A gorgeous little bistro in the Arts District located across the way from Oklahoma City Museum of Art, Patrono has slowly built a reputation since opening last year as the metro's go-to spot for real, delicious Italian fare.
Well, not with everybody, as my friend illustrated when he asked, "Are we going to get some frozen margaritas or what?" Apparently, Patrono's name (which means "patron saint" in Italian) is just close enough to the name of a well-loved brand of tequila to confuse people a little. Allow me to clarify.
Patrono's menu is inspired by owner and executive chef Robert DeCoste and his wife's travels through Italy. It's not American Italian; it's Italian Italian.
The first dish to arrive at our table was beef carpaccio ($9), and it was a struggle to share this appetizer with anyone. It's made with thinly sliced raw beef, lightly sauced and seasoned with fresh black pepper. Cut against the grain, the beef is ready to dissolve in your mouth with barely a chew. The color is bright red and the flavor vital and rich. I wish roast beef was prepared this way, because I could easily eat an entire sandwich filled with this.
Garett Fisbeck
?Orecciette calabrese at Patrono, Tuesday, May 17, 2016.
I had high hopes for the orecchiette calabrese ($17), but perhaps I expected too much. The ear-shaped pasta was cooked right, and the sauce of garlic, white wine and spicy pepper provided a nice balance. The chicken thighs were a little chewier than I usually prefer and lacked flavor.
This is one of those cases where I'm not sure if it was an off night or the dish merely suffered from its comparison to the others on the table. Your mileage might vary, though, as I've seen countless others praise the dish up and down.
For me, the dish of the night (and any other night I dine at Patrono) was the pork porterhouse over polenta and haricots verts ($22).
I am a sucker for a nicely cooked piece of swine. The pork was fatty without being chewy, retaining the delicate flavor of the meat in each juicy bite. The pork's richness was set off against creamy fontina polenta and big chunks of decadent pancetta. The tender-crisp green beans gave each bite added texture, and a savory mushroom ragù tied it all together.
Garett Fisbeck
?Spaghetti polpettine at Patrono, Tuesday, May 17, 2016.
Fact: Spaghetti and meatballs make a dynamite combination, and anyone who tells you different is lying to you to get their hands on your pasta. Patrono's spaghetti polpettine ($17) is a deceptively simple dish, pairing al dente noodles with miniature meatballs in a spicy sauce of basil, tomato and garlic. But the treat is on top: a giant scoop of whole milk ricotta diners stir into the dish, adding a creamy richness to every bite.
The meatballs were quite tender, and the sauce had a kick of spice that balanced perfectly against the ricotta.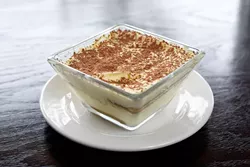 Garett Fisbeck
?Tiramisu at Patrono, Tuesday, May 17, 2016.
Finally, I ended the meal with tiramisu ($8). Much like the orecchiette, I think the tiramisu's biggest problem was that it didn't live up to the other dishes of the night. The cream was fresh and not overly sweet, but the ladyfingers seemed too wet and lacked the espresso flavor I hoped for. Next time, I'll try the lemon cake ($7).
And there will absolutely be a next time. With the friendly service, simple and elegant dining room and overall wonderful food, it was a joy to dine there. When you go, I think you'll agree.
Print headline: Expect-o greatness, In the heart of the Arts District, Patrono is OKC's patron saint of great Italian cuisine.