Mickey Reece's Alien is a straight-laced period piece about Elvis and Priscilla Presley for most of its 72-minute runtime. But when the film is at its experimental peak, The King does more than leave the building — he leaves the stratosphere.
The black-and-white feature is the newest film from prolific Oklahoma City director Mickey Reece, known for his most recent projects like Broadcast, Suedehead and Me and Ichikawa. Alien — starring Jacob Ryan Snovel as Elvis and Cate Jones as wife Priscilla — is Reece's deadCenter Film Festival debut, which is somewhat odd considering his lengthy film career. The movie screens 8:30 p.m. Friday and 6 p.m. Saturday at Harkins Theatres Bricktown 16.
One thing almost universally true for Alien is that it shatters most preconceived notions of what the film is. Those going in expecting to see a novel local attempt at a period piece will be wowed by just how far things veer from the beaten path. On the flipside, those expecting to see Elvis swiveling his hips with Martians aboard a UFO might be taken aback by the film's methodically paced, dialogue-heavy, Martin Scorsese-like approach that, in all its weirdness, sticks deceptively close to the true Elvis story.
A scene at the end of the film might serve as an example of that dualistic dynamic. Elvis (Snovel) is seen performing a song. Few fans are likely to recognize the tune though, and not because it is a deep cut from singer's back catalogue. Reece wrote the song (titled "From the Start") originally for Alien with the film's music director Nicholas Poss.
"I'm pretty sure everybody just thinks it's an Elvis song," Reece said.
The director recently gathered with Snovel and Jones for an Oklahoma Gazette interview.
Perhaps no one bothers to ask about it because the overdubbed vocal performance is so convincing. Reece hired local rockabilly artist and Elvis tribute performer Brian Lee Dunning to sing the song. Dunning was brought in after previous vocal attempts by Reece and Snovel sounded unconvincing.
"I sounded like Kermit the Frog doing it," Snovel said.
Alien faithfully embodies the world-famous persona and story, but with chunks of existential pondering, oddball shockers and artistic montage thrown into the peanut butter sandwich. It simultaneously is and isn't a true account of Elvis and Priscilla.
Powerful deadpan
Mickey Reece's Alien was born as a joke, not unlike how some of the laidback director's other ideas are developed. What if, he thought, there was an Elvis movie that was black-and-white and really slow with jarring moments of surrealism? Furthermore, he thought it would be a funny gag to give his project the same title as the popular Ridley Scott film, but with his name in front of it to make unknowing moviegoers wonder about the director's level of conceitedness.
"Really, it was just part of the joke," Jones said. "We were saying, 'No one is ever going to want to watch this movie, especially if it's called Mickey Reece's Alien.' It would be stupid if anyone watched that."
Perhaps more so in Alien than in Reece's other more recent projects, there is a palpable sense of tension drawn out by slowly paced scenes and a standout deadpan delivery by Jones.
Jones said she did a lot of research on Priscilla when fleshing out her role, including reading her autobiography Elvis and Me, watching several of her acting roles and seeing how Priscilla was portrayed in other works of fiction.
Jones wanted her version to stick out. In watching videos of real-life Priscilla's acting roles, she was struck by how stale they sometimes appeared, which inspired her take on the subject.
"To make her stand out and to make this Priscilla stand out amid all these other Priscilla things, I just kind of threw [my research] away and went with an idea and kind of amped it up to 11," she said. "It worked perfect to offset Elvis and to stand out among other Priscilla performances."
Internal conflict
Snovel, who was not much of an Elvis fan going into his role, said working on the film gave him a much better idea of who the music legend was as a person.
Elvis' story is one that is segmented into different, distinct chapters, and those who are not hardcore fans tend to look to only one of those chapters as their singular view of the artist. Alien looks at the star as he is planning his 1968 Elvis comeback special on television.
The film shows an Elvis itching at something more in life but restricted by the Memphis Mafia — his close group of yes-man cronies — and Colonel Tom Parker, his manager.
While Elvis longed to act in Marlon Brando-type roles and star in West Side Story, Parker's vision included only beach movies.
"Elvis was a true artist who was held down by a manager who was creating something completely new, which is that pop icon thing," Snovel said. "And here Elvis was trying to do something really from the depths of his soul."
Alien features Reece's biggest film budget yet, and it is the first of his projects to include set workers specifically dedicated to sound and cinematography.
Despite the size of the production, Reece and the cast members said it was filmed much in the way that his other films have been made. Snovel, who frequently appears in Reece's work, said the director strives to make each new film bigger and better than the last.
"I think Mickey purposefully picks something that is impossible because he can't figure out the ending and that's the only thing that drives him forward sometimes," he said.
Learn more about deadCenter Film Festival in this week's Gazette.
Local Films at deadCenter Film Festival 2017
Gremlin
9:30 p.m. Thursday
8 p.m. Sunday
Harkins Theatres Bricktown 16
Writer/director Ryan Bellgardt, known for 2013's Army of Frankensteins, once again nails the creature-feature genre. Gremlin, in a kind of parable on love, follows father Adam Thatcher (actor Adam Hampton) as he desperately tries to rid himself of a mysterious box that, every so often, disperses a small but murderous monster that slowly kills off those around him.
Thatcher later learns that the only way to get rid of the box is to pass it on to someone you truly love, which presents its own set of challenges.
Gremlin is well worth viewers' time, but be warned that the monster in question spends most of the movie just a few inches tall, not making his full-size romp until later in the film. The creature looks nonetheless impressive (and scary).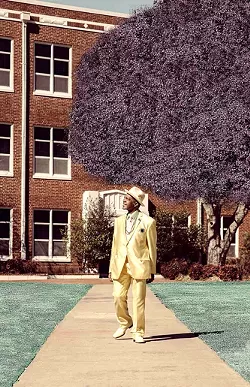 Butch: Legend of Langston
6 p.m. Friday
5 p.m. Sunday
Harkins Theatres Bricktown 16
Langston University's Benjamin "Butch" Hardin has such a strong lore about him it even extends beyond the historically black college's campus.
Butch hopes to dispel rumors and campus legends about the college icon with a limitless memory for numbers and jazz music. Hardin lives at the university — as he has for as long as many people can remember — where he makes it his job to clean and maintain its music school. He is known for dressing sharply in brightly colored suits and making his usual walking rounds on campus, greeting staff and students.
The documentary itself is as vibrant and lively as Hardin's usual wear. The only complaint viewers might have at the end is that it should have been a feature-length film.
— By Ben Luschen
Print headline: Shook up, Mickey Reece's Alien gives viewers an Elvis story through a surreal lens.