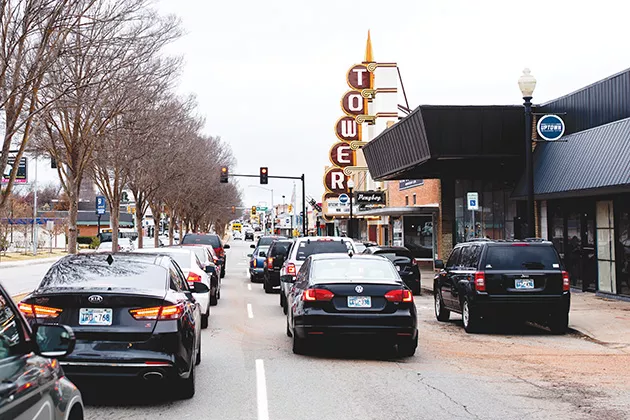 Alexa Ace
The approval of Uptown 23rd Business Improvement District brings biweekly sidewalk cleaning, annual sidewalk power washing and weekend security starting in January.
People visiting Uptown 23rd next year will notice cleaner sidewalks and a more vibrant and attractive district, officials say. Oklahoma City Council voted unanimously last week to establish Uptown 23rd Business Improvement District, which helps the district sustain itself without constantly relying on fundraising for services.
Uptown 23rd District Association was established as a nonprofit in 2012 to promote the district and host programs and events while providing some maintenance services. Funds were secured through business memberships, community partnerships and fundraising, which meant the association could only provide minimal maintenance services.
Now as an established Business Improvement District (BID), the city can assess a fee from property owners so Uptown 23rd can deliver better maintenance, sanitation, landscaping, beautification and security.
Executive director Riley Bailey said the BID is a game-changer and will help tremendously with any safe and clean programs. For Uptown 23rd, this specifically means biweekly sidewalk cleaning, annual sidewalk power washing and weekend security as well.
"It will more than double our annual budget of the services we're able to provide, and services will begin in January 2020," executive director Riley Bailey said. "So anything you can think of that's going to help the district be more safe and more clean, that's what Business Improvement Districts can provide. It can also be allocated to events and programs and marketing, which a portion of it will be, but the majority of our BID is going to be funding weekly maintenance and security."
Behind the scenes
Uptown 23rd BID is roughly contained from NW 25th Street to NW 22nd Street and from Broadway Avenue to Shartel Avenue. Uptown 23rd is the city's sixth BID, joining Downtown, Oklahoma City's Adventure District, Stockyards City, Historic Capitol Hill and Western Avenue.
"Several years ago, our board and key stakeholders came together and said, 'We need to put some sort of system in place where we can have these regular services that keep our district looking vibrant and safe and clean,'" Bailey said. "Honestly, the research for what it would take to establish a BID started two to three years ago."
But around March last year, Chelsea Banks really started laying out the groundwork. At the time, Banks was the district's interim executive director. Bailey took over as full-time director at the beginning of 2019, so they worked side-by-side on the process.
"We worked very closely with the Commercial District Revitalization Program for The City of Oklahoma City. They helped us with all the legal forms and what we would need on the back end," Bailey said. "Then it came to the solicitation process."
By state statute, Bailey and Banks had to secure 51 percent of property owner support to begin establishing the BID through city council.
"Beginning in … March of this year, we started recruiting property owners to sign our petition for this process, and we had over 51 percent of our properties secured by July," Bailey said. "It was all just about building relationships with property owners that the district hasn't had a lot of contacts with because all of our efforts have been from a part-time staff person or just volunteers in the community trying to build bridges and make relationships. So now, not only is this a big step for us financially but also relationally."
The district ultimately secured 54 percent of property owner support, though Bailey estimates the percentage was actually higher because some owners who might have intended to sign the petition did not do so by deadline.
"Also, 16 percent of businesses in the district are either corporate or out-of-state, so for most of those, we don't have any contact from a person locally," Bailey said. "That wasn't a huge concern for us because corporate businesses are involved in Business Improvement Districts all over the world, so they're not opposed to paying this assessment. They just don't necessarily have someone local that's a good contact for us."
Self-sufficiency
Provided
Uptown 23rd BID is roughly contained from NW 25th Street to NW 22nd Street and from Broadway Avenue to Shartel Avenue.
Uptown 23rd BID will be active for a period of 10 years, though the city has to go before council each year to approve the assessment role, a list of all property owners and how much they are to pay. Kim Cooper-Hart, principal planner with the city, said she considers BIDs to be more sophisticated arrangements between stakeholders and not something a new district would want to start doing immediately.
"The reason for that is that it's mandatory," she said. "When the city invoices the ratepayers, if they don't pay in 30 days, they have a late fee of 10 percent. If they don't pay in 60 days, the city puts a lien on their property for the amount due; that's state statute, and that's a pretty powerful agreement to have with your next-door neighbors in your district. There needs to be a lot of trust already on the ground, and people have to really want this."
Invoices were being prepared to be sent out to businesses after the Nov. 19 council meeting where the BID was approved. Owners have 30 days from that date to make the first payment. Each business will be assessed at the same rate but will pay a different amount dependent on the fair market value and their linear footage.
"Assessments are determined by the amount of benefit that is conferred onto the properties in the district. That's what the state statute says," Cooper-Hart said. "So for every dollar you pay in assessments, you are receiving a dollar back in service during the service year. … In areas where there's higher foot traffic, where there's higher retail, where maybe you want to put Christmas decorations on the main street and not on the side streets, where you have more trash receptacles and benches, more landscaping and that sort of thing, the assessments in those areas would be higher than in areas where there are less of those things to maintain."
Since the BID allows Uptown 23rd to support itself outside of sponsorships and donors, Cooper-Hart said the main benefit is financial self-sufficiency.
"The Business Improvement District assessment should be enough to help you keep your lights on if you don't collect anything else from anybody because we're having a bad economy," she said. "It's enough to keep you competitive, to advertise yourself, to keep the street cleans, take care of all your street furniture, keep the plants watered and keep a staff person engaged so that things can still happen. If that's the minimum they can do on a bad year, that's better than a district who's not a Business Improvement District."
Visit uptown23rd.com.