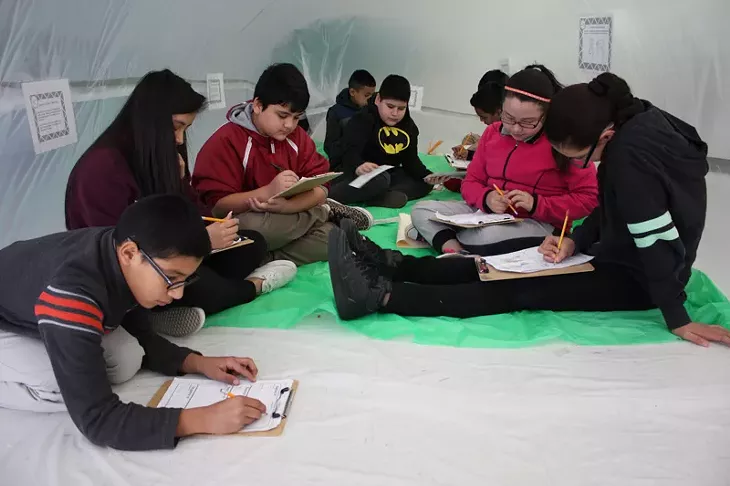 Laura Eastes
Sixth grade students work through an assignment inside a biosphere created by their teacher, Marci Vaughan.
On a sunny February morning, sixth-graders Perla Rosalez, Veronica Delgado and Cecelia Chaparro identified ecosystems by using colored pencils to mark the locations on a world map.
The John Adams Elementary School students started with Russia, identifying much of the Russian Arctic as tundra. Once marked, the students moved south, pointing out deserts, forests, grasslands and rain forests.
Not far from the trio, teacher Marci Vaughan watched and listened closely as students talked among themselves about biomes around the world.
She smiled before explaining the students were owning their learning at the southwest Oklahoma City school, part of the Oklahoma City Public Schools (OKCPS) district.
"Project-based learning takes the teacher out of the factor," Vaughan said. "Students become responsible for their own learning. They are learning by themselves."
New direction
This school year, a handful of John Adams teachers replaced well-known learning tools, such as textbooks and worksheets, with interactive labs and research assignments under a teaching method called project-based learning. Now, when teachers introduce units, students learn by doing and naturally question, inquire and develop deeper knowledge over time.
With project-based learning, a teacher presents a realistic project, assigns structured group work and looks for multiple learning outcomes. There are no right or wrong answers. At the end of a unit, students complete an individual project and present their findings to others.
The project-based learning method launched at John Adams school thanks to The Learner First. Eleven of the district's schools are working with the Seattle-based education consulting firm to establish pilot programs that reform education and dive deeper into student learning. Each school's pilot program differs to address the individual needs of the school.
Principal Heather Zacarias welcomed the new student-centered teaching method to her school, which serves diverse populations, including high numbers of students living in poverty and English language learners.
"The traditional format wasn't meeting the needs of kids," Zacarias said. "We were ready for this instructional shift. Right now, there are pockets of (project-based learning) happening all over the school. A few of our teachers have researched project-based learning on their own and are really diving into it."
Zacarias referred to project-based learning as "contagious in [the] building." Students are enthralled by the curriculum and have developed an academic mindset. Recently, she heard students discussing biomes over lunch in the cafeteria.
"Our school is leading the way, and the kids are absolutely loving it," Zacarias said.
Zacarias and others hope the passion toward learning translates to improved academic performance. Studies suggest that project-based learning has a profound impact on students as they attain higher scores than their peers on standardized tests.
Part of making project-based learning successful is technology, which Zacarias explained is limited at John Adams. The school is actively pursuing grants for new tablets and computers, but welcomes donations.
John Adams teachers will undergo further professional development on project-based learning before the start of the 2016-17 school year.
Classroom biomes
When Vaughan arrived at the OKCPS district this fall, she was already familiar with project-based learning, a method she learned during her undergraduate days in Texas. She believes student-directed learning is the new trend in education and will help OKCPS compete with neighboring charter schools. She lost a handful of students to charter schools this semester alone.
When Vaughan started the biomes and ecosystem unit, she planned the projects she would assign students. She wanted to make the learning memorable. On the first day of the new unit, Vaughan instructed her students to go to the art room for science class. There, students discovered a 25-foot-long, 12-foot-wide inflatable biodome created with a box fan, tarp and tape.
"They will remember this forever," Vaughan said. "You don't forget learning in the bubble."
In the biodome, students work on their projects and interactive labs. If they get stuck on aspect of an assignment, Vaughan points to signs listing the lesson's driving questions, such as "What biome do I fit into? Where do I find myself in the ecosystem? What career could I possibly have from knowing this information?" A student who wishes to become a firefighter researched different ways to fight fires in various ecosystems.
As a final assignment, all students built their own three-dimensional biodomes, just on a smaller scale. Additionally, the students prepared to present and explain their biodomes to their schoolmates during an information tour. During the tours, Vaughan will listen for understanding and creativity.
"I learn something interesting every day," Vaughan said. "They teach me, and I learn right along with them."
Print headline: Dome learning, OKCPS' John Adams Elementary School prepares students for a project-based world.