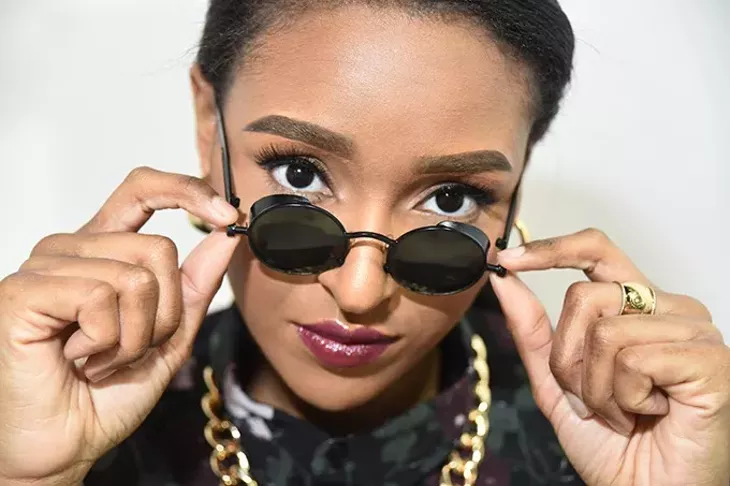 In a world of subgenres and specifications, local rapper Miillie Mesh is trying to remain as diverse as her own variety of tastes.
"I don't really have a set lane; I'm really trying to master all of it because I want to be worldly," Mesh said. "I want to be for every mass, every part of the country, every part of the world."
Armed with a charismatic stage presence and a surprisingly tough flow for her stature, 23-year-old Mesh, whose proper name is Camille Tomlin, is trying to tackle every hip-hop song, from more mainstream-sounding tracks to "grungy" underground tunes.
The range of Mesh's material comes from her own cross section of musical influences, which is perhaps indicative of many millennial rappers.
Mesh, originally from California, was introduced to hip-hop through early 2000s teenage rapper Lil' Bow Wow.
"He was young at the time. He was kind of a heartthrob," she said. "He was rapping and he was young, so I decided I wanted to be a young rapper."
Mesh began writing poetry when she was 13. She started writing raps a few years later and got on the mic for the first time at 18.
As she progressed through her own hip-hop journey, she also began to dive into the music of heavier New York-based acts like Mobb Deep, Foxxy Brown, Missy Elliot, Wu-Tang Clan, Nas and Jay Z.
Mesh, whose music currently can be found at soundcloud.com/miilliemesh, hopes to release a jungle-themed album in June or July. The Jungle Juice EP will push a message celebrating women of color all over the world. Mesh said she means no offense to white women, but minority women are among the most overlooked populations on the planet.
"I don't think we get enough credit that we deserve or camera time," she said. "It's like we need approval sometimes."
As a black woman, Mesh said she thinks her own genre sometimes segments MCs who do not fit a certain physical description into their own box.
"It's so black-male-dominated, so you have to really prove yourself when you're being a female MC or a white MC," she said.
Still, Mesh said she does not mind whatever label anyone places on her as long as they recognize and respect her creatively. Being a female MC often means more attention, which she doesn't shy away from.
"I want to do something like [Missy Elliot] did," she said. "I want to make videos more creative, more thought-out rather than just the flashy cars, clothes, money and cliché shit. I want to bring back real visual art."
Women should never have to feel like they are out of their element, Mesh said. She advised young girls to stay true to themselves and not be afraid of standing out in a man's world, especially in hip-hop.
---
Print headline: Fresh Juice, With a new EP on the way, a young OKC MC is squeezing her way into the scene.