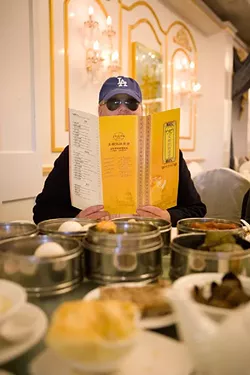 There is a moment early in City of Gold, director Laura Gabbert's documentary about influential Los Angeles Times food critic Jonathan Gold, that captures exactly what it's like for a food lover to drive around a city.
Gold, crossing the sprawling metropolis in his green pickup, suddenly turns around in his seat to glimpse a sign he just passed. A new restaurant, perhaps? An empty storefront with a logo etched on the door? It's another mental note for a man who maps out his world in landmarks of food.
"Everybody in the world has an idea of what Los Angeles is," said Gold in the film. "If you live in Los Angeles, you're used to having your city explained to you by people who come in for a couple of weeks, stay in a hotel in Beverly Hills and take in what they can get to within 10 minutes in a rented car."
City of Gold is not food porn, though it could easily veer that direction. Instead, it's an exploration of one of the world's best-known cities by a man who studied it over decades of meals and conversations.
There's a reason Gold was the first food critic to win a Pulitzer Prize.
In an interview with Oklahoma Gazette, he said he fought against doing a film or any sort of reality TV for years, but when the director won a silent auction for "dinner with a restaurant critic," he was faced with a much greater challenge.
"It's hard to say no to someone you see every day in the pickup line at your kid's school," he said.
Unlike many "message documentaries" out now, City of Gold doesn't have a political bent, though audiences do learn more about Gold's philosophy.
"It's not a social justice thing, but people are taking it as a social justice thing," he said. "It's coming out at a time when the most basic message — don't be afraid of your neighbors — is political."
Celebrating similarities
Because a documentary about food in Los Angeles has to be about the magic of immigrant communities and what they add to American culture. Taco shops stacked on Thai restaurants next to classic French cuisine down the block from Ethiopian fare might seem a unique story to LA, but it actually reflects many American cities, including Oklahoma City.
As hot-button an issue as immigration has become, Gold said the path to understanding and acceptance is often through the stomach.
"If you're looking to immerse yourself in a culture, you can do a lot worse than going to a restaurant," he said. "The smells and the tastes, the sounds of different languages. Strike up a conversation. Talk about the 15 different kinds of biriyani you've had."
While other critics focused on the biggest names in LA, Gold made his mark by focusing on small, hard-to-find restaurants that define the in-between spaces where communities mesh.
This is a place where restaurateurs do not cook for tourists or critics, but to fill the needs of the community around them. In many cases, they reinvent a sense of home for thousands of immigrants who are working for the American dream, and need the sense of fraternity that shared meals provide.
The role of Gold, then, is to guide. While Yelp and Zomato are full of explorers, the knowledge and focus of a critic like Gold creates a map and tells a story about who we are as Americans.
"Really, nobody lies about food," he said. "They will lie up and down about their motivations, what they did, but they will never lie about what they had for breakfast."
Gabbert's film tends to lionize Gold, but it's not a far jump from the words of his contemporaries and those of chefs across the country who recognize how his talent makes their talents so vital.
"He knows every place," chef David Chang said in the documentary. "I don't know any Korean who knows more about Korean food than Jonathan Gold."
Beautifully shot, City of Gold is less a travelogue and more a paean to the hidden Los Angeles of all-night taco trucks and pop-up restaurants — the one loved so fully and explained so eloquently by the food critic driving across town in his green pickup.
[embed]https://youtu.be/__2uT1cZWkY[/embed]
Print headline: Golden hour, A documentary about Los Angeles Times food critic Jonathan Gold takes a bite out of the City of Angels.