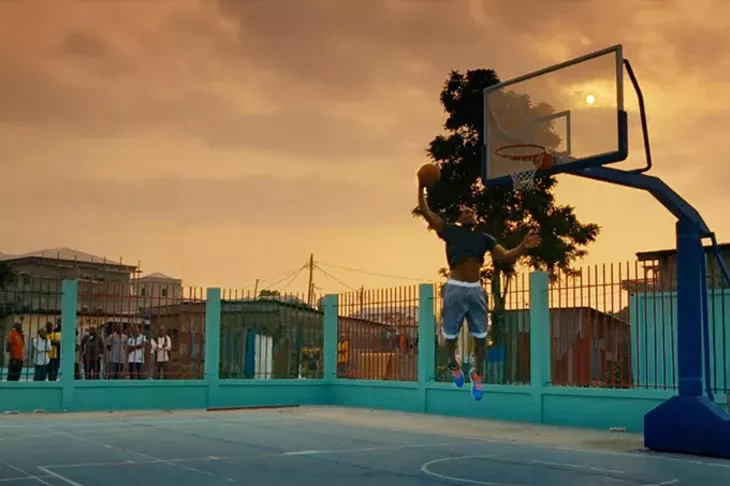 PLUS! Read the full story and see the Son of the Congo trailer here.
NBA star Serge Ibaka is trying to shut the door to his family's house, but the crowd on the other side is pushing back. Dozens cry out to Ibaka, some asking for money and others just looking for recognition. It's the summer of 2014, and Ibaka is in the Congo, the land in which he grew up.
Ibaka's story is well-known in Africa, and so is his wealth. During this trip home last year, a camera crew followed along, the result of which is Son of the Congo, an ESPN-backed film that premiered Saturday night at the South by Southwest film festival in Austin.
"I feel like I am still those kids," Ibaka said about the children in the crowd. "For others, I'm sure [the film] showed something they are not used to, but for me, it was nothing new."
Many fans of the Oklahoma City Thunder power forward know he was once homeless when growing up in the Congo, that his mother died when he was seven, his father was imprisoned and his journey to becoming one of the league's top defenders is an inspiration to those back in his home country. But few, if anyone, knew the depth of his struggle growing up on the dirt streets of Brazzaville and how closely he holds the area to his heart. Those storylines are put on raw display in Son of the Congo.
"[Ibaka] doesn't have anything to hide about how he operates life. He is not ashamed of anything; he is who he is, and I just thought that was pretty rare to see from an athlete," said Bill Simmons, editor of Grantland, the ESPN-owned website that will distribute the film in a five-part Web series in the near future.
Following Saturday's premier — which also was Ibaka's first time to see the film — Simmons said he felt like this was an important story to tell, not just because of Ibaka's celebrity status but out of his own curiosity.
"I didn't know enough about him, and I have always been interested in him. And he's been someone who has been pretty private," Simmons said. "Getting behind the curtain with him was really appealing."
Ibaka gives the camera a tour of his former neighborhood and the basketball court he practiced on as a child. But Adam Hootnick, the film's Austin-based director, becomes a fly on the wall during many intimate scenes of Ibaka dancing with family, scolding a Congolese basketball player who was sent home from America after getting into trouble and inserting a hearing aid into a young girl's ear and placing her hand on his throat so she can feel his voice.
"When I think about my life, I always thank God," Ibaka said after the screening. "I'm always dreaming. I'm dreaming of one day winning defensive player of the year or dreaming that [I] win a championship with the Oklahoma City Thunder. But most of my dreams are real-life dreams, like helping people. Giving back, to me, is more important than anything."
Print headline: Homecoming, Thunder star Serge Ibaka offers an intimate look at his native Congo in a South by Southwest documentary premiere.