In urban living, dog parks provide pet owners a safe place to let their canine friends roam free and socialize. According to our expert dog park reviewer and unofficial mascot, here are the best free off-leash dog parks in Oklahoma City.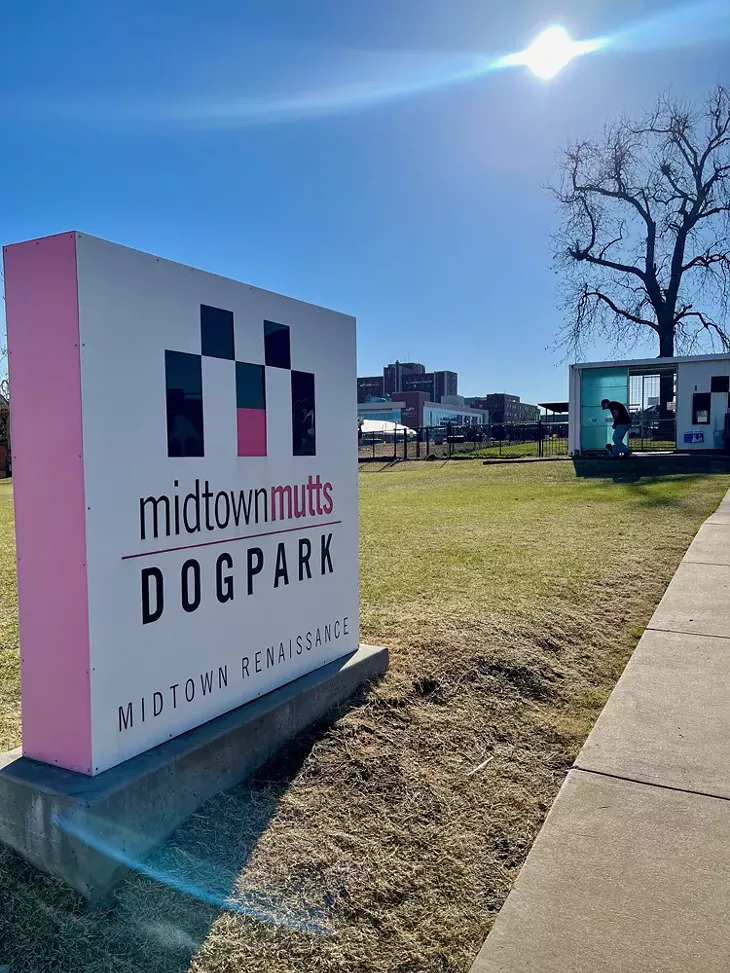 Berlin Green
Midtown Mutts Dog Park
Midtown Mutts
407 W Park Pl.
If you're ready to socialize and take in the sights and smells of the Oklahoma City skyline, this is the place. It's located in the heart of Midtown, making it an easy walk for everyone who lives in this district. It's got separate areas designed for small dogs and a much larger area for the big dogs, which is where I go 'cause I got that big dog energy. Humans can enjoy a shaded pavilion and ample seating. Join their Facebook group for details on Beer Nights and other events for dog owners to enjoy.


Berlin Green
Bark Park at Scissortail Park
Bark Park at Scissortail Park
300 SW 7th St.
I may be small, but I play with the reckless abandon of a cracked-out hyena. This half-acre park was clearly made just for me. It has giant boulders for parkour and channeling your inner Mufasa, artificial turf to keep it fancy and fountains that keep the water fresh. With separated areas for larger and smaller breeds, it's the perfect place for meeting new friends after an invigorating walk through Scissortail Park. Humans can enjoy ample seating and meet their own new friends as they enjoy the scenery of downtown Oklahoma City.


Berlin Green
Edmond Dog Park
Edmond Dog Park
379 E 33rd St. Edmond
www.edmondok.gov/Facilities/Facility/Details/3
The wind never blows so gracefully through my fur as it does when I zoom my way through four acres of heaven while embracing my untethered ancestral roots. Located in Edmond's Bickham-Rudkin Park, the Edmond Dog Park has all the standard amenities, with separate lots to prevent me trampling the littles and restrooms so my human can cut the excuses to leave. Best of all, it's got all-natural pond access, so you can not-so-politely tell your human they need to clean their car when the trip is over.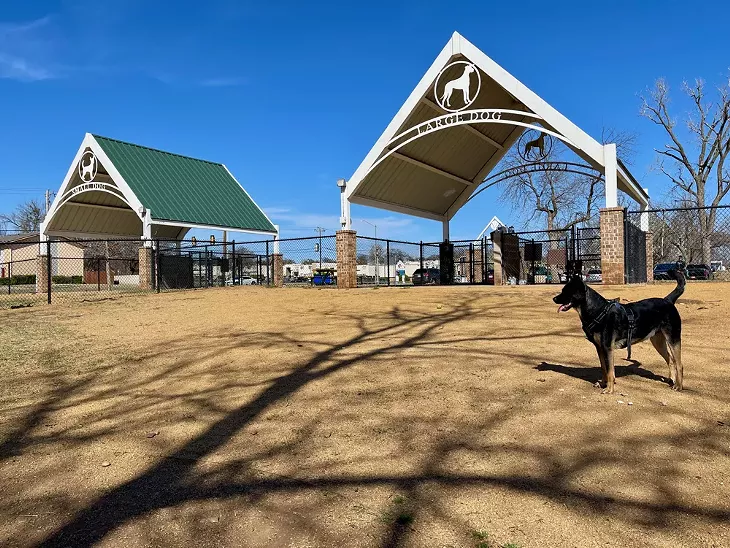 Berlin Green
Fred Quinn Happy Tails Dog Park
Fred Quinn Happy Tails Dog Park
8517 E Reno Ave. Midwest City
www.midwestcityok.org/parksrec/page/fred-quinn-happy-tails-dog-park
Pass through the covered entryways into this spacious three-acre park and bound with joy under shady trees and through luscious pastures. As I raced through agility courses, the uncoordinated cattle dog within me came alive, peeling out around corners and unsuccessfully herding all my new friends. I made a mental note to learn more efficient braking before heading over to the cement pool, something clearly designed to appease the human overlords — as though the dog washing station wasn't enough.
Edgar was adopted from the Oklahoma Humane Society. Visit OKHumane.com to see adoptable pets.