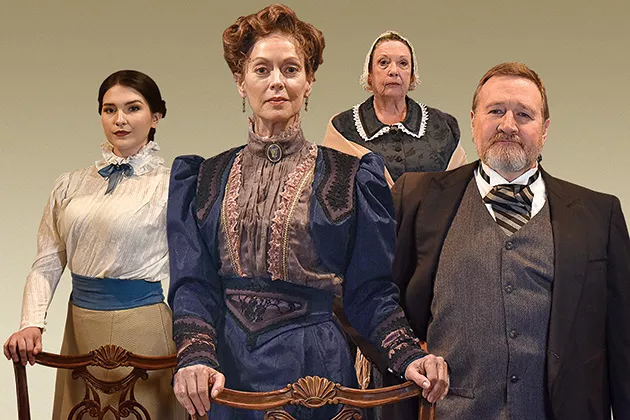 Wendy Mutz / provided
Steve Emerson, Stacey Logan, Avery Carlson and Pam Dougherty star in A Doll's House, Part 2 Nov. 8-24 at CitySpace Theatre.
A Doll's House, Part 2
Nov. 8-24
CitySpace Theatre
Civic Center Music Hall
201 N. Walker Ave.
okcrep.org
405-594-8300
$40
Spoiler alert for a 140-year-old play: Henrik Ibsen's 1879 A Doll's House ends with exasperated wife and mother Nora leaving her husband and children, literally slamming the door on her old life to find a new one the audience can only guess about. Luke Hnath's 2017 A Doll's House, Part 2, which The New Yorker called "an irresponsible act—a kind of naughty imposition on a classic" picks up the storyline 15 years later with Nora knocking on that same door.
Oklahoma City Repertory Theatre (OKC Rep) stages A Doll's House, Part 2 Nov. 8-24 at CitySpace Theatre in Civic Center Music Hall, 201 N. Walker Ave. In an interview with Vogue, Hnath said he began writing a sequel to Ibsen's famous play by rewriting the original in his own words and polling a drama workshop about what they thought happened to Nora after she slammed the door.
"Almost everybody said that she went off to work in a factory or became a prostitute and died," Hnath said. "Given how few avenues there were for emancipated women at the time, those aren't incredible assumptions, but it dictated to me that what I wanted to do was something completely other than what people were expecting. Instead of a story where she hits a wall of misery, I was going to say that she did great."
Though Nora (played in OKC Rep's production by Stacey Logan) has become a successful feminist writer, the people she left behind — husband Torvald (Steve Emerson), daughter Emmy (Avery Carlson) and maid Anne Marie (Pam Dougherty) are less than impressed.
"They're all a little angry at me, and they haven't been able to yell at me for 15 years to tell their side, what they want to say," Logan said. "This person was not a maternal person. This person wants to change the world. She could be considered a zealot. She wants to make the world better for women, and she feels that's her calling. She doesn't know that at first, but she knows she's not living her life. She grew up under her father's heavy hand and moved right in with her husband and had the children and never lived on her own or knew who she was and never had the opportunity to figure that out, so she walked out because she needed to do that."
Leaving offered Nora new opportunities outside the strict confines of her 19th-century marriage, but when she returns to ask Torvald for a legal divorce, the people she left behind have a chance to air 15 years of grievances, director Ruth Charnay said.
"A lot of interesting things have happened to all four of these characters in 15 years," Charnay said. "They all have a few things that they need from each other, so the fact that Nora has walked back through the door presents the other three characters with some interesting prospects they didn't have before."
World-changing motives
Though her character is often at the receiving end of the blows, Logan said the scenes of verbal sparring — which Hnath called "two-person showdowns, like a series of boxing rounds" — are her favorite part.
"What I do love about this play and this playwright is that everybody gets their say," Logan said. "Everyone gets their point of view heard, and they all have very valid points of view. … Everybody's right and everybody's wrong."
Charnay agreed the play gives all the characters a sympathetic voice and perspective.
"As much as it's about feminism and it touches on those things, it's also about gender equality, which is part of why the Torvald character is just as strong," Charnay said. "It's not about one person or one gender being superior or whatever. It's about, How does everybody get a fair shake? and How do we create a world that works that way? And it's hard. It doesn't come easy because that's not the way we've all been raised. … It's tricky."
Emerson finds his character in the sequel more sympathetic than the condescending, reputation-obsessed husband who essentially plays the part of a villain in the original.
"In 15 years, he has learned to let go of some things, but not everything," Emerson said. "He makes more of an effort. … Ibsen's Torvald is not a guy I identify with, but this guy, I understand. It's not so much, I think, a modernization of attitude as it is a realization that women are people too, but it takes him a while to come around. On the other hand, he also feels like he's an injured party. … She walked out the door and left him with three small children, so that's kind of an issue."
Still, Emerson can understand Nora's decision to leave, but empathy for all of the characters and their often-competing motives only makes the play more complex.
"Many of the people who are historically great figures, historically large figures have changed the world, were not good family people," Emerson said. "Every character has not only their own viewpoint, they have their own agenda they want to accomplish. It's easy for Nora to walk in the door and think she has a plan — 'I just need for this person to do this and this person to do this and everything will be fine' — but those people are not going to do that. They have their own plans, and that's what happens in every scene. … Nobody's plan goes where they think it's going to go or where they want it to go. That's the way it is in real life."
Also like real life, Charnay said, the play offers a mixture of comedy and drama.
"It's very modern, which means that it's really easy for us to flow from one to the other," Charnay said. "We're used to that now. There used to be a time when you either went to see a comedy or you went to see a drama, and now we know that life has all those moments in it. This play encapsulates that, too, so there's a lot of really funny stuff, and [Logan] has opportunities to do some great physical comedy, and there's a lot of situations that are just funny."
Much of the laughter, Logan said, comes from the "jarring" juxtaposition of contemporary, occasionally obscene dialogue and 19th-century fashion.
"We are in period costumes, but the show is performed in more modern language and also a modern physicality in these period, costumes and corsets," Logan said. "So there's plenty of humor there."
Audience members familiar with Ibsen's original might have a deeper appreciation for some of the jokes and references, but Charnay said a CliffsNotes cram session isn't necessary to appreciate Part 2.
"Although I think it's interesting as a cast and a production to be able to have that incredible wealth, that resource of the original to go back and inform all of us and give us so much, it's not really important for the audience to know anything about the original," Charnay said. "This really is its own play, and it stands on its own."
Tickets are $40. Call 405-594-8300 or visit okcrep.org.