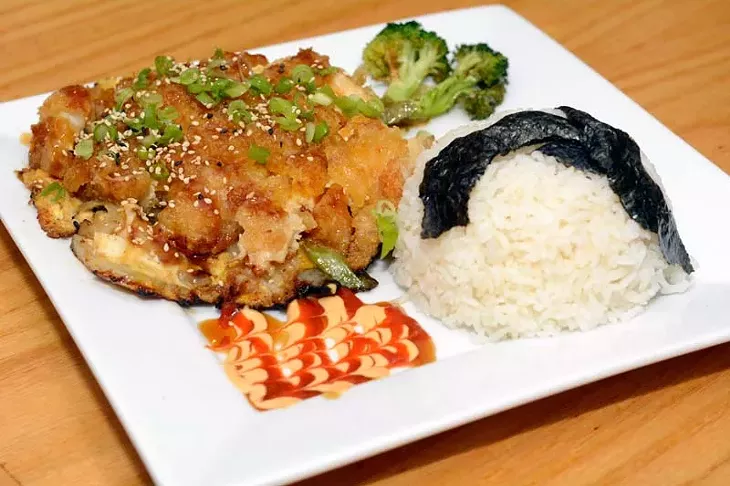 Gazette staff
Donburi
Donburi means "bowl" in Japanese and is composed of hot rice topped with various fish, eggs, chicken, beef or vegetables. It is a meal all in one dish, Japanese comfort food popular with the busy lunch crowd. A versatile concept, the rice bowl can be topped with whatever is on hand and is usually served with miso soup and Japanese pickles.
However, it wasn't always the on-trend dish that it is today.
Back in 19th-century Japan, rice was commonly served separately, accompanied by many other dishes as part of a very formal meal.
The one-bowl notion was unique in its day and was initially dismissed. Over time, as Japanese restaurants began serving donburi, the idea caught on.
You can choose from five donburi selections at Tokyo Japanese Restaurant, 7516 N. Western Ave. The flavorful tentoji don ($9.50) includes shrimp, eggplant and other vegetables in a feather-light fried tempura batter over a bowl of rice. On the side is the traditional tsukemono, or pickled vegetables, which includes cabbage, cucumbers, turnips and yellow daikon radishes. Also try the katsudon ($8.95), a succulent fried pork cutlet with egg omelet and sweet stir-fried onions.
Saki Sushi, 13520 N. Eastern Ave., is an Asian fusion sushi restaurant with roots in traditional Japanese cuisine. This is a relaxing getaway destination; you can sit at the sushi bar or on floor cushions at the customary low dining tables. The unagi donburi, ($13.95) is a visual beauty: broiled eel with avocado and rice garnished with a pink orchidblossom. The orchid is, indeed, edible and, yes, it does taste like a flower.
Enjoy one of the most quintessential donburi dishes, the oyako don ($7.95) at Sumo Japanese Steak House, 1801 S. Broadway, in Edmond.
Oyako in Japanese means "parent and child," referring to the two main ingredients, chicken and egg. Oyakodon originated in Tokyo in the nineteenth century, and this version of donburi was one of the first to gain popularity, due to its simplicity. This bowl of goodness includes simmered chicken and onions in a sweet and savory sauce.
Added to this dish is shichimi togarashi, a popular spice blend that originated in the 1600s and is made up of seven ingredients, including ground chili and sesame seeds. A hidden secret in the metro area is Samurai Sushi & Grill, 1630 NW 23rd St. This tiny sushi restaurant and Japanese grill offers up a delightful chicken katsudon ($7.95). A full meal in a bowl, it includes thinly sliced, breaded chicken and is topped with onions, egg and a sweet soy sauce.
"Donburi can also be made at home," said manager John Lu. You might need to practicemaking rice first though. "The rice needs to be perfect.However, it does take a bit of time to make donburi toppings," owner Bing Zheng added.
That's why donburi is perfect for lunch trips out of the office.
Print headline:
Delightful donburi
This healthy Japanese meal-in-a-rice-bowl has everything one craves for lunch or dinner.