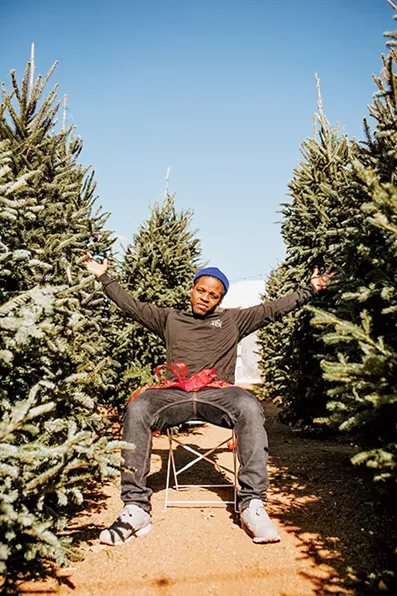 Alexa Ace
Jabee started Gift Raps to help bring warmth and comfort to the homeless.
Jabee Williams started off his day at 6 a.m. with no wallet, no license and no place to sleep that night. Even armed with an Emmy award and a strong fan base, the hip-hop performer struggled to follow the winding path trod by the city's homeless population every day as they just try to survive the elements and a labyrinth of government bureaucracy.
"People will say, 'Well, why don't they just get a job?' but being homeless is a full-time job," Williams said. "I met this guy who spent the night sleeping in a tent. It rained, so he slept in this puddle of water but still had to get up to go to work at Sonic. This life is hard."
By 6 p.m., he still hadn't been able to get a new license, nor did he find shelter. Had he been actually homeless instead of filming a documentary titled OKC Odyssey, Jabee would have had to sleep on the streets that night despite putting in a full 12 hours of work. This journey was just an affirmation of the struggle Williams said his mother faced as she fought to keep a roof over their family's heads and further reason for Williams to keep growing the annual Gift Raps, a multi-city hip-hop tour collecting donations for the homeless.
Now in its fifth year, Gift Raps will visit Shawnee, El Reno, Norman, Tulsa and Oklahoma City with a packed list of entertainers donating their time to help raise awareness and accept donations for families struggling to survive the holidays. The event is specifically calling for toys, socks, gloves and nonperishable food items. Gift Raps will partner with City Care Day Shelter, Skyline Urban Ministries and DD Audio, which will be helping organize car donations.
"For a lot of people, the holidays are the happiest time of the year, but for other people, it is the roughest time of year," Jabee said. "It's hard to be happy and joyous when you are suffering. I wanted to help people who were like me, people who were struggling during this time."
During the brief bouts of homelessness he experienced as a child, he only really remembers spending lots of time in cars and receiving gifts from the community trying to keep their family afloat. Even when they had a home, Jabee said that money was always tight. Every year, their family stood in long lines to get turkeys from shelters and churches. As a child, he never sensed that the family was ever teetering and assumed that everyone else in the city was out there waiting in a line somewhere for a free turkey.
"It's just what you did every year," Jabee said. "My mom did a really good job of not letting us know how bad it was. She would do things like, 'Make a list of 10 things and circle the two you most want for Christmas.' Sometimes we'd get the top two; sometimes we wouldn't get nothing from that list."
Since he started Gift Raps, the hip-hop community has responded by encouraging Jabee to expand the reach of the program. Even promoters as far as Dallas have reached out to see what it would take to get him to include an extra Gift Raps tour stop, but Jabee decided to stay focused on Oklahoma, where he said he can do the most good.
Alexa Ace
This year, hip-hop performer Jabee expanded his annual Gift Raps event to five Oklahoma locations.
"I like being able to branch out to other cities in Oklahoma, but my mom told me that charity starts at home," Jabee said. "We're not doing this because we just want to have a cool rap show; it's about doing something intentional. If we can't make an impact on the community, there isn't a reason to do any of the things we're doing."
Venues will begin accepting donations the week of the event. In the past, there have been venues packed full with donations even before the day of the show, all given by members of the community who might or might not even attend Gift Raps. Many of those donations will end up in the hands of people who couldn't pick Jabee out of a crowd or even know that he's a rapper, which is fine by him.
"The past two years, I didn't even perform because it's not about me; it's about being there for the community," he said. "Ten years from now, we want to still be doing the same thing, bringing in bigger audiences. My goal for next year is to do it at the Tower and make it big for the city, have tons and tons of foods and socks and clothes."
Gift Raps is another of Jabee's legion of side projects as he diversifies beyond music. He's working on a development called EastPoint with other investors to lure new businesses east of the Oklahoma Capitol. EastPoint will feature two restaurants he's planning to help open in July and a third restaurant down the line elsewhere in the city. He's a partner at Tower Theatre and also joined the associate board for Oklahoma City Philharmonic to help draw in a more diverse crowd.
"When I got to the board, I thought it was going to be a lot of old white people, but it was a lot of young people," Jabee said. "That's what we (the black community) think, but I want to open up the Philharmonic for other people to understand and enjoy classical music."
Jabee attributes his drive to his impoverished roots and his mother's struggle to keep the family intact when every day was a hustle for survival. He considers himself fortunate to have resources and opportunities that his mother didn't to overcome the innumerable roadblocks faced by the city's poorest residents.
"I'm so afraid to be back where I was growing up and to have my children in that place, so I know I have to do a million different things to keep that from happening," he said. "I know that all these things I'm doing started with rapping, but I'm getting older and want that, 10 years down the line, for people to think of me as more than just a rapper. I'll probably still be rapping until I'm 100, but I'm doing all these other things too. I'm not only defined by rap. Every day, I get to be a part of something new. People can't say I don't work; that's all I know."
Visit facebook.com/jabeemusic.