Pot stickers | Photo Gazette / file
The comment section on the Facebook post says it all.
In the hours and days following the surprising announcement that Dot Wo Garden is closing its doors for good Nov. 12, hundreds of reactions, comments and shares littered the comment section of the farewell message.
Nostalgia set in, spawning nearly 30 years of memories.
It was a reminder of the impact the Dot Wo brand has provided since 1988.
"It's definitely one of the hardest feelings, but there's always time for a move or a change," said co-owner Steven Ha, who helps run the family business alongside his parents, Denny and Sandy Ha. "I'm trying to give back to my family. The hardest decision is to say, 'Let's close the restaurant.' I think this is the best investment we could probably do."
Easier life
The restaurant was voted Best Chinese Restaurant as part of Oklahoma Gazette's Best of OKC 2017, and the decision to close wasn't for a lack of business.
Instead, Steven noticed the wear and tear on his parents — Denny in the kitchen, crafting a menu of more than 100 items, and Sandy working the front of the house.
It's the life they lived for four decades, grinding out 12-hour workdays for more than 360 days a year.
"It's time for them to have more time for the family, for travel. It's giving them a more easier life," said Steven, noting his parents haven't taken a vacation in five or six years.
The Asian cuisine roots of Denny, 58, and Sandy, 55, date back to the early 1980s, when they worked at a local Chinese restaurant in OKC after relocating from San Francisco. Denny, who is from a village near Guangzhou, China, transformed his love for Cantonese cuisine 29 years ago into the original Dot Wo at 3101 N. Portland Ave.
Dot Wo Garden, the fourth and final restaurant the Ha family operated, is a massive, 10,000 square-foot space at 6161 N. May Ave. that opened in 2012 when the restaurant outgrew its previous location. The former Golden Corral received a $120,000 facelift with a bar and space for weddings and events.
Steven, 31, moved to Dallas in 2016 to focus on real estate, Airbnb opportunities and flipping houses with the goal of paying back his parents for all their sacrifices, but he continued to oversee marketing, inventory and employee training from afar, which included bi-monthly trips to OKC.
"We really wanted to keep serving OKC for as long as we can, but just because of the massive restaurant we have now that's over 10,000 square feet — we've been getting full house some nights — so we're really trying to survive labor," said Steven, noting the difficulties of hiring and retaining chefs and servers. "Labor is the most important part. It's really hard to get people in, train them and get everyone the right service."
That, coupled with the goal of setting his parents up with an early retirement nest egg, led Steven to help broker a deal with Hunt Properties, a commercial real estate development group, to sell the lot for $2.5 million, a number that will help pay off an existing $1 million mortgage. Steven said the lot will be used for a new AAA building and possibly a taco shop.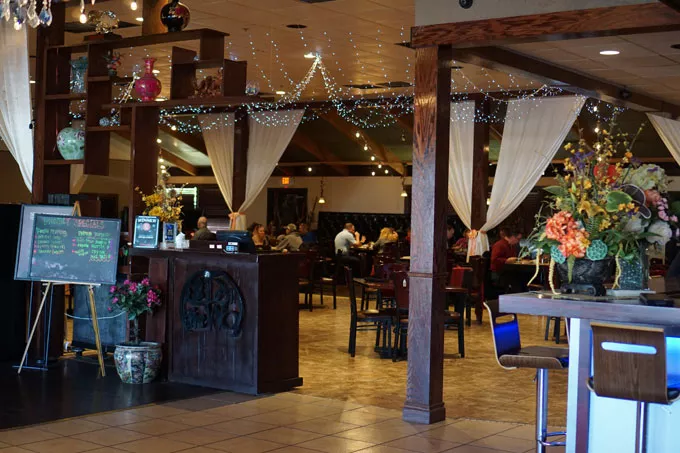 Dot Wo Garden closes its doors Nov. 12 after decade of successful business. | Photo Megan Nance
Looking ahead
Steven views his father as a hero.
As the success of the original Dot Wo grew in the 1990s, Denny made enough money to bring over family members from China.
Then came the expansion, as Dot Wo opened up locations in Edmond and south OKC on Pennsylvania Avenue. A fourth restaurant — Hong Kong Garden — opened in the early 2000s but closed after a few years.
As of Nov. 12, only Dot Wo in south OKC will remain, and it still has the Ha family name. Denny's brother is an owner of the 13-year-old restaurant.
The family has its hands in other ventures, too. Denny's cousin runs Chow's, his sister runs Fung's Kitchen and his brother-in-law is soon opening Kwan's Kitchen, which Steven referred to as a French-Asian fusion tapas-style restaurant.
But perhaps none will be more revered than the classic creations from Denny and Sandy.
"It's been a great experience," Steven said. "The love was definitely there. We have built relationships with our customers. I've known customers who eat here three or four times a week."
The early days of Dot Wo were the most memorable to Steven. He recalled practically living at the restaurant during his youth, either behind the cash register while his parents worked or off to the side, studying at a table.
"We were the main place for Chinese back in the day. There were lines out of the shopping center where we had our old restaurant at," Steven said. "Crowded memories, and the atmosphere was always great. Everyone was always happy eating."
There's a chance customers can still find happiness despite the closing. Steven said Denny will cater food once or twice a week as opposed to the daily grind of a restaurant. He said the plan is to cater for Petroleum Club, a reception venue in downtown OKC, and other private events.
There's also a chance the Ha family could help out the Dot Wo location in south OKC.
"If people are still wanting Dot Wo, they can travel down there and my dad will be there to re-train my uncle, and I may be revamping the front of the house and put in an actual bar and go from there," Steven said. "There's always some kind of plans we can keep working on."
Print headline: Wo-ful goodbye; Dot Wo Garden closes its doors and makes time for a less frantic future.