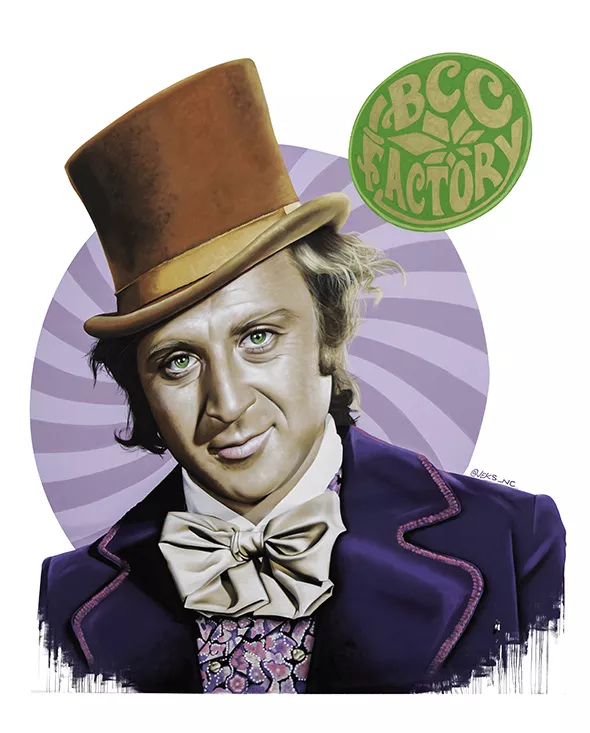 Alexa Ace
The third in a series of murals by Jeks was painted this summer.
Almost eight months to the day since BCC Collective opened its doors to medical patients, it has closed them to the public, at least for now.
The dispensary's signature aquamarine door now reads, "Wholesale only."
The decision was announced on social media Aug. 26. A rush for the remaining flower prompted it to close the doors four days later, two days earlier than announced. Incidentally, it was also owner Darin Delaney's 39th birthday. Contrary to his wishes, the staff of two dozen he had amassed over the previous months surrounded him and sang "Happy Birthday" during a quick cupcake break before they scattered to wrap up the last day of dispensary business.
Make no mistake, though. BCC Collective is not out of business.
"All of this is by design," Delaney said. "We just wanted to focus more on production. There's a lot of dispensaries popping up everywhere, and there's people across the state that message us and communicate that they would love to have our brand, but they live far away and they're not going to be able to drive this far, so we want to be able to supply stores throughout the whole state. That way, lots of patients can get our product."
Delaney said that with dispensaries on nearly every corner, it makes more business sense to focus on what they do best — growing quality cannabis — while also cutting out the overhead costs associated with running a storefront.
"We have a little bit of a buzz, but it takes a while for a mass amount of people to really find out who you are and where you are," Delaney said. "We did everything with the future in mind and thinking how things go in the other states that we've seen. We're in an industrial zone of the city, which means we are kind of off the beaten path. We stayed pretty busy. We had a pretty decent stream of people all the time, and we enjoyed interacting with them."
While the dispensary itself has always been profitable, running a public-facing business is not Delaney's favorite part of being in the cannabis industry.
"Production is our strong suit. We like it. There's obviously a high demand for product, and there's an even higher demand for quality product, so that's just where we want to focus. It's more fun for us," he said. "I'm not exactly a people person, and so I don't like having to deal with tons of staff, but I do want to say that I really, really enjoyed and love everybody that was a part of the whole beginning and everyone who's still there. I've said it before. The whole team is what makes everything happen. It was just a business decision where it was like, 'Look, we've got to go one way or the other.' And we want to put more money behind growing and producing more than just dispensing."
More growing
On Labor Day, the "blue collar" in Blue Collar Criminals was in full effect while staff set up a second grow room that is double the size of the first inside the facility at 1015 NW First St.
Additionally, a new home has been built for their mother plants and a drying room with 15-foot ceilings that will have a library-style sliding ladder so plants can be hung in three or four tiers is currently under construction.
Growing consultant Cesar Herrera spent the holiday putting the 856 plants in their new home.
"I like the idea that people are very enthusiastic and very gung-ho about it," Herrera said. "The whole team is very into it, which is awesome because I think in California, it's lost its luster, so for people to be so ambitious is very admirable. It makes me feel more enthusiastic about the whole situation. I've seen how it pops up everywhere. There's dispensaries damn near everywhere now, so it's going to be interesting to see how it all pans out within the next couple years."
Herrera gets more enjoyment now about setting up grow rooms and popping seeds than he ever has in his nearly two decades in the industry. BCC Collective's genetic catalog is the result of his cultivation efforts.
"A lot of them are personal crosses of mine that like nobody else has, so it's very exclusive," he said. "We have a lot of exclusivity with that. That's very exciting. It keeps us one step ahead of most all the other competition."
Alexa Ace
BCC Collective transitioned from a dispensary to a wholesale-only grow house at the end of August
Herrera anticipates doing more cross-breeding at BCC Collective as the enterprise expands.
"Eventually, we'll get to it, or we might even have another facility here where we actually do it — like a whole other place — which would be ideal," he said. "Then we can make all our seeds there and then we can run it through all the other facilities that we're going to be having eventually in the future."
Diverting money into staffing the dispensary as well as other expenses like premium packaging — BCC Collective transitioned into selling its flower in glass jars soon after opening its doors — slowed Delaney from installing new grow rooms as quickly as he had hoped. It took several months to finish the construction of the second grow room, which is twice the size of the first, but streamlining costs will allow BCC to get its third grow room constructed immediately and off the ground in a much shorter time frame.
"That whole combination really didn't make any more sense than just selling it by the pound to dispensaries," Delaney said. "We have a quality product, so we get a little bit more per pound than other growers. It just made more sense for us just to focus on growing because it costs money to build our business. We're very state-of-the-art. Very sophisticated. We don't have an endless supply of money, so we have to kind of pick one or the other."
Delaney also said the former dispensary side will remain intact but instead be used for wholesalers to shop and make purchases like patients once did. He is not ruling out the idea that BCC Collective will once again open its doors directly to patients.
"We plan on being in that spot for at least a decade or more," he said. "The area is up and coming, and as that continues, we would like to perhaps open up again. We'll still be around. You'll still see us for sure."
Visit bluecollarcriminals.com.