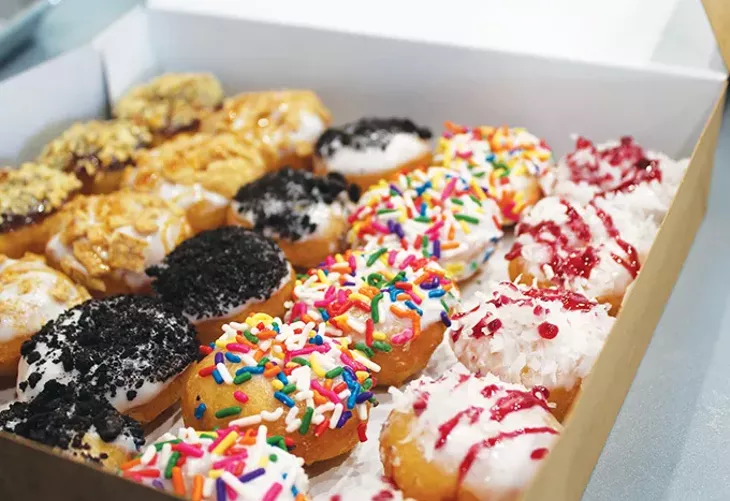 provided
Sweet Mini's Donut Company offers 20 varieties of toppings, nine icings and three doughnut base flavors.
At first glance, the combination of hot, fried mini doughnuts and raw, fresh fish might create cognitive dissonance, but owner John Shelton knows it is merely a way to accentuate an already-popular food trend with another.
Sweet Mini's Donut Company opened at 14600 N. Pennsylvania Ave. over a year ago and added the Poke Loco concept to its store the last week of July. The Sweet Mini's sign that brought customers to the all-day doughnut shop has been replaced by a giant, black "Poke Loco" banner with a smaller doughnut sign near the entrance.
"The big decision was to change the signage," Shelton said. "We had a huge Sweet Mini's sign, and it made a big impact, but we took it down and put up the [Poke Loco] banner. [Poke] has more stability and long-term growth."
When it comes to food trends in Oklahoma City in 2018, chief among them might be the Hawaiian-born concept of poke, which has exploded across the country and in Oklahoma City over the last year. Okie Pokie opened in March, and two other standalone poke concepts will open on 23rd Street later this year. A lot of other restaurants have experimented with poke bowls as either a special or permanent menu item.


Shelton said he was introduced to the concept of poke through friends in Stillwater that operate Thai Loco, a Thai-taco fusion concept, when they introduced poke and sushi burritos about a year and half ago.
Shelton worked with the Thai Loco owners — the Rice family — when they operated Bangkok Restaurant in north Oklahoma City and Thai Stop on N. May Ave. After trying their poke in Stillwater, he worked out an agreement to use their recipes for the sauces used to top poke bowls and sushi burritos.
"It's a big market out there for healthy eaters," Shelton said. "If we make a great product and provide great service, it will attract people. It's a totally different crowd; we get kids for the doughnuts and millennials and young professionals with the poke."
provided
Poke Loco's build-your-own-bowl and spicy tuna are its most popular options.
Poke has earned its footing in the mainland United States thanks to its raw, fresh and colorful ingredients that allow it to be healthy and perfect for being highlighted with an Instagram filter.
Derived from the native Hawaiian language, poke means "to slice" and dates to at least the 19th century, but with the arrival of Japanese workers in the late 1800s, tuna became the most popular ingredient, according to The Washington Post.
The concept of poke bowls — a mixture of Hawaiian flavors with Japanese rice bowls — is a relatively new phenomenon only a few decades old, even in Hawaii. On the Islands, poke bowls are typically more minimalist, but as the trend has caught on in the mainland, different proteins and mix-ins have come with it.
Poke Loco offers six pre-selected bowl options and a build-your-own-bowl option, which Shelton said is the most popular. Guests choose a base of sushi or brown rice or spring salad mix. They offer proteins of raw and baked salmon, raw and spicy tuna, shrimp, crispy coconut shrimp, crispy chicken and tofu.
Bowls are then filled with a variety of fresh vegetables and sauces. Sushi burritos ($9.99) are like overstuffed cut rolls from a sushi restaurant. Five pre-selected burritos are available. Fully customizable bowls are assembled in front of customers, which is a calling card of Sweet Mini's doughnuts as well.
Mini doughnuts have been a staple of state fairs and mall kiosks since Minnesota-based company Lil' Orbits developed a mini doughnut fryer in 1974. The concept has gotten a boost in recent years with the invention of an automated frying system. Franchises Peace, Love, & Little Donuts and The Dapper Doughnut have been founded within the last decade.


Shelton likes the mini-doughnut concept due to its convenience, customization and quick turnaround. Shelton used to own Daylight Donut franchises but quickly fell in love with mini doughnuts after seeing other locations in Chicago and Florida.
"I had some traditional Daylight Donut shops, but it's a lot of work because you have to start at midnight and cook all night because it's a yeast product and it's not just a simple cake," Shelton said. "Daylight is a great product, and people would compliment you, but almost every day, someone would say it was the best doughnut they'd ever had when it was hot."
Unlike Daylight Donuts, Sweet Mini's doughnuts are cooked to-order. A base of vanilla cake doughnut batter (chocolate and blueberry are available on weekends) is dropped into the automated fryer and travels along a conveyor belt of hot oil for about 90 seconds as an attendant makes sure they flip halfway through.
Doughnuts are then topped with nine icing options (vanilla, cream cheese, chocolate, peanut butter, maple, lemon, orange, strawberry or white glaze) or three buttercream flavors (vanilla, chocolate or salted caramel), 20 different toppings (everything from bacon crumbles to M&M's and sprinkles) and drizzled with caramel, chocolate, raspberry and marshmallow sauces.
Shelton said this his favorite mini doughnut is the classic cinnamon and sugar, which along with powdered are top sellers, and chocolate buttercream and Boston Cream Pie.
provided
A sushi burrito stuffed with crab
He envisions the store will eventually sell a majority of poke, but they're in the process of creating a few savory mini doughnut options to round out the menu. Acai bowls give health-conscious eaters an option during breakfast while concepts like a mini doughnut grilled cheese provide an indulgent offering during dinner.
"This whole concept has been fun because you see different demographics," Shelton said. "With a diversity in customer base, it inspires us to expand the menu a little bit."
Visit sweetminisdonutcompany.com.