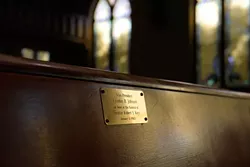 Garett Fisbeck
Pew where Vice President Lyndon B. Johnson sat at the funeral of Senator Robert S. Kerr at First Baptist Church OKC, Monday, Nov. 14, 2016.
Leaders of Good Shepherd Ministries never lost sight of their mission to provide medical services to Oklahoma City's most vulnerable, even as their own finances came under serious strain.
A year ago, the medical and dental nonprofit clinic for uninsured Oklahomans neared the end of a three-year operating grant. Good Shepherd, which traces its roots back decades as a downtown faith-based clinic, launched a giving campaign and proposed a community fundraiser. Donations trickled in, but the financial squeeze continued. In late May, the ministries experienced layoffs as some full-time staff roles were displaced by other medical professionals and local college student volunteers.
During those arduous times, economically disadvantaged Oklahomans who sought dental or medical services continued receiving the care they relied on from a free community health clinic located at 222 NW 12th St.
"I think we hit our bottom and now we are starting to turn around," said Pam Timmons, executive director.
There is hope on the horizon for Good Shepherd with a promising grant application and its signature fundraiser, the Historic Church Tour, which returns this weekend.
Celebrating roots
Five decades ago, the First Baptist Church Oklahoma City congregation put its faith into action and established Good Shepherd Ministries, which included a food pantry, clothes closet and community ministry. Two medical students saw an unfulfilled need to help the city's medically vulnerable population and advocated to establish a faith-based evening medical clinic. In 1977, the two students, along with other volunteers, began meeting patients at now-defunct Chuck and Chris's Bar.
Much has changed since the days of meeting in a tavern. Three years ago, the clinic switched from a twice-a-week evening clinic to full time. Now, patients can see hired medical professionals and volunteer medical and dental students in the fully equipped clinic in the Ramirez Center, which is located on First Baptist Church grounds.
Refining the clinic never altered Good Shepherd's commitment to deliver compassionate health care. Over the years, myriad churches, including ones outside downtown, have contributed to the faith-based clinic. The Historic Church Tour is an opportunity for the community to learn more about seven notable churches and their histories and includes First Baptist, City Presbyterian, St. Luke's United Methodist, First, St. Paul's Episcopal, Frontline and First Lutheran churches. The self-guided tour runs 2-5:30 p.m. Sunday. Ticket proceeds benefit the clinic.
In addition to gilded iron crosses, stained glass windows, cathedral beams, chancels, organs and communion rails, the tour examines each church's historical significance. For example, the Sunday following the 1889 land run, St. Luke's United Methodist's congregation planted a white flag in the dirt while singing "What a Friend We Have in Jesus." In 1963, President John F. Kennedy and Vice President Lyndon Johnson sat in First Baptist Church pews during Sen. Robert S. Kerr's funeral.
Measuring what matters
A financial reversal will never overshadow the grace that's achieved daily by clinic leaders, staff and volunteers.
The nonprofit is the cornerstone of indigent services linking medical care to individuals who don't qualify for Medicaid and are without insurance. Good Shepherd serves people form all backgrounds, including members of the labor force unable to afford insurance plans via health exchanges. Since the start of the year, the clinic has delivered 12,852 services to patients.
"Our patients are chronic," Timmons said. "We see diabetes and heart disease. They don't have a regular doctor to go to, and over the years, they've let their health go. Their only other choice is the emergency room."
Good Shepherd reduces burdens on local hospital emergency rooms, which often treat financially disadvantaged patients in nonemergency medical situations. Unlike an emergency room visit, a patient's comprehensive medical history is built and care is managed over time at Good Shepherd.
Quentin, a former client who utilized Good Shepherd medical, dental and pharmacy services over a 12-month period, is a good example.
"Every nonprofit has a client's story that they love to share," Timmons said. "Quentin is our client story."
Quentin had a hepatitis C infection, had been homeless and struggled with drug and alcohol addiction. With Good Shepherd's help, Quentin joined a three-month pilot program for hepatitis C patients and received his $1,000 medical treatment at no cost. After three months, his lab results came back with no trace of the virus.
"He doesn't need us anymore," Timmons said.
Stories like Quentin's and others keep Good Shepherd's leadership, staff and volunteers focused on serving their community.
Print headline: In service, Good Shepherd Ministries continues its mission to improve the health of underinsured residents, and its istoric Church Tour allows the community to contribute.