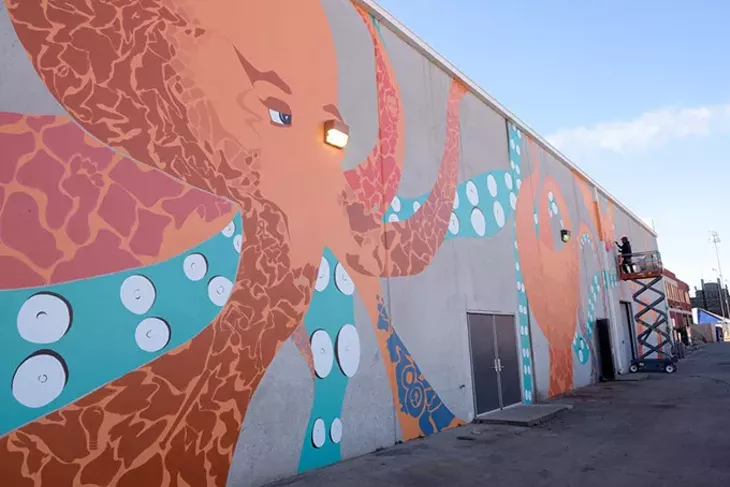 Garett Fisbeck
Jack Fowler works on his mural in Bricktown, Thursday, Dec. 1, 2016.
Downtown Oklahoma City, Inc. and Oklahoma City Housing Authority want some art — some big art.
The groups teamed up to fund a new mural on the west side of a Midtown apartment building, and they're asking for ideas.
"Last fall, Ian Colgan with the Oklahoma City Housing Authority reached out to Downtown OKC to inquire about the process of installing a mural on the Classen Senior Center building," said Staci Sanger, Downtown OKC, Inc. marketing manager. "He already had the idea that a mural would be a great way to improve the space but was interested in a way to partner on the project."
Located at 913 NW 12th St., it is a six-story, 100-unit building of efficiency and one-bedroom apartments for seniors. It is also a blank canvas.
The west wall is 40 feet wide and 75 feet tall. The project budget is $30,000. Individual artists and teams can submit mural proposals through Feb. 21.
Once complete, this will be the 10th mural Downtown OKC has helped establish, Sanger said.
The other projects include Rick Sinnett's silo mural in Bricktown, and the Ninth Street "Braid" mural by Dylan Bradway, Yatika Starr Fields and Kristopher Kanaly. "Cultivation" by Jason Pawley on the underpass at S. EK Gaylord Boulevard and W. Reno Avenue came from the nonprofit's Artist Invitational program in 2015.
"We installed a temporary and interactive mural in the Underground called 'Impermanence,'" Sanger said.
Artists Cassie Stover and Adam Lanman drew on the walls of the Underground below First National Center downtown, and the public was invited to color it in.
The group also sponsored Jack Fowler's "Bricktown Okctopus" on the north wall of Chevy Bricktown Events Center, 429 E. California Ave.
"Murals, like most public art, play a crucial role in creating a distinctive sense of 'place' in a city," Sanger said. "They build community pride and give visitors and residents alike reason to continue walking and continue exploring. We believe public art also inspires more curiosity, creativity and conversation. Plus, it adds a sense of wonder to downtown."
Budgeting a project this big isn't easy because every mural is unique. One thing is for sure, she said: The artists must be compensated. She also said budgets depend on a few factors.
"As a nonprofit, our budget for public art is dependent on our own fundraising and how many partners we can loop into the project," she said.
Property owners often have a budget in mind before the process begins, and the size of the mural plays a part in determining cost.
Painting on a canvas so large is a specialized skill, which means there are fewer artists to choose from. For previous mural projects, Sanger said, Downtown Oklahoma City received about 25 submissions when they limited applicants to central Oklahoma.
Artists might have a singular vision for a painting that will hang in a gallery, but for a public project, there are many considerations.
"Artists need to keep everyone in mind when submitting: the sponsor, the property owner, the general public and, in this case, the resident," she said.
The selection committee will likely make its decision around the end of February before helping the artist or group of artists through the permitting process, which usually takes about three months.
After playing a part in a number of murals, Downtown OKC isn't done decorating the city.
"Now that we've gone through the mural process a few times, it's safe to say we're always envisioning artwork on any big, blank walls downtown," she said. "The public response from ['Bricktown Okctopus' and 'Cultivation'] and our other murals has been overwhelmingly positive. We love hearing the buzz. … We are so proud that Oklahoma City has begun to embrace the importance of public art in our city."
A link to the request for proposals is at downtownokc.com. Artists seeking more information on submitting a proposal can call Sanger at 405-235-3500.
Print headline: Big canvas, Downtown Oklahoma City, Inc. and Oklahoma City Housing Authority seek mural proposals for a six-story apartment building in Midtown.