Gary Caplinger has a list of clients who are waiting to buy an apartment or loft in downtown Oklahoma City. But right now, the demand is bigger than the supply.
"It's kind of frustrating for us because we have several clients that are waiting for things to come up," said Caplinger with Urban Living OKC, a real estate firm specializing in urban properties. "There is only a handful of properties that are for sale [downtown]. Almost all of the new construction you are seeing is for lease."
Options for downtown living have exploded over the past several years as both large and small developments have popped up in areas like Deep Deuce, Midtown and the downtown core. The trend is likely to continue as several more residential projects, including a new high-end apartment building across the street from Myriad Botanical Gardens, are in the works.
However, almost all of the new units to be built in the coming years will be for rent.
"It will be important for us to get the for-sale residential market going in downtown like you are seeing in other places like Austin," said Cathy O'Connor, president of the Alliance for Economic Development of Oklahoma City.
O'Connor views growth in units for sale as a way to provide more options for downtown residents, but she also believes the trend toward downtown living, whether its for sale or for rent, will only grow.
"I think Austin, Indianapolis and Salt Lake City are 10 years ahead of us," O'Connor said. "They have a lot of residential development going on downtown, and I think that is going to be really important [in our future]."
Rapid growth and affordability
America's downtowns expanded at double-digit rates over the past decade, according to the U.S. Census. Cities like Austin, Indianapolis and Louisville have downtown populations in excess of 50,000. While those numbers can include single-home neighborhoods built in close proximity to downtown skyscrapers, they also include a lot of medium- and high-rise developments.
The International Downtown Association reports that there are 27,000 people living within a one-mile radius of downtown OKC, which includes several thousand living in new apartments within the downtown core.
Theoretically, more units in OKC should also mean more affordability, although purchase prices and rents remain much higher than the regional average. Level Urban Apartments and The Edge at Midtown, two apartment buildings that have opened or plan to open shortly downtown, both have starting rents close to $1,000 for a one-bedroom. The average rent for a one-bedroom apartment across OKC is $668, according to the website rentjungle.com.
Two-bedroom units for sale in Deep Deuce often start at $500,000, and a two-bedroom condo in a proposed development near Civic Center Music Hall starts at $354,000. Those price points are well above the average home sale price of $150,000 across the city.
"What [the downtown] market is going to need to do, and what some of those other markets have done fairly well, is provide an affordable component to downtown housing," O'Connor said. "It's got to be affordable for the people who work in the hospitals and the teachers and people like that."
While affordability might be a goal, the downtown market is poised to see continued growth in high-end units.
"Oklahoma City is ready for this type of development," said Jeremy Stephenson, president of Milhaus Development, one of two firms proposing a high-end luxury apartment building on the south half of the former Stage Center theater complex.
The Milhaus proposal is a 20-story high-end apartment building, bringing a type of luxury residential option that is not available in the core of downtown.
Another residential development has been proposed by Clayco for the same site and would include two high-end residential towers.
Both developments would be for lease and do not include units for purchase.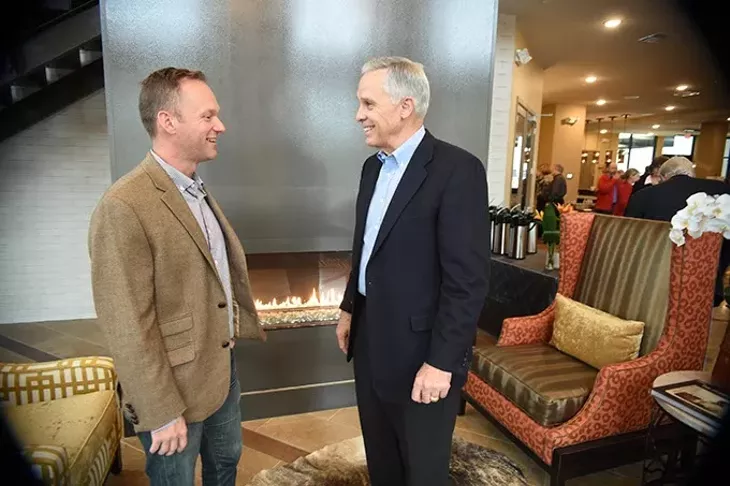 Ben Sellers with Wayne Properties, visits with Ex-OKC Mayor, Kirk Humphreys, during an open house at The Edge, 11-4-14. mh
Expanding infrastructure
The growth in jobs downtown has helped boost demand for downtown living, along with growth in entertainment and retail options. Schools, grocery stores and other neighborhood features will also play an important role in spurring future growth.
"I think it was so critical to downtown," Jane Jenkins, president of Downtown Oklahoma City, Inc., said about the new John Rex Elementary school that opened this year in downtown. "[A school] really is the definition of a neighborhood and community."
O'Connor also sees developments like a grocery store as critical to making the downtown community a true residential neighborhood.
"We may be years away from one," O'Connor said about a downtown grocery store. "But it would be an important development."
More service-oriented retail, affordable housing and purchase options are needed downtown, but there is already a large demand from area residents who want to call downtown home.
"I get contacts from people almost every day who are looking for something downtown," Caplinger said. "I think the demand is only going to continue to grow bigger."
Print headline: City dwellers, Residential development booms as more people rush to make downtown home.