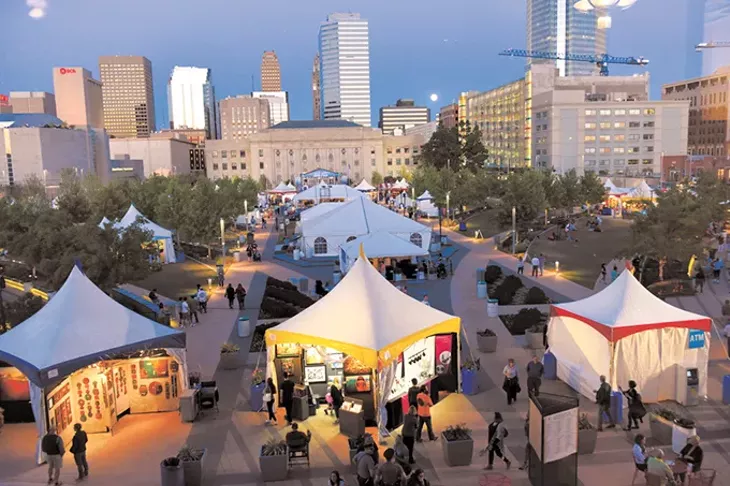 Provided
144 artists were selected from more than 450 applications to participate in Festival of the Arts.
There are plenty of reasons Arts Council of Oklahoma City's Festival of the Arts, which attracts an average of 750,000 visitors to downtown Oklahoma City, has become the city's unofficially official spring party: plenty of food, music and, of course, art.
Celebrating its 52nd year, Festival of the Arts runs Tuesday-April 29 in Bicentennial Park with free entry to 19 food vendors, 200 musical acts on three stages and 144 artists from all over the country.
"I like to tell people that festival made Oklahoma City cool before Oklahoma City was cool," 2018 co-chair Molly McBride said. "It is one of he few things in OKC that brings everyone out, no matter your religion or politics. Everyone comes to festival for some reason."
McBride, who is a volunteer co-chair with Paul Tyler, becomes the festival's first second-generation chair — her father Nelson Pickrell chaired in 1991 — and she joked that her children are already lobbying to become the first third-generation chairs.
"It's like you're throwing a party for the city," McBride said. "It's pretty amazing to be part of something that has so much community involvement and people that feel the buy-in."
Tyler said that the event brings out as many as 5,000 volunteers, which is how he got started with the festival in 2001.
"The most satisfying thing for me is the day the festival opens and you see all these people starting to come and you're able to say, 'I had something to do with this," Tyler said. "'Look at what we built.'"
More than 400 applicants from 38 states applied for the 144 available artist gallery spaces in the festival. Arts Council arranged a three-person blind panel comprised of two out-of-state members and one local member. The process takes three days.
McBride said the jury strives to highlight a broad spectrum of artists across many mediums, everything from oil and water painting to fiber and 3-D mixed media art.
"Someone who likes a still-life painting might be different from someone who wants something more avant-garde and abstract," McBride said. "We want to make sure within each of those categories, we represent a broad spectrum of perspectives."
Festival guests have opportunities to peruse prospective art for sale or be exposed to new works of art, and the festival pays extra attention to get the art-buying process started at an early age.
The Young-at-Art Mart, located on the west lawn of City Hall, puts purchasing power in the hands of the kids. Participating artists donated small works or prints to the gallery that range from 50 cents to $5 in price, and parents must watch from outside as their kids make a purchase.
"It is something a lot of artists have told us is not common at other festivals and is unique to us," McBride said. "We want [the kids] to find what speaks to them and feel like they can make a purchase at the festival."
The Children's Art Field, which costs $3 to enter, features three craft projects and another interactive feature where children will dip bang snaps into paint and throw them at a canvas. Over the course of a few days, the paint will turn into an abstract piece.
"It's kind of like an assisted Pollock — a Pollock with a little more kaboom," McBride said.Paseo Pottery is assisting children and adults in selecting, glazing and firing a pot or vase using the ancient technique of raku, in which colors change after going through a firing process. Pottery prices range from $5 to $50.
"It's the best-kept secret for finding a good-looking piece at the festival," McBride said.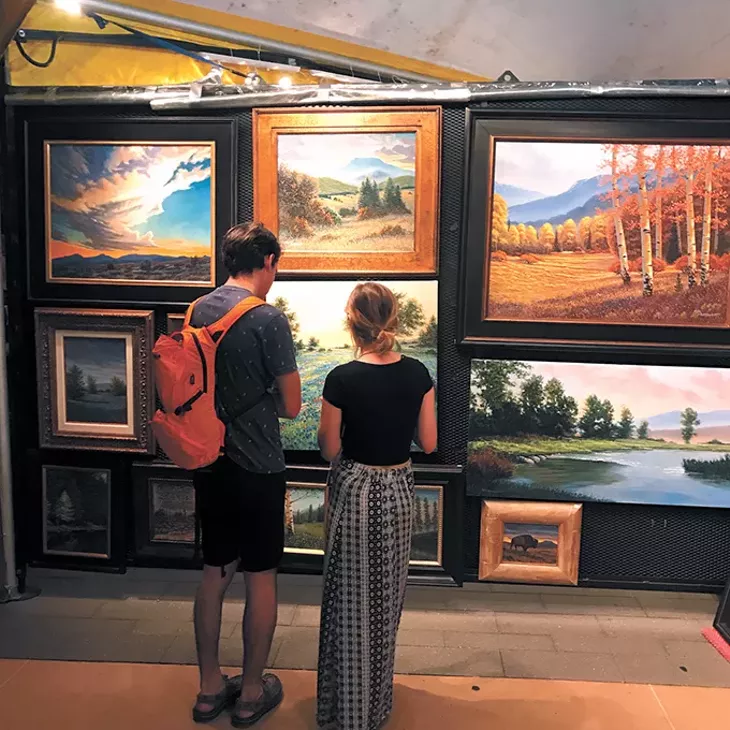 Provided
Guests peruse art at a recent Festival of the Arts in Oklahoma City.
Food and music
For as much as the festival is centered on art, many people turn out for the food vendors. There are the crowd favorite standbys like Strawberries Newport — puff pastry filled with custard and topped with fresh strawberries and whipped cream — and Indian tacos.
"If it is your first festival, you have to get a Strawberries Newport," McBride said. "We love the art and are so glad it's where we're centered, but the culinary arts is a huge draw for many people."
Brew Boys BBQ, Tad's Bodacious Burritos, Café Do Brasil, C&C Famous Fish Tacos, C'est Si Bon, The Crepe Brewers, Dippin' Dots, dOugh M G, Eddie's, Fassler Hall, Goforth Concessions, The Grilled Cheesery, Guiltless Concession, Klondike Craig's Floats, Kona Ice, Metro Minis, Nut Works, Papa's Greek Foods, Fancy Apples, Pizza & Red Earth, Scoops Italian Ice, Snow S'more, Sizzle n Spice, A Sweet Hot Mess, Taste of Soul and Yokozuna round out outside food vendors.
Arts Council operates Mustard's Last Stand, which serves hot dogs and Frito chili pie, and every item is $3 or less.
Located in the center of Bicentennial Park is the Culinary Arts Tent that features 45-minute cooking demonstrations with free samples every day of the festival from some of the city's top restaurants.
The three music stages feature everything from hip-hop acts to children's choirs, indie rock, belly dancing and clogging.
Angels & Friends — Arts Council's only fundraising party of the year — begins 5:30 p.m. April 25 in Civic Center Music Hall's Meinder's Hall of Mirrors. The event features all-you-can eat food from 10 restaurants and an open bar. Tickets are $65 per person and $120 for couples. Matt Stansberry & The Romance and Oklahoma City String Quartet will perform.
"The festival is so famous as OKC's fantastic spring party that lots of people overlook the fact it is a fundraiser," McBride said. "In reality, it is generating revenue for the Arts Council year-round."
Visit artscouncilokc.com.