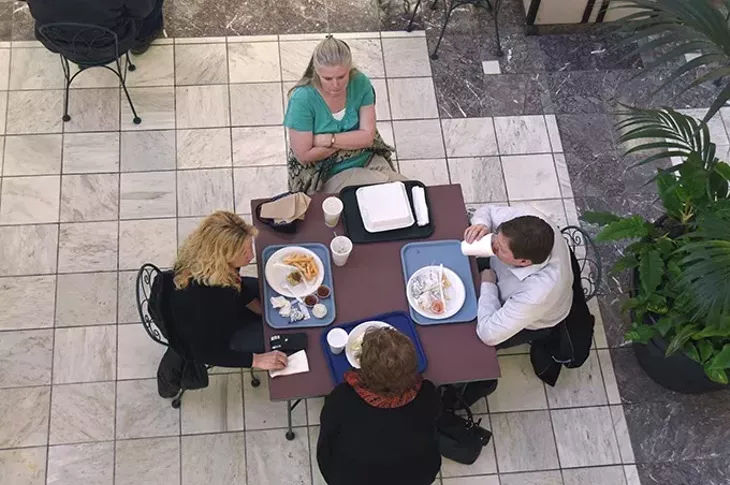 People having lunch down in the food court on the lower leval of Robinson Renaissance in Downtown OKC. mh
While downtown has come a long way in its quest to move beyond the automobile, recent decisions by developers and city leaders show the car is still king.
"This project begins and ends with parking," David Box, an attorney representing the 499 Sheridan development, told the Downtown Design Review Committee (DDRC) last month.
Those looking to build a high-rise office building next to the Devon Energy Tower want a piece of the downtown life but told the DDRC that ample parking was necessary to compete with office complexes in the suburbs.
The proposed 499 Sheridan high-rise development, which is located along a bike route and future streetcar line, was granted approval to construct a major parking garage at the expense of several historic buildings, and its construction could remove some bike lanes along Walker Avenue.
Even with the creation of a streetcar line and expanded bus service, the reality of downtown Oklahoma City is the vast majority of workers commute by automobile, as is the case in most every American city.
"I just don't think we have made that leap from asking, 'How can we fit all these cars in downtown?' to 'How can we get fewer cars to come downtown while getting more people?'" said Shane Hampton, a fellow with the University of Oklahoma's Institute for Quality Communities. "Right now, it's a tricky time [downtown] because we are trying to still maintain people's level of comfort for driving while also growing downtown to become a place where people use transit and bike."
Other examples of downtown's quest to become more urban and still cater to cars can be found in the decision to replace a portion of Interstate 40 with a highway-lite thoroughfare rather than leave downtown streets as they are, which was the request by some transit and pedestrian advocates.
The Oklahoma Department of Transportation's decision to go with a new downtown boulevard that is elevated in spots was due to a need to move cars quickly in and out of downtown, the agency said.
Downtown Oklahoma City has seen incredible growth over the past two decades, including dramatic increases in residential and commercial development. Project 180 has transformed many downtown streets to bikeable and walkable routes, but the 499 Sheridan development is an example of the primary role cars still hold.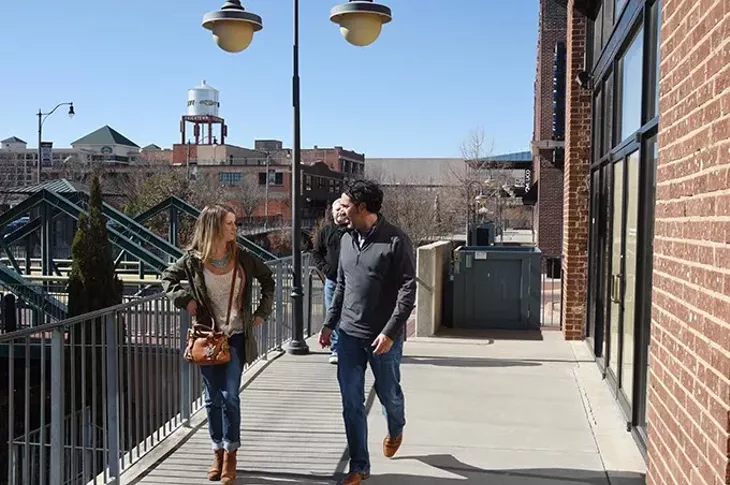 In its presentation to the city, developers of 499 Sheridan said the location of a new parking garage entrance might mean the removal of bike lanes along Walker Avenue.
"This development is practically forcing Devon employees to drive to work, even if they live a mile away," wrote Eric Dyer on his popular Bike OKC blog. "There is a growing downtown population that would probably bike or walk to work if it is easy, safe and convenient."
While developers say a lack of parking makes attracting businesses away from suburban complexes more difficult, it is not a new issue for downtown communities. The city is in the process of creating a downtown streetcar line that could alleviate some need for parking, and continued investments in bike and bus options could also reduce the number of cars.
"The streetcar is going to help, but is not here yet," said Ward 6 Councilwoman Meg Salyer. "The reality is parking in downtown is a major issue."
Downtown had nearly 24,000 off-street parking spaces as of 2012, according to a city parking study. The study also predicts there will be a demand for 5,600 additional parking spaces in downtown in 10 years from just Enogex, Devon Energy, First National Center, Century Center and Continental Resources. However, each of those five downtown companies and facilities are along the proposed streetcar line, and the same is true for all five city-owned parking garages.
Despite the challenges that remain, downtown has reinvented itself into a more urban community. Besides Project 180 and the demolition of the elevated I-40, a bike share program, street-level retail and additional housing have all been added in the past several years.
"As more people come downtown, there will have to be this natural tendency to invest more in transit because we can't fix it all with more parking," Hampton said. "I think that many downtown stakeholders see how public transportation can help with some of the problems ... we are headed in that direction, at least."
Print headline: Downtown's paradox, A garage will soon replace historic buildings to accommodate parking needs for the proposed 499 Sheridan high-rise development. How might it impact transit and foot traffic?