Mark Hancock
Renee Hilton, Miss Gay Oklahoma, on the Boom stage.
As Miss Renee Hilton and the reigning Miss Gay Oklahoma America, Ryan Wood takes drag to high art. He has been performing publicly since he was 18 — first at the Wreck Room, 2127 NW 39th St., and then The Boom Boom Room (The Boom) at its previous location, a tiny hole-in- the-wall on NW 36th Street east of Pennsylvania Avenue in a nearly unmarked building. Even from his early drag performances, it was clear that Wood was star material.
For starters, Wood — who transforms himself into Renee Hilton at night — is beautiful. The man is a head-turner wearing jeans and a T-shirt. But to win Miss Gay Oklahoma, you need to be more than a pretty face. Renee Hilton is warm, ebullient and quick on her feet, even in nosebleed heels, which you can witness Thursdays through Saturdays at The Boom and Sunday morning for its Gospel Brunch.
For one night only, Wood is putting on a special show to help raise funds for the next step in his journey: the National Miss Gay America Pageant in Nashville this October.
"I chose The Boom to host my benefit for one simple reason: The Boom is my home bar, the home of past and present Miss Gay Oklahoma Americas," Wood said. "Kitty Bob Aimes (co-owner of The Boom) has been a huge factor in my success as MGOA 2014."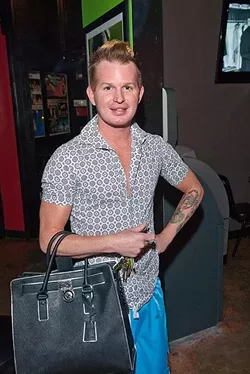 Mark Hancock
Ryan Alan Wood arrives at The Boom where he will give a performance later for Trashy Thursday.
The event, which includes dinner service at 6:30 p.m., has a special menu prepared by chef Curtis Staggs. There will be performances from an illusionist and several other drag stars, including Maria Isabel, Kitty Bob Aimes and Ginger Lamar. For fundraising, there will be a raffle, silent auctions with enviable prizes (we promised not to give them away) and drawings.
Wood hopes more than anything that it will be an evening of community.
"One thing that will definitely be there is love," he said. "Although we are raising funds, the time that is spent together as a family and community will be cherished for years."
Wood's candor is the one thing about him that can be a little disarming. Few people sound as warm and sincere as he does. In his soft voice, with just a hint of his Chandler upbringing, the statements he makes are without a hint of guile.
It might be part of what made Renee Hilton a shoe-in for the title and the representation of the gay community that accompanies it. It's certainly what makes her a favorite at The Boom, with her handmade costumes that are a sight to behold. Wood's passion and devotion to the craft of drag are obvious, and he is an ambassador as much as he is an entertainer.
"I was chosen from a group of eight entertainers to represent Oklahoma, not only in the gay community but for all of Oklahoma," he said. "I worked hard and prepared for months. My reign has been filled with joy and love. Every day, I receive texts and emails from so many people congratulating me and wishing me luck."
Print headline: Birthright: Ryan Wood — aka Miss Renee Hilton — was destined for drag stardom.